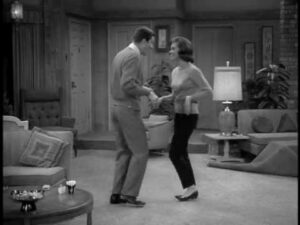 After posting my 300 favorite pop 45s of the 1960s, as you might expect, I received many emails and comments from those questioning my choices and suggesting replacements.
As I said any number of times, the list was not a definitive accounting of the greatest singles of the decade. It was only one man's list of the 300 songs of the 60s he could listen to on a desert island time and time again for weeks, months and maybe even years, and never grow tired of hearing.
That said; some of the choices were tough. So as I was looking through my notes over coffee this morning, I stumbled upon those hits that I considered strongly while compiling the list and which remain all-time favorites of mine.
So what that, please accept (in no particular order) a down-and-dirty (meaning sans narrative) "close but no cigar" list of 30 (or so) 60s-era singles that, but for a judgment call and the grace of god, might have found a way onto my Desert Island Jukebox.
Enjoy.
Desert Island Jukebox: Part 1
Desert Island Jukebox: Part 2
Desert Island Jukebox: Part 3
Desert Island Jukebox: Part 4
Desert Island Jukebox: Part 5
Desert Island Jukebox: Part 6
Desert Island Jukebox: Part 7
Desert Island Jukebox: Part 8
Desert Island Jukebox: Part 9
Desert Island Jukebox: Songs 26 thru 30
Desert Island Jukebox: Songs 21 thru 25
Desert Island Jukebox: Songs 16 thru 20
Desert Island Jukebox: Songs 11 thru 15
Desert Island Jukebox: Songs 6 thru 10
Desert Island Jukebox: Songs 1 thru 5
Soul Experience
Iron Butterfly
1969
A minor hit that was everything the band's In-a-Gadda-da-Vida wasn't; a soulful melodic journey to the center of a generation's worth of still impressionable and still questioning young minds.

Journey to the Center of the Mind
Amboy Dukes
1968
Speaking of which, long before Ted Nugent went off the deep end (and did so on so many different levels) he and his band mates created this stunning three and a half minute time capsule of sound, sentiment and 60s-era sensibility.

Heroes and Villains
Beach Boys
1967
Good Vibrations got the acclaim, but from a production standpoint, at least for my money, this little nugget was every bit as jaw dropping — and a way better song, to boot.

Time for Living
Association
1968
Very few bands, if any, have ever gotten better with each subsequent album; one notable exception may have been the Association.

It's Cold Outside
Choir
1966
A pop gem from a Rust Belt garage band from Cleveland whose 15 minutes of fame lasted all of 2 minutes and 44 seconds and came, appropriately enough, during the Blizzard of '66.

Don't You Care?
Buckinghams
1967
Yet another Jim Holvay composition the Buckinghams released in those yawning days when the snow was thawing, the sidewalks were drying, and the otherwise forgettable Spring of '67 was poised to cross over and become, in folklore and evermore, the Summer of Love.

Happy
Sunshine Company
1967
This one never rose any higher than #50, but sunshine pop really didn't come much better.

Blue's Theme
Davie Allan and the Arrows
1966
Yeah, it's simple, and yeah, it's probably a little repetitive, but was any tune any more reflective of those cheesy biker flicks that played at drive-ins summer after summer for what seemed like the run of the decade?

A Must to Avoid
Herman's Hermits
1966
A stunning Brit-pop nugget highlighted by an equally stunning key change before the final verse.

Runaway Child, Running Wild
Temptations
1969
Exhibit A of how Norman Whitfield helped Motown take the blinders off and start making music that was reflective of life as it really was in cities like Detroit; a tune that also gave the world just a glimpse into the falsetto brilliance of Eddie Kendricks.

Crystal Blue Persuasion
Tommy James and the Shondells
1968
If you have any affinity whatsoever for this one, I urge you to check out this laid-back groovefest of a cover by Skye Edwards and her London-based trip-hop band, Morcheeba.

Nitty Gritty
Shirley Ellis
1963
Not all great soul in the '60s emanated in places like Detroit, Philly or Chicago; this little finger popper rose out of the mean streets of Fort Apache, the Bronx.

Peppermint Twist
Joey Dee and the Starliters
1961
It's a shame they split this house rocker in two for purposes of airplay, because as one song, like Dee played it at New York's Peppermint Lounge, the foundation literally and figuratively rocked whenever the Starliters found a higher gear, the soloists took flight, and the kids twisted themselves into a lather of biblical proportions.

At the Zoo
Simon and Garfunkel
1967
Yet another uniquely New York-centric minor classic and a wonderful pop/folk gem from S&G's long-forgotten and woefully underrated album, Bookends.

Don't Mess with Bill
Marvelettes
1965
An icy-cool, minor-key slice of soul magic from one of the most under-appreciated groups in Motown, if not pop, history.

Hold Me, Thrill Me, Kiss Me
Mel Carter
1965
"They told me be sensible with your new love. Don't be fooled thinking this is the last you'll find. But they never stood in the dark with you, love, when you take me in your arms and drive me slowly out of my mind;" among the most stirring bridges in pop history.
It's Not Unusual
Tom Jones
1965
Lincoln managed to pull off the Gettysburg Address in only 272 words; this brassy little powder keg, which also served as Jones' coming out party, somehow managed to leave a trail of scorched earth in just 2 minutes and 3 seconds.
You Were on My Mind
We Five
1965
A high-energy blend of infectious melody, jingle jangle guitar and folk-era harmony.

Ooh, Baby Baby
Miracles
1965
Three words; Smokey Freakin' Robinson.

Call Me
Chris Montez
1966
Somehow Montez became a star despite a vocal style vaguely reminiscent of a guy calling into work, pretending to be sick.

San Francisco Girls (Return of the Native)
Fever Tree
1968
Halfway through this trippy little beauty's first verse and you realized you weren't in Kansas anymore, Toto.

Whispers (Getting Louder)
Jackie Wilson
1966
Why Jackie Wilson never became a superstar (and, perhaps, Vegas legend) remains a mystery to me and anyone with even half an ear.

Symphony for Susan
Arbors
1966
Yeah, it's sappy as all get-go, but I'm sorry, I'm a sucker for that cascading piano.

Pushin' Too Hard
Seeds
1966
A sizzling proto-punk gem that stands as one more scrap on a mountain of evidence to suggest that 1966 out-rocked, out-snarled, and out-raged any single year from the heyday of progressive FM radio, heavy metal, and AOR's "classic rock" era of the following decade.

Hey Little Girl
Syndicate of Sound
1966
Speaking of '66, another little punk-flavored garage beauty that led with a brand of attitude that year seemed to have in spades.

Three Stars (Will Shine Tonight)
Richard Chamberlain
1962
As a kid I was allowed to stay up until I got to hear the Jerry Goldsmith-penned theme that kicked off Dr. Kildare every Thursday; this one's not nearly as stirring as that instrumental original, but it was released on 45, so it'll do in a pinch.

Oh Me, Oh My
Lulu
1969
I'm kicking myself for not including this smoky little ballad in my 300; seriously, what an utterly fabulous, long-forgotten song.

San Franciscan Nights
Eric Burdon and the Animals
1967
It may have been naïve as hell, and may not have held up to any great degree, but there remains something intoxicatingly laid-back and peaceful about this one.

I Couldn't Live Without Your Love
Petula Clark
1966
Brit Tony Hatch (who also wrote Call Me, above, and three or four others on my imaginary jukebox) may just be the greatest unknown pop composer of the 20th Century.

1-2-3
Len Barry
1965
At the mid-point of the decade, and for maybe a nanosecond or two, a catchy little tune that found itself ranked among my all-time favorites.

The Weaver
Pendulums
1964
Speaking of Tony Hatch songs, this one was never released in the U.S. (and to hear it, it sounds like it may have been written around a U.K. dance craze), but it remains an absolutely terrific little pop tune.
Dreams of the Everyday Housewife
Glen Campbell
1968
One of the hidden gems in the Campbell canon, and that line about that housewife who just for a moment is wearing a gown that broke all their minds back so many years can, even today, make my heart flutter — if only for a moment.