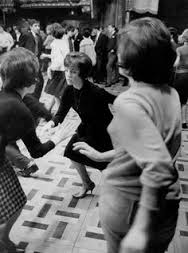 On this, a special day for me personally — and during this, a most special time of year — we move one step closer to the top five songs on this list and the final installment on my Desert Island Jukebox of '60s singles.
Enjoy.
Desert Island Jukebox: Part 1
Desert Island Jukebox: Part 2
Desert Island Jukebox: Part 3
Desert Island Jukebox: Part 4
Desert Island Jukebox: Part 5
Desert Island Jukebox: Part 6
Desert Island Jukebox: Part 7
Desert Island Jukebox: Part 8
Desert Island Jukebox: Part 9
Desert Island Jukebox: Songs 26 thru 30
Desert Island Jukebox: Songs 21 thru 25
Desert Island Jukebox: Songs 16 thru 20
Desert Island Jukebox: Songs 11 thru 15
Desert Island Jukebox: Songs 6 thru 10
Desert Island Jukebox: Songs 1 thru 5
11. Like a Rolling Stone
Bob Dylan
1965
Quite simply, the most important vinyl disc of my lifetime, single or otherwise. An unlikely Top Ten pop hit that many of my generation could point to and say, "You hear that? That cynicism? That anger? Yet despite that, that sense of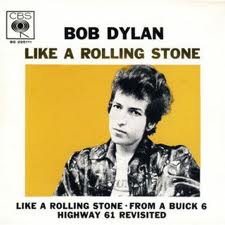 (bleeping) hope? That's us." While others could say, "You hear that? That piece of music – that song – the likes of which this world has never known before? Those words? That passion? That sound? That's the sound of my (bleeping) generation, that's what that is." Historians can talk about Elvis and the Beatles all they want. But the simple fact is, in music, everything – and I mean everything – changed after Dylan released Like a Rolling Stone in the sweltering summer of '65, when a drought so crippling gripped the country that it threatened to squeeze the life out of it. But then – and this is true – by mistake, and only because they were painted into a corner, the execs at CBS released this epic 6-minute song on 45 (which, given its length and attitude, they first tried to kill altogether and only later begrudgingly split in half and issued as two sides of the same single). Once they did that, but more importantly once DJs across the U.S. – almost as though compelled by a higher authority – began transferring those two halves onto one reel, splicing them together and playing the entire thing, seemingly overnight the entire world began to stand up and take notice. It was almost as though a cool, life-giving breeze had swept across the land. And even today, to hear Al Kooper's powerful opening salvo, his raw but joyous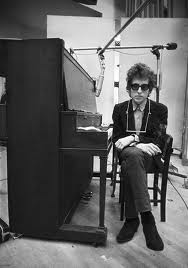 Hammond B3 organ, cascading out your speakers is to feel a gentle echo of that breeze. Bruce Springsteen, who was 15 and in his mother's car when he first heard Like a Rolling Stone, would later say the moment forever changed his relationship with music, and that just as Elvis freed his body, with this 45, Dylan freed his mind. Paul McCartney immediately ran his copy over to John Lennon where the two sat and played it over and over, almost in disbelief at not only how beautiful it was, but how Dylan had just shown the world it was possible to take music even farther. And when Frank Zappa first heard the song, he actually considered quitting the business. As he'd later say: "I felt, if this wins and does what it's supposed to do, I don't need to do anything else." Do yourself a favor. Scroll down and hit play. Listen once again. Let Dylan's words envelop you. Let Kooper's organ wash over you. And if only for a moment, let yourself feel that cooling breeze just one more time.
12. When You Walk in the Room
Searchers
1964
A song built on, maybe, the single most overlooked guitar riff in rock history. And I'm not kidding. You can have your Smoke on the Water, Satisfaction, You Really Got Me, and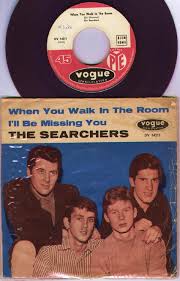 anything (and, frankly, everything) Led Zeppelin, AC/DC, Van Halen and their ilk ever laid down. Hell, round up the usual suspects. Beckon all comers, and the more head-banging the better. I don't care. I'll put this one up against them all. And I swear to the Almighty – and I'm not simply trying to be a contrarian here  – if I had to vote for the single most powerful, hair-raising and full bodied guitar riff in rock history – everything, in other words, you'd expect from a song's signature guitar phrase – this one would be it. Hell, Bruce Springsteen began playing this tune before Born to Run, and he's still playing it today. And what's even better, this riff wasn't written by Jimi Hendrix, Ritchie Blackmore, Eric Clapton, Keith Richard or anyone you'd expect. Nope. It was written by Jackie DeShannon. That's right, little Jackie DeShannon; the pop star born Sharon Lee Myers in Hazel, KY and raised in Batavia, IL; the waifish blonde with the bright eyes and surfer girl looks who scored hits with breezy nuggets like Needles and Pins and Put a Little Love in Your Heart; and the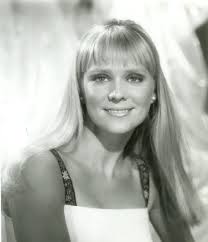 alluring, occasionally sultry lady who early in her remarkable career dated (and broke the heart of) – get this – future guitar god, Jimmy Page. But even without its riff, this is just simply an amazing love song about worshiping someone from afar without letting the world know; a song that crackles with the power and purity of a love that proudly carries no expectations; and a song punctuated by one of the greatest and lines in any love song ever written, one that captures the essence of the most powerful force in the universe: "Trumpets sound and I hear thunder boom, every time that you walk in the room." My friends, may you, yours, and everyone reading this someday know the joy of having someone special feel even a fraction of that.

13. Liar, Liar
Castaways
1965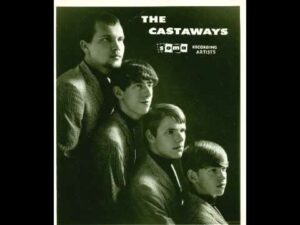 Long before Prince, before the Jayhawks and Paul Westerberg's Replacements, there were the Castaways, four Gopher-loving rockers from the Twin Cities who in two minutes of proto-punk glory stood pop culture on its ear with one of the greatest garage tunes ever. And that song – this song – had it all; a clipped and snarling Farfisa organ, some otherworldly falsetto lead vocals, and a primal scream just before its achingly simple guitar break. But what cemented these four kids' status as, perhaps, the greatest one-hit-wonders ever is the fact that as a band they came together to play a single frat party, and in the course of one afternoon their keyboardist wrote what turned out to be a timeless rock artifact, if only because he wanted to give his band something to play for the college boys beyond the standard covers they'd taught themselves. Those four Minnesotans would eventually learn the keyboardist's composition well enough to record it (with a throwaway B side) and release it as a single on a Minneapolis label specializing in – what else? – Polka music. Yet even with Liar, Liar's stunning yet all-too-brief chart success, the Castaways, true to their one-hit wonder status, would never record an album, never ink a major record deal, and never release even one more single that would crack the Top 100, let alone the Top 40.

14. Feelin' Alright
Joe Cocker
1969
I could write chapter and verse about the greatness of this record. In fact, come to think of it, I already did. But suffice it to say, this scorching version of an otherwise well-heeled English folk/rock chestnut by Dave Mason for his group, Traffic, is one that blew the cover off the very notion of a cover. You see, every few years an artist will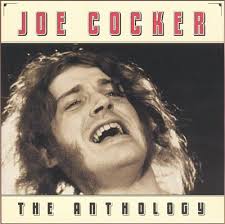 remake (or cover) an old hit (or near-hit) in a way that breathes unexpected life into it. But, never before had a cover so eclipsed its source material. That was because when first hired as arranger, Artie Butler took Feelin' Alright's existing notes, meter, and time signature and completely re-worked them around an up-tempo Latin beat and a single F chord. The difference, as they say, was the difference between lightning and a lightning bug. Butler also hired a rhythm section for the two-day session that consisted of two of the best sidemen in L.A. – two masters of improvisation who not only loved jazz, but played it regularly – bassist Carol Kaye and drummer Paul Humphries. And what Butler handed the two that morning in the studio was not a full pop score, but a jazz chart he'd developed, one with only a few chords and some sketchy instructions on where and when to play. The rest was up to them. And when you hear this 45 today, that's what you realize; you're listening to some ferociously talented jazz cats – led by Butler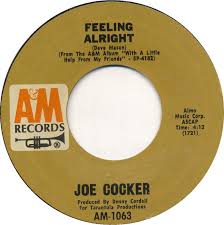 on piano – with the shackles off, soaring skyward and heading to wherever that F chord takes them. Even today, the energy in that studio still crackles. As a result, Cocker has long since commandeered the song from Traffic (and Mason), and done so so utterly that these days when you hear a cover of Feelin' Alright, there's a good chance you're not hearing a cover of the Traffic song at all, but of Artie Butler's subsequent arrangement. And even though Cocker's version rose to no higher than #69, it continues to resonate with listeners today – so much so, in fact, that Butler told me he still gets dozens of texts, calls and emails from people commenting on it and thanking him for it. As he said, "The smartest thing I did that day? I didn't tell (the musicians) what to play. I told them when to play."

15. It's Alright
Adam Faith
1965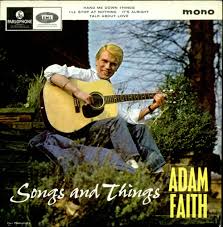 He was a teen idol's teen idol; think David Cassidy, Bobby Sherman or Justin Bieber, only British; as safe as safe could be; the kind of pop star any father would be relieved to have his daughter mooning over. Only Adam Faith was different. The guy had a freakish air of maturity about him. As a teen idol, even as he lived at home with mum and dad, his wont was to wear blazers, sip cognac, and listen to Sinatra. As a result, more that making schoolgirls swoon, he made their mothers do so. What's more, when he sang he sounded like some distant love child of Buddy Holly and one of those crooners like Fabian or Frankie Avalon. But then came 1964, the British invasion, and all that low-hanging fruit in America. So out of the blue, one day Faith went into the studio, let his hair down, and recorded this stunning masterpiece in snarling rock 'n roll attitude. It was almost as though the guy had become momentarily possessed and gone from an ascot-wearing upper-cruster to head-spinning, pea-soup spitting, rock 'n roll demon. And, perhaps appropriately, this one was then released only in America; not in Faith's native England, where his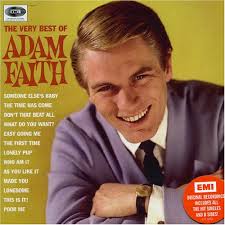 handlers had apparently felt they spent too many years crafting a wholesome, adult image. But here it was different. To support this 45 on this side of the pond, Faith wasn't booked on Bob Hope specials or prime time variety shows, as he might have in England. Instead, he popped up all snarling and sexy on teen shows like "Shindig" and "Hullaballoo," where he shared the stages with the likes of the Isley Brothers and other rough-hewn R&B acts. Didn't help. The record didn't catch fire at all, and stalled out at middling #31 in January of 1965. After that, he left the U.S. and was never heard from again, at least not here. Didn't matter though. In his brief 15 minutes, Adam Faith left a mark on U.S. pop culture that lives on, if only faintly; a mark that seared its way into more than a few young, impressionable minds in the winter of 1965 – mine, for one, and director Barry Levinson's, for another. (But rather than getting into that, do yourself a favor, click on this link and enjoy this blistering little beauty in action.)