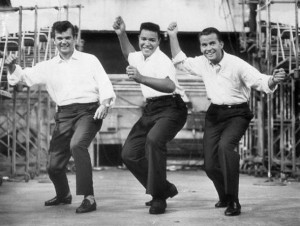 As this list grows I become more aware of some of the great songs that didn't make the cut. Perhaps I'll do a post at some point down the road of the best of the rest. Regardless, please enjoy Part 4 of my personal favorite 300 singles from, if not the greatest, then at least the most eclectic decade for pop music in history.
Desert Island Jukebox: Part 1
Desert Island Jukebox: Part 2
Desert Island Jukebox: Part 3
Desert Island Jukebox: Part 4
Desert Island Jukebox: Part 5
Desert Island Jukebox: Part 6
Desert Island Jukebox: Part 7
Desert Island Jukebox: Part 8
Desert Island Jukebox: Part 9
Desert Island Jukebox: Songs 26 thru 30
Desert Island Jukebox: Songs 21 thru 25
Desert Island Jukebox: Songs 16 thru 20
Desert Island Jukebox: Songs 11 thru 15
Desert Island Jukebox: Songs 6 thru 10
Desert Island Jukebox: Songs 1 thru 5
181.  Harlem Nocturne
Viscounts
1966
Years ago I was in some dive of a roadhouse down South when between songs one of the guys in the band put down his guitar, picked up a sax and launched into a soaring version of this little number, which until that point I had never heard in my life. All I can say is the moody, bluesy melody crawled inside my brain, wrapped itself around my soul and refused to let go. I would hear the song again years later as the theme of the Mike Hammer TV series.  But it would be decades before I learned that Harlem Nocturne, that sax-driven instrumental nod to the music of Duke Ellington, was written by a guy named Earle Hagen, whose most famous composition, The Fishin' Hole, is whistled at the beginning and end of every "Andy Griffith Show."

182.  Theme from "Goldfinger"
Shirley Bassey
1964
If Helen of Troy was the face that launched 1,000 ships, this was the song that launched an icon. Because prior to this masterpiece of international intrigue (sung by a young lady its composer said possessed a "metallic" voice), James Bond was just another spy using fancy gadgets to catch bad guys. But once America heard the in-your-face salvo of this song's brassy two-chord opening (talk about announcing your presence with authority) the world would never look at 007 the same way again. And because this one tune (or maybe those two chords) helped pave the way for Bond to become not just a global sensation but a male ideal, a life style choice, and in time, a pop culture touchstone, while there may be better songs on this mythical jukebox of mine, none has a bigger footprint.

183.  Wives and Lovers
Jack Jones
1963
A song that would simply never see the light of day in today's world of over-the-top political correctness, this little gem was so wrong on so many levels – but that's exactly what made it so fun. Speaking of which, here's a tidbit for your next cocktail conversation. Burt Bacharach and Hal David were once hired to write the theme song for the film, "The Man Who Shot Liberty Valence." But when he heard it, director John Ford apparently hated it and cut it from his final edit. Gene Pitney's hit version of the song, however, turned out to be one of the key factors in the western's box office success. So, a year or so later the producers of a light comedy about marital infidelity, "Wives and Lovers," decided to take a page from the Liberty Valence playbook and commission Bacharach & David to compose a song for their movie, using its title. And just like Ford, they made sure the song was released as a single but, somehow, never showed up in the movie.

184.  Here Comes My Baby
Tremoloes
1967
A terrific, toe-tapping Cat Stevens composition made all the more memorable by some bold and off-beat studio decisions, like laying down some ambient-sounding voices, whistles and other background noises and then muddying up their sound quality to give the overall recording an exciting, live, and rough-around-the-edges, almost club-like feel.

185.  Living in the U.S.A.
Steve Miller Band
1968
If you want to know why I consider C-list rocker Steve Miller one of the most underwhelming, disappointing guitar virtuosos of the past 50 years, consider this little nugget (or 1969's Space Cowboy) and compare it/them to the seemingly endless stream of plodding, mindless frat boy pabulum he would later release, none of which came close to the wittiness, wry humor or melodic quirkiness of his best early tunes.

186.  Give a Damn
Spanky and Our Gang
1968
One day in 1968, out of the blue my father pulled me out of school and took me with him on a business trip to New York, my first time ever in the city. On our very first morning he handed me a $20 bill and said he'd meet me back at the hotel at 5:00 pm. That day (as a 13 year old, mind you) I remember riding the bus to the West Village, taking the 1 and 9 train up to Harlem (where on 125th Street I realized at one point I was the only white face to be found) and walking through the heart of a then-decaying Times Square.  And I'll never forget as I ambled through all those blighted but alive parts of the city — one downtown, one uptown and one midtown — Mayor Lindsay's noble but ultimately feeble attempt to get his fellow New Yorkers to rise up and do something about the condition of their remarkable city; a public service campaign built on a series of bus cards, billboards and subway posters that read simply and even defiantly, "Give a Damn."

187.  Pretty Ballerina
Left Banke
1967
Exhibit A for why what was happening in pop music was so wildly unexpected and so (bleeping) amazing during rock's first full decade. Think about it; just ten years after Elvis first hit the charts, American teenagers found themselves exposed to a style of music as haughty, prim and otherworldly as Baroque Pop, a textbook example of which is this stunning little understated gem.  Or to put that another way, what other generation in U.S. history can lay claim to a type of music that even remotely resembles this? Amazing. Absolutely (bleeping) amazing.

188.  I'm Crying
Animals
1964
While a case could be made the Animals were the roughest and raunchiest interpreters of other people's songs the decade ever produced, every once in a while those five boys from Newcastle would sit down at the piano, put pen to paper, and come up with an R&B gem of their own, like this blistering little rocker, released as a follow up to their smash hit, House of the Rising Sun; a fabulous record in its own right, but one that somehow, inexplicably, never rose any higher than #19.

189.  Night Time
Strangeloves
1965
The Strangeloves weren't a garage band from the heartland; they just sounded that way. In reality, the "band" was actually three nice Jewish boys from New York trying to make names for themselves as Brill Building studio wonks. Regardless, with this one borderline hit brimming with attitude and sneering young maleness they helped rock take a giant step toward what the fates determined it was destined to become. This baby remains '60s proto-punk at its finest.

190.  Jelly Jungle of Orange Marmalade
Lemon Pipers
1968
Honesty compels me to admit, frankly, I can live without this long-lost tune's verses. But man, I love its chorus, especially near the end when that chorus comes on the heels of its ever-so-brief electric sitar solo and bright and breezy bridge. Sure, Jelly Jungle is hopelessly dated. Sure, it's lightweight psychedelia at its most egregious (and let's be honest, psychedelia was to music what the Nehru jacket was to men's style). But unlike the group's #1 hit from months prior, Green Tambourine, which I got sick of hearing maybe the third time through, for some reason I've never grown tired of this trippy and billowy recording. In fact, to the contrary, to my aging ears it has managed to get better with time.

191.  Will You Be Staying After Sunday
Peppermint Rainbow
1969
Remember the scene in "Tommy Boy" when Chris Farley and David Spade first pooh-poohed the Carpenters' squeaky-clean take on Leon Russell's Superstar, but a few moments later were both cruising down the highway belting the song out at the top of their lungs?  For those of us of a certain age, "Tommy Boy's" producers could have easily substituted this catchy-to-the-point-of-infectious pop nugget from the '60s for that one from the subsequent decade and the scene would have rung just as true, if not more so.

192.  Pretty Flamingo
Manfred Mann
1966
A song that has developed almost a cult following over the years, especially among musicians, with seemingly everyone from Bruce Springsteen, Gene Pitney, Elvis Costello, Nick Lowe, XTC and the Everly Brothers to 80s punkers the Queers covering it and finding in its beautiful, wistful melody something they could wrap their arms around, if not make their own. And while Pretty Flamingo never came close to becoming a hit on this side of the pond, it shot to #1 in England where it remains to this day one of the most beloved songs of its era. And for good reason.

193.  Baby the Rain Must Fall
Glenn Yarbrough
1965
As an adolescent regularly given to truth-seeking, soul searching and contemplating what lies beyond the rainbow, before I adopted Everybody's Talkin' as my personal anthem for self-discovery and roads yet-traveled, this emotionally charged little theme from the movie of the same name served as my soundtrack for all such moments of introspection. And to this day, on the rare occasion that I actually stumble upon it, Baby the Rain Must Fall still has the ability to trigger that seeker in me and leave me wanting – if only for a moment – to drop whatever I'm doing and set out for whatever patch of open road, blue sky and occasion for adventure these old bones can still muster.

194.  Nowhere to Run
Martha and the Vandellas
1965
If there's a cooler song in the Motown cannon, I'd like to hear it.  Because this record – despite never reaching #1 or for that matter even becoming much of a hit – remains for me, not just a amazing single, but (along with a handful of other Holland-Dozier-Holland and Mickey Stevenson compositions elsewhere on this list) one of, perhaps, the five greatest songs ever produced during the glory days of Motown Records, Studio A and the little blue and white converted frame house appropriately christened by Berry Gordy as "Hitsville, U.S.A."

195. Dirty Water
Standells
1966
Sure it is the perfect anthem for Red Sox Nation and Boston's gritty, passionate and (often) working class fans. And the Sox, Patriots and Celtics adopted it beginning around 2005 or '06 and began playing it at ear splitting levels before, during and/or after any number of their games and/or victory celebrations. But seriously, fellas, the song had been around for 40 freakin' years. What in god's name took you so long, huh? I mean, it's Boston, it's blue collar, and the thing absolutely rocks. What, did the idea just sneak up on you one day and out of the blue decide to smack you across the head? Duh. I mean, c'mon.

196. California Nights
Lesley Gore
1967
Another one of those oboe songs for which I readily acknowledge I will forever remain a big fat sap – this one co-written by 23-year old, pre-Oscar, Emmy, Grammy and Tony Award winning Marvin Hamlisch; and tune that I remember had a national coming-out party on, of all things, the campy "Batman" TV series, during which Gore performed it while doing a guest turn as a feline seductress/bad girl named Pussycat, a coquettish, pink-clad minion/cohort to Julie Newmar's evil (but forever alluring and forever purring) Catwoman. Seriously, you can't make this stuff up.

197.  Waterloo Sunset
Kinks
1967
In college, I remember many a night lying in bed, headphones on, my mind in some altered state of consciousness, and being blown away by the simple, unadorned beauty of this song and (especially) its background vocals. And then, a year or so later, when I found myself lucky enough to be studying abroad – in London, of all places – I never once set foot on Waterloo Bridge to cross the Thames at sunset (the bridge being just a half a mile or so down the road) without having my good fortune, this song, or the Kinks' stunning background ooh-aahs immediately pop up front and center in my brain – a place where, thankfully, all three still reside, nestled among so many other souvenirs of my ever-so-blessed, music-loving life.

198.  Candy Girl
Four Seasons
1963
Before a broken heart a few years ago opened my eyes to the sheer greatness of Walk Like a Man, this one had always been my all-time favorite Four Seasons tune.  No reason.  I just always loved its melody, its production and, in particular, its harmonies.  Plus it was written by a 70s-era one-hit wonder named Larry Santos, who grew up in the tiny Catskill town of Oneonta, NY, a place I once called home back in those days, and a community in which I worked with, laughed with, cried with, and once a week bowled with, some truly wonderful people, a number of whom I love and miss to this day.

199.  My Best Friend
Jefferson Airplane
1967
On the evening of December 21, 1967, as the "Graduate" was premiering in theaters across the U.S. and in the process changing forever both the language of filmmaking and our collective idea of what constitutes a movie "hero," something far more earth-shaking was happening in a cold and snowy Syracuse, New York. On that day yours truly became a teenager and at my surprise birthday party engaged in the very first slow dance of my life. I'll never forget the smell, touch and even taste of the experience. Nor will I ever forget the fact that this long-lost Skip Spence gem, which I owned as a 45, was the song to which a pretty little brown eyed girl and I not merely danced, but for three minutes and four seconds found heaven in one another's arms. Here's to you, Donna, wherever you are.

200.  Softly As I Leave You
Frank Sinatra
1964
Perhaps all you need to know about this 1964 single on Sinatra's own Reprise label is that the day Francis Albert died in 1998 and the Sinatra family had all those timeless songs to play as background on the man's personal fan site, this is the only one they chose.

201.  Friday on My Mind
Easybeats
1967
Just like Dirty Water should have been a freakin' anthem in Boston for decades, how is it that every radio station in the free world hasn't been blasting this raging and raucous amalgam of working class frustration, anticipation, liberation and joy at full volume every Friday afternoon at around 4:57 for the past half century? Seriously, you want to know how great a tune Friday on My Mind is? In a poll of members conducted a few years back by the Australasian Performing Right Association (APRA) to determine the 100 greatest songs ever produced by an Australian recording artist, when all was said and done this little garage classic sat all alone at #1. Take that, AC/DC.

202.  Not Fade Away
Rolling Stones
1964
Clocking in at just 1:48, this is either the shortest great song ever released or the greatest short song ever released.  Regardless, due in part to Jagger's delicious less-is-more harmonica, the Stones' bold and even slightly misogynistic take on the Buddy Holly classic – in the strutting, cocksure Jagger's hands, the line "I'm gonna tell you how it's gonna be.  You're gonna give your love to me" takes on a whole new timbre – remains a personal favorite, even though, in truth, most Stones fans do not view it as one of the band's shining moments, and as a single it never even sniffed the Top 40 when released in this country over a half century ago.

203.  Who Am I?
Petula Clark
1966
Was Clark's version of this Tony Hatch pearl ideal for the constantly seeking 60s? Let's see. Harpsichord? Check. Existential musing? Check. Questioning life's meaning? Check, check and check. But whereas other songs of the era that pondered life's meaning still left the granddaddy of all questions unanswered, this one actually dared to take a shot at it. After posing the titular question in each of her first two verses, the singer changes the mood entirely and in the third asks the very same question, but this time asks it in the context of having found true love, offering an insight shared by only the wisest and most experienced about what it means to be so blessed. "To question such good fortune…who am I?"

204.  Solitary Man
Neil Diamond
1966
While Bill Murray once famously said in "What about Bob?" there are two types of people in the world, "those who like Neil Diamond and those who don't," I would offer there are actually two Neil Diamonds, the early rebel poet responsible for such little slices of heaven as Cherry, Cherry, You Got to Me, I'm a Believer and this solitary beauty for Bert Berns' Brill Building stalwart, Bang Records, and the middle-aged, sequence-adorned, L.A.-based caricature/piece of dog excrement responsible for foisting on an unsuspecting public such sappy ear candy as I Am, I Said, You Don't Bring Me Flowers, Song Sung Blue and Longfellow Serenade.

205.  Everyone's Gone to the Moon
Jonathan King
1965
On one hand, he was a pop star-turned-impresario with enough irons in the fire to make heads spin. He adopted Brian Epstein as his personal mentor, chose the name Genesis, formed the Bay City Rollers and managed the remarkable 10 cc. But on the other, he railed almost irrationally against Live Aid, designed to feed the world's hungry, and was found guilty a short time after that of five counts of sexually abusing young boys (a crime the Brits call "buggery"), a felony conviction against which he would rail non-stop and almost irrationally for years. Perhaps, in the case of Jonathan King we should try to separate the dancer from the dance and simply applaud one of the world's great one hit wonders, a beautiful, slightly melancholy tune written and recorded by a goofy looking kid with Buddy Holly glasses and a crooked smile; a young man full of ambition, dreams and potential, and one who, by 1965, was not yet defined by what would turn out to be a series of horribly poor life decisions.

206.  Mas Que Nada
Sergio Mendes and Brazil '66
1966
As a pair of strutting young bucks, my buddy Paul and I were tooling down Lake Shore Drive in Chicago one Friday night, a few extra dollars in our pockets, fire in our eyes, and a full head of steam between us, when suddenly this song came on the radio.  We looked at each other for a moment, cracked a pair of big-ass knowing grins, cranked up the volume, and then proceeded to belt out the words phonetically for the next two and a half minutes, during which – I swear to God – time slowed to a crawl, the world became our own and, for one shining moment, life seemed perfect.

207.  Don't It Make You Want to Go Home
Joe South
1969
One of the tragedies in the runaway popularity of all the redneck pop passing itself off as country these days is that all that mindless good ol' boy whooping, hollering and baying at the moon seems to have buried once and for all America's deep rooted and long standing tradition of lyrical, even musical writing by Southerners about the place they call home.  From Flannery O'Connor, William Faulkner, Robert Penn Warren and Tennessee Williams to Johnny Mercer and Hank Williams, there had always been something utterly poetic in our finest examples of Southern letters and lyrics.  And if you don't think this amazing little gospel-inspired paean to a disappearing South by a restless kid from Atlanta deserves a spot in that lofty category, think again – and listen to it one more time.

208. So Much in Love
Tymes
1963
A terrific song about summer romance that somehow, but in a very real way, calls to mind some incongruous mix of sea and city (I don't know; I'm thinking Far Rockaway, or maybe Atlantic City?) and makes me, if only for a moment, want to reconsider all those otherwise lukewarm and/or indifferent feelings I have toward doo-wop as a music form.

209.  A Change Is Gonna Come
Sam Cooke
1964
It's silly to argue what film best incorporates a hit tune into its narration, but for my money one must look long and hard to find a more moving or poignant marriage of celluloid and pop music than Spike Lee's "Malcolm X," during which this one plays in its entirety as the titular character drives slowly from his home in Queens to the Audubon Ballroom in Washington Heights, a journey during which he seems aware and even at peace with the fact he's about to be assassinated. Cooke, who composed the song and who at the time was fiercely proud of it, nevertheless recorded it in seven takes, played it once in public (on Johnny Carson's "Tonight Show," two days before the Beatles' first Sullivan appearance) and then never once played it again.

210.  Try Too Hard
Dave Clark Five
1966
OK, maybe I was a little hard on the Dave Clark Five in an earlier installment. Because as I was re-editing my list this week I suddenly remembered this one and realized it had to be here. Because Try Too Hard, fueled by Mike Smith's offbeat and slightly quirky honkytonk piano, has to be on this jukebox. After all – again, as I realized this week – this little underrated and long-forgotten power pop beauty (co-written by Clark and lead singer Smith) is not just my favorite DC 5 tune from the decade.  It's one of my favorite tunes of the decade, period.