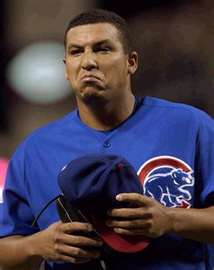 Yesterday, I posted that Carlos Zambrano's threat to retire Friday night reminded me of an old George Carlin routine about an out-of-the-blue phone call from a now-pregnant one night stand.
Today, I like to follow up with two questions. 
First, given Zambrano's pattern of always trying to explain away his downright embarassing outburst of child-like behavior as frustration over the Cubs' losing, how does he reconcile the fact that at the time of his most recent meltdown his team was riding high, having won 9 of 11, and playing its best baseball in two years?
Secondly — and perhaps more damning to his rapidly eroding reputation as a "good teammate" — why is it that none of Zambrano's tirades over these past few years have ever occurred when one of his fellow starters was getting beat up on the mound?
Don't believe his frustration defense or that tired contrition act of Zambrano's for a second. Nor should you buy any of other Cub's half-hearted portrayal of him as a good teammate.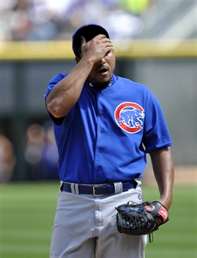 It's never been about the other 24 guys in the clubhouse for Zambrano.  And it's never, ever been about the Cubs or their fans.
It's always been about him. 
And what's more, as he's proven one too many times in the past — and hopefully for the last time on the North Side of Chicago — it always will be.