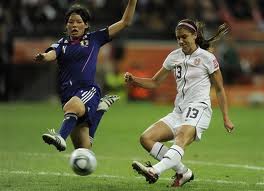 Like most Americans, I was rooting for the U.S. Women's Soccer Team in yesterday's World Cup finals against Japan.  And like most Americans, I found myself disappointed when our girls came up short.
But then I thought about it — thought about what an incredible underdog that the Japanese women had been; thought how utterly they'd been dominated for years by their U.S. counterparts; and more than anything, thought how devastated their homeland had been just a months ago, first by that incredible earthquake, then the tsunami, and finally that horrific nuclear meltdown. 
And in the course of all that thinking, I started to see things a little differently. 
I began thinking about 1980 and just what it meant to this country when our fresh-faced Olympic Hockey Team stunned the heavily favored Soviets in Lake Placid.  I remembered how beaten up most Americans felt, what with the Iranian hostage crisis, not to mention the eerily long gas lines, the rising unemployment and all that runaway inflation. 
And I thought of just how much those kids' upset of the Russians elevated America's collective spirits and, in a very meaningful way, freed so many of us from the shackles of despair.
It was then that I began watching those Japanese girls running around, hugging each other, screaming and crying, and remembered that the gods of sport are so much wiser than we mortals ever thought of being. 
The right team won yesterday.  The team that needed to win.  David, as he's done so many times in the past, picked up his stone and slew Goliath.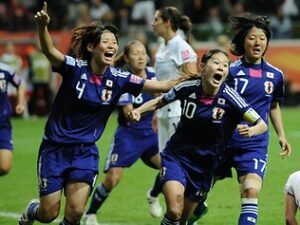 And in the process, not only did an unlikely band of over-achievers make history, but once again a team of fresh-faced kids gave a battered and bloodied nation hope, while reminding it that better days lie ahead.