Why are the Rays the Rays? 
In other words, how do they do it year after year, constantly contending and constantly fighting for supremacy in the utterly brutal American League East — and all the while doing it with a total payroll less than that of the New York Yankee infield? 
Granted, they do it with starting pitching.  That's a given.  But beyond having the deepest, most talented and most balanced collection of starting pitchers seen in over a generation, you know how else they do it?
One word:  defense.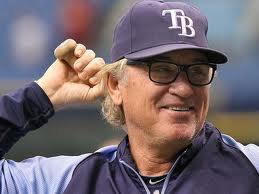 For all Joe Maddon is given credit for somehow getting his bargain basement team to play above their collective heads and continually rising above the loss of guys who would at first blush appear indispensable (Carl Crawford, Evan Longoria, etc), at the end of the day Maddon and the Rays win because they have this uncanny ability to fundamentally change the game on the defensive side of the ball. 
First, I'm shocked that no national beat writers have picked up on this to a greater extent, but this year in particular Maddon has seemed to have almost single-handedly revolutionized how baseball is being played, or at least how Major League hitters are being defended.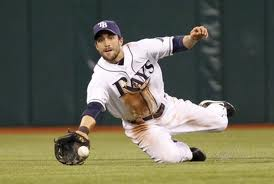 His Rays this year have adopted something which, for lack of a better term, is something of a super-shift.  He regularly – and I mean, way more often than not – plays three infielders on the pull side of the diamond against even the most middling and pedestrian hitters and in the process allows his team to record outs on balls that just a few years ago would have easily gone for hits.
Granted, shifts are not new.  As far back as the 40's, teams were regularly applying a right field shift against Ted Williams, daring him to try to hit the ball the other way.  But Maddon's application of the shift against the likes of garden-variety hitters like Daric Barton and Kelly Shoppach is downright mind boggling.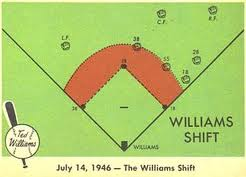 And more and more you're seeing other teams adopting Maddon's strategy, forcing players who have always been rewarded for hitting the ball a certain way toward a certain part of the field to try to adjust at the Major League level and do something they, quite literally, have never in their lives had to do.
A line drive hit right over the pitchers head and 30′ or so in front of the center fielder?  Since the dawn of mankind that's been a single. 
But not this year.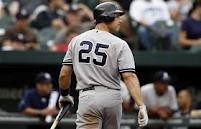 It's a line drive out, and more often than not you see hitters like Mark Teixeira and Prince Fielder staring out into center field and shaking their heads in disbelief after hitting one on the screws in what until this year had always been a safety zone.
And it's a trend that is spreading like a small brush fire.  Just yesterday I saw Chipper Jones hit a rocket into center field, which by all rights should have tied the Braves' game against the Cubs.  Instead, the ball was caught by the Chicago shortstop who was playing a good 20' behind the bag at second, right in the heart of shallow center field.
People can blame baseball's new drug testing policy and this unseasonably cold weather all they want for Major League Baseball's across-the-board dearth of runs this year.  I say it's the widespread adoption of something Joe Maddon has elevated to a science.
One more thought on the Rays, or more specifically the Rays' defense.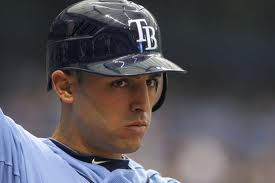 Last night was a textbook example of something Tampa has that no other team in baseball has.  And what they have is an absurd, almost criminal amount of defensive flexibility.  Against the dreaded and deep-pocketed Yankees, and playing on the road in the ever-hostile hostile Bronx, the Rays entered the 8th last night trailing 1-0. 
So Maddon, in an attempt to jumpstart his offense, sent up Desmond Jennings, who had been nursing a sore knee, to bat for Elliott Johnson, who was playing shortstop because the Rays' regular guy, Sean Rodriguez, was playing third in place of Longoria, who had in turn been placed on the D.L. a few days ago. 
To replace Rodriguez at third, Maddon then shifted his starting catcher last night, Chris Gimenez, over to third base and inserted Jose Molina into the game to catch and hit in Jennings' spot in the order.
Then in the 9th, still trailing by that same 1-0 score, he sent up Brandon Allen, who had recently been picked up on waivers, to hit for Gimenez. Allen proceeded to single and ignite what would eventually become a four-run rally.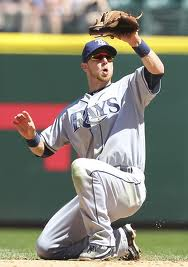 So in the bottom of the 9th and needing yet another third baseman, Maddon moved his starting second baseman, Will Rhymes, across the diamond to play third.  He then shifted his right fielder, Ben Zobrist, from right field to second, moved his starting left fielder, Matt Joyce, from left to right, and inserted Brandon Guyer, who had just been called up from the minors that day, into the game to play left.
The long and the short of it was, despite sending only two defenders into the game, Maddon snatched victory away from the Yankees by deploying three different third basemen, two different second basemen, two different shortstops, two different catchers, two different right fielders and two different left fielders.  And he did that all in the space of just two innings.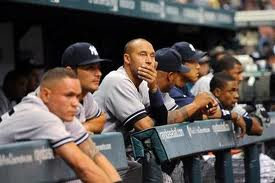 As a result, Joe Maddon and the woefully under-financed Rays have now somehow found a way to beat the Bombers and their historically top-heavy payroll in eight of their last nine games.
And, as former White Sox GM Roland Hemond used to say so many years ago, you can look it up.