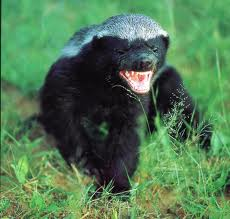 I'm not sure what's more amazing, the fact that a simple piece of video featuring a nasty, ornery and severly bowlegged rodent (bouyed by some hilarious and gloriously bitchy voice-over work by a narrator known only as Randall; a guy my grandmother might have once referred to as "loose-limbed") has gone viral to the point that it currently has over 33 million YouTube hits and counting, or the fact that you have no idea what the hell I'm talking about.
Take your pick. Either way it's downright remarkable.
I do know this.  Right under our collective noses, a tough-as-nails little animal known as the honey badger has gone mainstream and officially emerged as something of a pop culture phenomenon.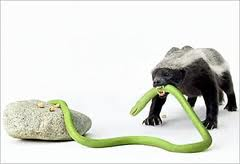 In the past few months we've seen the honey badger use a dead snake to snap open a nut in a national TV spot for pastachios.
We've seen a spot for the newest version of the Madden NFL video game — a spot  narrated by Ben Affleck using a thick Boston accent — describe a certain relentless competitor and a fierce player of the game as "a honey badger."
In the hit series Glee a few weeks back, Jane Lynch's eternally nasty Sue Sylvester complimented another character by calling her "the honey badger, nature's most ferocious animal," before snarling to the slightly confused woman, "Look it up on YouTube."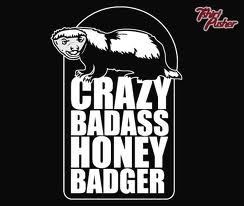 On ESPN Monday Night Football last month, when a blackout suspended play between the San Francisco 49ers and Pittsburgh Steelers, 49er coach Jim Harbaugh could be heard screaming on the sideline during the delay, no doubt trying to keep his team fired up, "Honey badger don't care about no lights!  Honey badger don't care about no lights!"
There was a limited-edition honey badger plush toy manufactured recently that spoke seven of the more water cooler-worthy phrases employed by Russell in the video when you pulled its string, a cheaply made item that, apparently, sold out in a matter of days. 
There is now a production company in L.A. featuring a small group of directors who hope to take advantage of various opportunities in the new media space.  On its web site the company promises prospective clients it will always remain "small and agile."  The company calls itself simply, Honey Badger.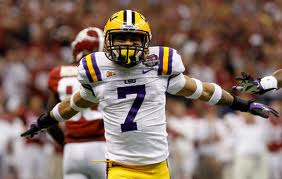 In this year's SEC Championship, LSU defensive back Tyrann Mathieu was named MVP. This was notable because Mathieu's toughness and play-making ability had recently earned him the nickname "Honey Badger" from his teammates, which prompted announcer Vern Lundquist to declare at one point during the broadcast, "He takes what he wants." 
Of course, Lundquist paled in comparison to ESPN's Brent Musburger's incessant "honey-badgering" in the BCS title game, at which point the whole "don't care" thing had worked its way so deep into mainstream American life, tiny little honey badgers were probably under consideration for inclusion in Happy Meals.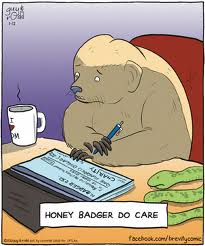 And speaking of nicknames, NPR just did a feature this week on Colorado Secretary of State Scott "Honey Badger" Gessler, while the New York Times wrote a few months back of the Occupy Wall Street movement, "the whole thing has gone completely honey badger." 
As you might expect, there are now any number of honey badger apparel items on sale from any number of online retailers, including a tee shirt that looks and reads just like a dictionary entry. Honey Badger: Noun. A nocturnal badger-like carnivore that doesn't give a shit.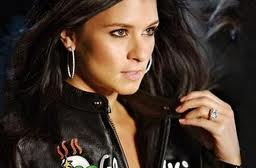 Then this week, in anticipation of her first-ever Daytona 500, NASCAR rookie and the national media's favorite babe-behind-the-wheel, Danica Patrick, said she was going to be like a honey badger this year and, in her words, "take what she wants."
And, of course, there's now a Honey Badger Don't Care video game app for smart phones.
I've even heard recently that the voice of this viral phenomenon, Russell, is in negotiations to produce a honey badger-style pre-Oscar video for the web, which will handicap the various nominees' chances.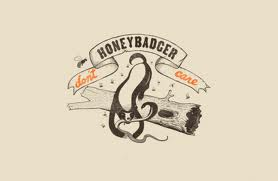 Like I said, the honey badger craze has truly hit mainstream and officially been embraced by even those far removed from its fringy roots and its humble beginnings. 
And while that remains in and of itself somewhat stunning, it also probably means that, just like every other pop culture curiosity that grows into a full-fledged phenomenon, this current wave of massive popularity means the honey badger's 15 minutes are almost up and it's the beginning of the end for our nastyass friend — at least as a topic of  discussion among small-market news anchors or as a punchline for Bob and Betty down at the local Appleseeds.

But then again — and this may be why Mr. Honey Badger caught our fancy in the first place — I'm pretty sure the ornery little son of a gun could care less.  In fact, as Russell's made it abundantly clear over 33 million times and counting, he really don't give a shit.