Right off the bat, it's important to understand that this is not meant to be a list of the greatest Beatle songs of all time. It is simply a list of the ten songs which, in my opinion, and for some reason or another, either never got their due, or no longer recieve the respect they deserve from music critics and a vast majority of the contemporary music-consuming public.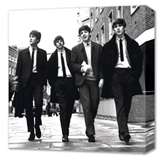 And you'll note each one is an early Beatle song.
My sense is that Beatle songs like these ten became largely overlooked because as the band grew more and more popular over the course of their career — and in the process grew more influential — their songs started to take on a gravitas and a sense of self-importance not in evidence early on.
As a result, many of those early Beatles singles probably seemed too breezy and carefree to be critically lionized or placed upon some altar of high art. And that grew even truer the more ponderous, artsy and socially "important" their compositions became.

Abbey Road and The White Album mattered because the Beatles mattered. And the Beatles mattered because between 1963 and 1966 they provided us a three-year run of the greatest pop songs of all time.

It's almost as though with each passing year of the Beatles' career, they grew more and more conscious of their influence on society and began composing with their eyes on something other than the keyboard or the fretboard.
So while I will never deny the greatness or the artistry inherent in Sgt. Pepper's, Abbey Road or the White Album, I will go to my grave contending that as stand-alone collections of music, they simply do not stack up alongside the great rock albums of all time.
Why? Because they were all made at a point in their lives when the Beatles were trying way too hard to be the Beatles; to stay a step or two ahead of the musical tsunami they themselves helped trigger. And at that point in their careers, all that effort and all that strain started to reveal itself in almost every song they wrote and almost every note they played.
But listen to those early songs in the Beatles songbook. I dare you to find even one moment of conspicuous effort. The only thing you'll hear is a steady stream of joy, wonder and unfiltered emotion — all wrapped up in some of the most beautiful harmonies the world has ever heard.
What's more, I contend that those final few Beatle albums would never have been as highly regarded if not for the series of stunning pop singles that preceded them. In other words, in the end, the reason Let it Be and Abbey Road mattered to the extent they did was because the Beatles mattered.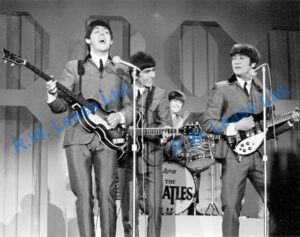 And the Beatles mattered for one reason: because between 1963 and 1966 they provided us a three-year long run of the greatest pop songs of all time; songs that celebrated life, love and youthful passion; songs that literally changed the world; and songs that remain to this day as timeless as they are unforgettable.
So, while I still greatly admire later gems like Get Back, Let it Be and While My Guitar Gently Weeps, my sense is those songs owe far more to I Saw Her Standing There than I Saw Her Standing There owes to them.
And years from now — and I'm talking about another century or so — it wouldn't surprise me at all to learn that kids are still dancing to Day Tripper and Please, Please Me, while the only people listening to songs like Penny Lane, Revolution, Hey Jude, Come Together, and even — and I swallow hard as I write this — All You Need is Love, are the academics, the cultural anthropologists and the music historians.
So with that, please accept the following: one man's humble opinion, and my personal list of the ten most criminally overlooked Beatle songs of all time.
10. There's a Place
A John Lennon composition that was the first track recorded in the ten-hour marathon studio session that produced the Beatles' first UK album, Please, Please Me. Lennon claimed it was his attempt to do "a sort of Motown, black thing," and was a song that conceptually borrowed from Somewhere, the stunningly beautiful Leonard Bernstein/Stephen Sondheim collaboration from their smash hit musical, West Side Story ("There's a place for us").
It was originally released as the B-side of Twist and Shout (the last song recorded during the Please, Please Me marathon), and was one of the early Beatle songs on which Lennon played harmonica to great effect, after being taught by Bruce Channel's harp player and fellow Texan, Delbert McClinton.
But more than anything, given the unique conceit of the song — that a young man can find happiness by creating his own reality in his own mind — There's a Place established the Beatles, and particularly Lennon, as artists willing to explore an emotional terrain that up to that point had been left all-but-untouched by pop tunesmiths.

9. I'll Get You
You know how the Dude's rug tied his room together? I'll Get You is a song tied together by one simple musical element: the evocative and somewhat unexpected D major to A minor chord change that takes place underneath the line, "It's not like me to pretend."
Just as in the case of There's a Place, I'll Get You was also the B-side of a huge hit (She Loves You), also featured Lennon's harmonica, and also employed a songwriting device few other lyricists of the day did. It's opening line, "Imagine I'm in love with you," was refreshingly inventive in that it used a simple hypothetical suggestion to immediately transport the listener to another time and place.
Lennon and Paul McCartney would use the technique again, of course, in far more iconic and self-aware songs like Lucy in the Sky with Diamonds and Imagine. But this is the first example of them ever using it.
However, I'll Get You's importance has little to do with chord changes or narrative technique. Instead, the song remains important, even historic, for one simple reason : in 1964, in schools across America, teachers were still swatting kids across the knuckles for saying "yeah" instead of "yes," and sending them home for repeat offenses.
With the release of She Loves You and its flipside, I'll Get You, however, that ship officially sailed and the word "yeah" moved out of the streets and back alleys of America, and grabbed a seat at the family dinner table.
(And in the video below, watch for Dusty Springfield talking to Paul at the beginning of the clip and a very baby-faced Eric Burdon doing a funky little dance at the very end.)

8. I Feel Fine
In the studio one day, as the band was taking a break, Lennon leaned his guitar against one of the speakers. The loop created between the audio output of the guitar and audio input of the speaker caused a noise that so spooked the boys they started joking about it being some kind of voodoo.
When someone told them it was feedback, they thought it sounded cool and asked George Martin if they could work it into a song. He suggested they use it in a song John had written a while back, figuring it might be a nice way to lead into the snappy little guitar riff that served as the melodic foundation of I Feel Fine. Soon feedback seemed to be everywhere as guitar innovators like Jimi Hendrix, Pete Townsend and Jeff Beck began regularly experimenting with it, both on and offstage.
But as with the previous song on this list, I Feel Fine is more than about its impact on popular music. I'll Feel Fine matters and holds up in a way many more highly regarded later Beatle songs don't for two reasons: it not only features, arguably, the greatest drumming Ringo Starr ever committed to vinyl, but it remains to this day one of the most joyous and completely unpretentious celebrations of love in the history of pop music.

7. Don't Bother Me
Following Brian Epstein's suggestion that the lads ditch their jeans and leather for suits and ties, there was a sense among many critics and industry insiders that they were simply four squeaky clean kids who only sang about love as a winning proposition; especially in light of the rival Stones' bad boy image and their darker take on life, love and the overall human condition.
But when one listened to the lyrics of George Harrison's first-ever solo composition for the group, which appeared in the U.S. on Meet the Beatles, a different side of the band's personality emerged.
In Don't Bother Me, the singer was not happy at all. In fact, he was hurt. He was angry. And he could have cared less what people thought. ("I've got no time for you right now. Don't bother me.")
Plus, in addition to all that anger and pain, the song was fueled by a powerful driving rhythm, some double-tracked lead vocals and a three brawny chords, all delivered in a minor key.
The net effect was a rocking original that not only stood out among all the covers on the group's American debut album, but established Harrison as the embodiment of the Beatles' deeper, darker and far more mysterious side.

6. A Hard Day's Night
Given the innovative nature and the quality of the music that followed A Hard Day's Night in the chronology of the Beatles' catalog, it would be easy to dismiss the single as just another shimmering example of Mersey Beat pop.
But nothing could be farther from the truth. Other than perhaps the final chord that closed A Day in the Life, no single chord in Beatle history has spurred more debate than the powerful strum of George's 12-string at the very top of A Hard Day's Night. And Harrison's power chord (which we now know included a little help from his friends, including producer Martin's piano) literally ushered in an exciting and revolutionary new era of Beatlemania, if not all of pop culture .
Director Richard Lester chose to open his movie of the same name by blasting Harrison's titanic chord over its opening credits. And with that one single thunderbolt of harmonic tone and texture, for an entire generation of American kids (as well as every generation that would follow them), the relationship between music and video would never be the same again.

5. Yes It Is
If there is a more under-appreciated and overlooked song in the entire Beatle catalogue than Yes It Is, I'd like to know what it is. Many people who grew up on the band have never even heard it, and countless others haven't a clue as to where it fits in the chronology of Beatle singles.
Originally the B-side of Ticket to Ride, the song was written almost entirely by Lennon and remains one of a handful of straight ballads he ever composed.
Although he said a few times that he wasn't particularly wild about the song, and that it was a feeble attempt by him to re-write This Boy, don't believe it for a minute. Yes It Is is a stunning little tune, supported by a rare, three-part harmony vocal track and George Harrison's even rarer use of a tone pedal, which adds an eerie, almost otherworldly quality to the overall production.
Whether the song is about John's dead mother, Julia Lennon, who died when she was struck by a car while wearing a red dress, or whether Lennon really disliked it as much as he let on, is really beside the point. The real point is this; Yes It Is is not merely an under-appreciated and overlooked song. It may just be the single most timeless and hauntingly beautiful little melody any Beatle ever wrote.

4. Got to Get You Into My Life
When people list the greatest McCartney songs of all time, this one rarely makes the cut. But Got to Get You Into My Life is a great tune on so many different levels — even if it's not a love song at all, but an homage to Sir Paul's first (apparently terrific) experience smoking pot.
But what sets this song apart from the pack is that it is, for my money, the single greatest vocal performance of McCartney's career. In April of 1966, when Got to Get You Into My Life was recorded, McCartney was a 23-year old man at the very top of his game. He simply oozes confidence and vocal power from beginning to end.
And to listen to him and the authority with which he wraps his voice around every last note is like watching a 23-year old Michael Jordan racing downcourt with one man to beat, watching a 23-year old Marlon Brando explaining the Napoleonic Code to Stella, or watching a 23-year old Tiger Woods take dead aim on Sunday from 150 yards out.
And it only gets better following the brief guitar break at the top of the fade, when McCartney unleashes an absolutely spine-tingling vocal flurry to end the song.
As for Got to Get You Into My Life itself, Lennon, who was a particular fan, once said matter-of-factly about both the song and its composer: "When I say that (Paul) could write lyrics if he took the effort, here's an example."

3. Things We Said Today
Speaking of innovative lyrical techniques, how about a song that anticipates the gnawing nostalgia of old age?
And a song written and sung, not by some world-weary middle aged man on the backside of life, but by a 21-year old kid?
And not just any 21-year old kid, but one of the richest, most famous young men in the world; a young man who has everything a young man his age could ever want, and a young man who on the day he wrote it happened to be sailing in the Bahamas with his beautiful, loving girlfriend on a yacht called, of all things, Happy Days?
As in the case of I'll Get You, another McCartney composition, Things We Said Today benefits from a stunning and refreshingly quixotic chord change, the F major to B flat major, which first occurs in the chorus just beneath the line "wishing you weren't so far away."
But, just as was the case with I'll Get You, this song is more than about mere chord structure. Things We Said Today matters because it is a song teeming with the wisdom of the ages, a song that anticipates the sadder and lonelier time that awaits us all, and a song that reminds us to hold close those dear to us, and to love them deeply for as long as we can, because someday all we'll have left are the memories of all those people and the faint echo of all that love.
2. I Want to Hold Your Hand
Some may take exception to I Want to Hold Your Hand being on any list of underrated Beatle songs. It was after all, the song that started it all for the group, and was the song that became their first #1 hit on this side of the Atlantic.
But that's exactly the point. Because unless you're old enough to have lived through that era you had no idea what music, if not life in general, was like before the Beatles. Unless you were once forced to spend your nights and weekends listening to the likes of Bobby Vee, Connie Francis and the Rooftop Singers on your transistor radio, you'll never know what it was like to have heard the first three notes of I Want to Hold Your Hand for the very first time.
Because in January of 1964, those weren't just any three notes. They were a clarion call. They were three notes that beckoned you; three notes that dared you to look the other way; three notes that made anyone who heard them suddenly realize the world was a much bigger place than they ever realized.
Lennon claimed I Want to Hold Your Hand was one of those songs he and McCartney wrote, in his words, "eyeball to eyeball," a phrase McCartney later said perfectly described how he and John wrote back then.
And it was a great song, make no mistake. And it certainly stands on its own as a classic little two and a half minute musical celebration of young love. But unlike every other song on this list, this entry comes with a caveat. This particular selection needs context.
And that context is this: on the night of February 9th, 1964, when the Beatles opened their performance on the Ed Sullivan Show with the first three notes of I Want to Hold Your Hand, that was the exact moment that millions of American boys who had never thought of playing music in their lives suddenly thought to themselves, "Wow. I have to learn how to play the guitar and check out some of the best guitars listed on The Sound Junky"
And the reason those boys thought that, was because they knew that at that very same moment there were also millions of American girls out there looking at those four guys with their suits, ties, pointed boots and moppy hair and thinking to themselves, "Wow. I got to get me one of those."

1. If I Needed Someone
As great as Lennon and McCartney were as songwriters, what does it say about a group when its third best songwriter has among his credits such indelible classics as Something, Here Comes the Sun and, in particular, If I Needed Someone?
George Harrison's 12-string electric in A Hard Day's Night so deeply influenced the Byrds Roger McGuinn that he began to incorporate the sound of a 12-string into a number of his group's songs, most notably Mr. Tambourine Man and Turn, Turn, Turn. The cleaner, crisper version of the sound that McGuinn achieved ultimately became so compelling it not only created an entire sub-genre of music (jangle rock, taken from a line from Mr. Tambourine Man), it inspired the guy who first inspired it.
Harrison's If I Needed Someone was a direct homage to McGuinn's signature 12-string jangle; so much so he even sent a demo to California, telling McGuinn the song was based on a riff he had played in the Byrds' version of Pete Seeger's The Bells of Rhymney.
What's so compelling about If I Needed Someone is that is marries the glistening chime of Harrison's 12-string with the solitary cynicism he first brought to bear in Don't Bother Me. The idea of carving a woman's number on the wall and then telling her maybe he'll call is so rich in irony and full of attitude that when you hear it you can't help but feel you're listening a drowning man trying to play hardball with the person holding the rope.
But more than anything else, it's just a really cool song. More than the sum of its parts, more than its ringing 12-string guitar, more than its deeply cynical lyrics, If I Needed Someone is #1 on this list of underrated Beatle tunes because it remains after all these years, quite simply, one of the coolest damn songs ever written.