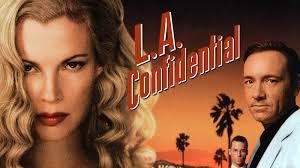 It remains, for my money, the greatest film noir ever made. I put it up against Laura, Out of the Past, Sunset Boulevard, Maltese Falcon, Double Indemnity, any of them.
What's particularly amazing is that it was made 40 years after noir's heyday and shot, not in that genre's traditional black-and-white, using ultra-dramatic shadows and light, but in full, living color, and often in broad daylight. It was an early 50's period piece, to be sure, but nothing else about the amazing L.A. Confidential even thinks about playing in the same sandbox as your father's noir.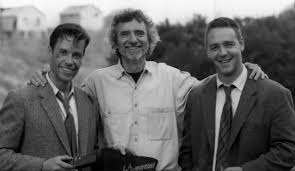 I bring this up today because among the great artists the world lost in 2016 was Curtis Hanson, who in 1997 not only adapted L.A. Confidential from a dense and rambling novel by James Ellroy, but brilliantly brought his adaptation to the screen.
I bring it up as well because the sleepy eyed crooner and Rat Pack legend who sings today's nugget died 25 year ago on, of all days, Christmas.
In 1959, that self-same singer had released an entirely secular Christmas album, A Winter Romance, which had been a huge smash for him. And while today's featured song was recorded for that LP, for some reason it never made the cut. So it sat in the can unheard for 30 years before A Winter Romance was re-mastered, re-released and renamed on CD in 1989, with only one bonus track added; this one.
Yet because the song finally saw the light of day in '89, when the late director needed a tune to play behind a crucial Christmas Eve scene set in an atmospheric L.A. bar – the scene in which Jack Vincennes (Kevin Spacey's character,who has slowly but surely mortgaged his soul) stares at himself in the bar mirror, trying to swallow the shame for just having thrown yet another failed young actor to the dogs for the sake of a few bucks, an act that would eventually cost both him and the actor their lives – Hanson thought of this bluesy, seldom-heard and period-perfect sliver of yuletide melancholy.
The first time I heard today's nugget was also the first time I ever saw L.A. Confidential (a film that now ranks among my all time favorites). And I was blown away by both. But I was especially intrigued by the song, because I'd owned A Winter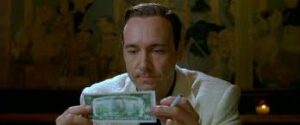 Romance on vinyl for years, and had never once heard it. That was 20 years ago, but my love affair with both song and movie still lingers.
So with that – and in honor of both the guy who sang it, and the man who pulled it out of the shadows and gave the music-loving, jingle-belling world a chance to finally hear it – please enjoy today's Song of the Season; Dean Martin's Christmas Blues.