M.C. Antil's Song of the Day — November 10, 2010
A snapshot of songs you might not know…but should.
Bill Pursell was not supposed to be in Nashville.  If his life had gone according to plan, after graduating from the Eastman School of Music he would have become a world famous composer and concert pianist and lived in some urban mecca like New York or San Francisco.
But instead, fate intervened and following World War II and a stint in the Air Force, he found himself in Nashville playing jazz by night with guys like Boots Randolph and Chet Atkins, and making ends meet during the day by doing session work for a number of the reigning kings and queens of country; people like Marty Robbins, Patsy Cline, Eddy Arnold and Jim Reeves.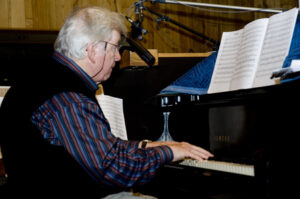 Bill Pursell
Among the literally hundreds of songs Pursell played on were "Ring of Fire" by Johnny Cash, "Sweet Dreams" by Cline, and "Yakety Sax" by his old jazz buddy, Randolph (a tune which would later be adopted by British comedian Benny Hill as his show's opening theme).
Eventually signed to a contract by Columbia, Pursell began collaborating with another young player named Bill Justis, a guy who just a few years prior had released the very first instrumental hit in the history of the pop charts.  In 1957, his "Raunchy," a song he co-wrote while living in Memphis and working out of Sun Studios, climbed all the way to #2.
("Raunchy" would go on to gain particular prominence in music history because, while riding on the upper deck of a Liverpool bus a year later and a half a world away, George Harrison played a note-for-note version for John Lennon that so blew him away that he invited Harrison to join his new band, the Quarrymen, on the spot.)
One day, while sifting through some demos, Pursell and Justis came upon an acetate mailed to one of the local publishing companies by a Canadian songwriter named Johnny Cowell.  It was called "Long Island Sound."
Thinking it was a 45, the company's co-owner, Grady Martin, played the disc at that speed.  But as it turned out the acetate was a 78, and so what was intended to be an uptempo trumpet instrumental, with a brief piano intro, became a mid-tempo number with a haunting little piano hook for an opening.
Hearing the melodic piano at the slower tempo, Pursell and Justis both sensed immediately that Martin was onto something.
Justis began working on an arrangement, while Pursell began slightly re-writing the melody into one complete verse, which he then simply repeated three times to form a full song.
To replicate the echo effect that the piano achieved when the "Long Island Sound" demo was played at the slower speed, Pursell found that if he played the opening chords with very stiff fingers and then repeated the chords by playing them again a fraction of a beat later, only much softer, he could virtually duplicate the haunting echo effect of the demo.
The technique gave the melody what Pursell would later claim was an "icy" sound, and it was soon suggested by someone that the song be renamed "Our Winter Love."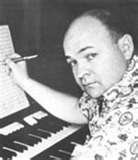 Bill Justis
Meanwhile, Justis determined that if the song's one verse was to repeat three times, he wanted to add something to the two subsequent verses that would make each different from the one prior.  For the second verse he made a daring decision.
The studio in which Pursell and Justis were working, Columbia B, was for years known as the Owen Bradley Studio, a small Quonset hut just off 16th Street in Nashville.  The studio, which had been the place the legendary Bradley produced all those incredible Patsy Cline classics, had just installed a new stereo board a few months prior.  Unfortunately, the new board had a short in one of the channels, which caused any audio fed through the channel to become severely distorted.
Martin, a session guitarist extraordinaire, and the guy who would eventually publish "Our Winter Love," had been working with Marty Robbins a few days after the board was installed, laying down a track called "Don't Worry."  Martin was the one who discovered the faulty channel, because it was his guitar that came out all distorted during playback.  Try as they may, the engineers simply couldn't fix the channel.  So even though Robbins and his producer, Don Law, wanted to scrap the session, Martin convinced them otherwise.  He told them he actually liked the sound and urged them to leave the distorted guitar as is. So they did, and "Don't Worry" was released as a single, distortion and all.
What Bill Justis did, however, was something entirely different. Unlike "Don't Worry," in which the distortion was something of a fortunate accident, Justis actually wrote distortion into his arrangement for "Our Winter Love."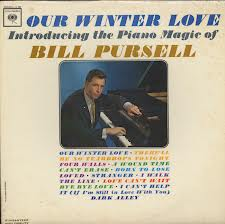 He had Pursell's piano and Boots Randolph's tenor sax play a melody (with Randolph's being half an octave higher), while having Harold Bradley (Owen's brother) play the exact same melody on his bass, which then got fed through the faulty channel.
The net effect — two clean audio feeds playing the exact same melody as one dominant and harmonically distorted one — was jarring at first, but eventually Pursell and the others agreed that the brittle, almost fragmented effect it produced gave the second verse an unmistakable character that somehow worked in the context of the song's icy winter mood.
The third verse was a much easier decision, as Justis called in the Anita Kerr singers to provide the instrumental some choral texture.  Their voices, combined with Justis' angelic orchestration, propelled the verse, the melody, and in fact, the entire song, into some chilly, snow-covered netherworld.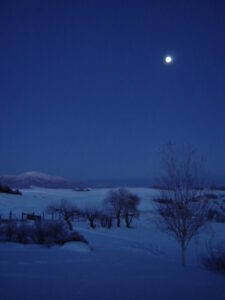 When it was released under Pursell's name, appropriately enough, in January of 1963, "Our Winter Love" became something of a minor phenomenon.  It stuck a chord with people, who found themselves caught up in the gentle simplicity and emotional solitude it conveyed.
The song climbed to #9 on the pop charts, and to #4 on the adult contemporary charts. It even climbed to #20 on the R&B charts.  Meanwhile the album, which took its name from the hit single, reached #28.
Ironically, to this day Pursell has never met "Our Winter Love's" composer, Johnny Cowell, has never spoken to him, nor until a month ago, did he even know what he looked like.  Many years ago, he simply reworked a demo Cowell had sent with a form letter in a brown envelope and transformed it into a timeless classic, earning for Cowell (in theory anyway) a whole bunch of money as the song's sole composer.
In exchange, Pursell never asked for a single dime — which is, as one might expect, exactly what he got.
That doesn't change the fact that "Our Winter Love" has carved out a small but meaningful niche for itself in the annals of pop history, and has become for many a song for the ages; a remarkable little melody that can be evocative, wistful, romantic and slightly melancholy, all at the same time.
And while the song has never achieved one of those Hollywood-fueled moments of rediscovery, such as the ones enjoyed by other long-lost instrumentals like Link Wray's "Rumble" or Dick Dale's"Miserlou," it remains a song near and dear to countless people's hearts.
And given its haunting, lilting and ethereal piano, and the extraordinary success that Windham Hill Records would go on to achieve a few decades later with virtually the same sound, I suppose it's not a stretch to call "Our Winter Love," the world's very first New Age hit.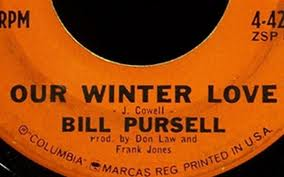 Similarly, it would not but much of a stretch to call the one-time Nashville sideman who performed it, Bill Pursell — and not some bigger name like George Winston or Yanni — the Moses of the New Age movement.
So with that, please sit back, turn up the volume and enjoy M.C. Antil's Song of the Day for Wednesday, November 10;  Bill Pursell's 1963 classic of mood, atmosphere and fireside romance, "Our Winter Love."
Song:  Our Winter Love
Artist:  Bill Pursell
Composer:  Johnny Cowell
Year released:  1963