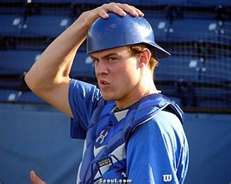 By now, most people know of the depth of the fertile Kansas City Royal farm system.
This year, we've seen farmhands like Tim Collins, Aaron Crow and especially Eric Hosmer (who at 21 years old already might hit harder, more vicious line drives than any hitter in baseball) graduate and make their debuts in Royal blue. 
And next year promises to be more of the same, as pitchers such as Mike Montgomery, John Lamb, Danny Duffy and Jake Odorizzi and hitters like Mike Moustakas and Christian Colon appear ready to elbow their way into the Kansas City team picture.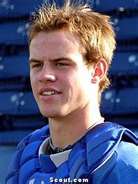 But what I'm waiting for at some point in 2012 is the likely big league debut of Wil Myers, a former-catcher-turned-outfielder, who sounds like both an incredible hitter and a real character. 
Myers is a shaggy, drawling, slugging 6'3″ kid from North Carolina's Tobacco Road who the Royals got in the third round of the June, 2009 draft.  He was originally signed as a catcher, and spent his first year in pro ball behind the plate. But the truth was his hitting was so far ahead of his catching that team officials secrectly feared the defensive side of his game might never catch up with his lightning-quick, powerful bat, so they shifted him to right field.
According to Sam Mellinger of the Kansas City Star, a short time before the 2009 draft, Myers was invited to Kauffman
Stadium, along with 25 or so other potential Royal draftees, to experience first hand what its like to be on a major league diamond. While all the other prospects were standing around gawking at the cavernous dimensions and state-of-the-game aesthetics of the Royals beautiful park, Myers apparently asked the team execs if they wouldn't mind "cutting them fountains" on. 
One of the team officials asked him why.  He said, "I want to hit some balls in 'em."
The legendary fountains behind the left centerfield wall at Kauffman Stadium are approximately 430′ from home plate.
Then later, when he had a chance to talk with Hall of Famer and Royal legend George Brett on the phone, the deeply confident and refreshingly candid Myers picked up the receiver and said in his characteristic thick Carolina drawl, "What's goin' on George?"
According to Mellinger, apples apparently don't fall far from the tree in the Myers' family, whose roots are firmly planted in the same part of the country that years ago inspired the fictional Mayberry of the Andy Griffith Show.
As he wrote in his KC Star-based blog: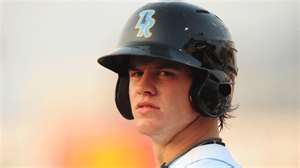 Of course, Wil comes by this carefree easiness honestly.
You didn't know? Just listen to (Myers' father) Eric's explanation of why they spell his son's name with only one 'L.'
"To be honest with you, he started out with two. But I had to use one of them to whup his hind end for most of his younger years."