People say Royals' GM Dayton Moore was painted into a corner and was forced to trade Zack Greinke.  That may be true, but never forget for a minute that the guy working the paintbrush the past three and a half seasons was Moore himself. 
Zack Greinke opted out of Kansas City because over the course of those three and a half years, Moore — even as he was restocking the Royals' farm system to a stunning degree — proved unwilling or incapable of fielding an even nominally competitive big league team. 
His Royal teams couldn't hit.  They couldn't run the bases.  But more than anything else, their fielding was so miserably bad they made the most storied butchers in history, the '62 Mets, look like the Harlem Globetrotters when it came to ball-handling.
And please don't try to tell me the Royals' problems were a product of Moore's small-market budget constraints.  Don't tell me he couldn't afford big-name stars. 
He didn't need big-name stars, just big-league baseball players. 
What he needed were better fielders and better base runners.  What he needed were guys who could handle the bat, who possessed a slightly-higher-than-average baseball IQ, and who were skilled in doing the kind of little things that can keep a talent-deprived team in game after game, until its minor league system is ready to bear fruit and instill the big club's lineup with some full-fledged bona fides.
Zack Greinke was tired of losing, to be sure.  But more than that, he was tired of how the Royals were losing. 
And if you don't believe me, put yourself in his shoes next season, if only for a game or two.  Sit down in front of your TV some night, hold your nose, and if you dare, watch how current and ex-Royal bozos like Jose Guillen, Yuniesky Betancourt, Josh Fields, Kyle Farnsworth, Joey Gathright, Rick Ankiel, Emil Brown, Kyle Davies and Alex Gordon play the game.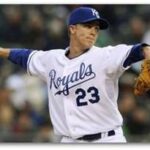 Trust me, you do that and you'll completely get why Greinke finally spit the bit, threw up his hands and said, "No mas."
Some other thoughts on the deal:
The sad thing for Greinke is now that he's gone, his old team has built one of the deepest, richest and most talent-laden minor league organizations in all of baseball — perhaps the deepest in the past 35 years.  Meanwhile, his new club possesses one of the worst, made all the weaker by the deal that netted them Greinke  As a result, the Royals have an opportunity to become this coming decade's Tampa Bay Rays, while the Brewers have a real good chance of becoming, well…the Royals. 
As much as Greinke will revel in not having to regularly face a DH, and will love getting to face such punchless division foes as the Cubs, Pirates and Astros four or five times a year, he will have at least one reminder of the dark days of his not-so-distant past.  Every time there's a ground ball to short, he'll turn around to see Betancourt, one of the most fundamentally bankrupt players in all of baseball.

The sad thing for Greinke is that the Royals now have a chance to become this decade's Tampa Bay Rays, while the Brewers have a chance to become, well…the Royals.
In fact, if you measure the Brewers' chances in 2011 based on the age-old strength-up-the-middle thing, with defensive hatchet men like Betancourt, Rickie Weeks and Jonathan Lucroy manning three of the four positions in the middle of the diamond, even with Greinke, Shaun Marcum and Yovani Gallardo anchoring the rotation, Milwaukee is as likely to disappoint as any team in baseball.  What's more, once Prince Fielder leaves — as he's most assuredly going to do within the next 12 months or so — depending upon what kind of return GM Doug Melvin gets for him, the Brewers' future could, indeed, be every bit as bleak as Kansas City's past.
This is just a prediction and is based on nothing specific, but my sense is that in 18 months the star-crossed Greinke will be wishing he never left Kansas City, will refuse to sign an extension in Milwaukee, and even if he's dealt to a third team for prospects, will end up signing a free agent deal to return to the Royals in 2013.
For all that people rip Miguel Olivo for being a bad catcher, try telling that to Greinke.  I watched almost every start of his Cy Young-winning '09 season, and that whole year he and Olivo were completely in sync with one another.  Olivo would put down a sign, Greinke would nod, and the next thing you knew some poor sap was in an 0-1 hole.  And on those rare occasions that Greinke did get in trouble, you could see Olivo calming him down, getting him to focus, and giving him the confidence to throw any pitch in any count.  This past season the feloniously overrated Jason Kendall never got inside Greinke's head the way Olivo did, and the kid's post-Cy Young numbers certain support the notion that Miguel Oliva is, in fact, a much better handler of pitchers than he's ever been given credit for being.
Speaking of Greinke's head, one of the benefits of watching a game on TV is being able to study the pitcher's eyes.  And I will tell you, if the eyes are the mirror of the soul, Greinke's soul went dead at some point last June, or maybe July.  After so many years of botched double plays, misjudged fly balls and bonehead throws behind him, and he simply checked out emotionally.  It was as though some sense of self-preservation forced him to shut down and he spent his final three months in Kansas City on auto-pilot.  I'm not sure they Royals got fair value for Zack Greinke.  But I do know this: as much as he remains one of the five or six most exciting pitchers of my lifetime, it was time for him to go.