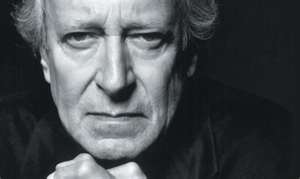 A few weeks back, the world of pop culture lost a heavyweight; a man whose remarkable impact was largely overlooked by the obit writers, both here and across the pond.
British composer John Barry left an absolutely indelible imprint on our collective consciousness. Yet when he died, perhaps only the Guardian in the U.K. managed to sum up his remarkable life adequately — and, frankly, even that paragon of thoroughness and accuracy fell short in its appreciation of what Barry meant to generations of movie and music lovers.
It's not so much that Barry's obits missed the facts of his life, as much as they missed the point.
Because when it comes to John Barry, it's perfectly OK to ignore almost all the specifics you'd find in a typical obit; the whos, whats, wheres and whens of the man's life. 
You can forget most of the glittering accomplishments like the four Grammys and five Academy Awards, including the Oscars for The Lion in Winter, Out of Africa and Dances with Wolves.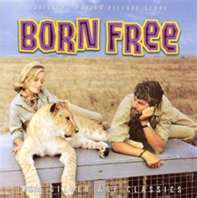 You can forget the fact that his Oscar-winning theme song for the 1965 film Born Free became such a pop sensation that it was the song itself, more than the film's story, that helped turn Born Free into one of the most surprisingly successful and beloved movies of the decade.
You can even forget the fact that as music supervisor of Midnight Cowboy, Barry did not seek out pop songs to layer over a collection of on-screen moments, but instead found and hired a handful of songwriters — including a then-unknown kid named Warren Zevon — to compose a series of original songs which were then integrated into the story — often in and around the actual dialog — a concept virtually unheard of at that time.
In fact, you can forget all those things.
Instead, to understand the essence of one "JB" (John Barry) and his impact on pop culture, all one needs to know are three others:  Jane Birkin, Joe Buck and James Bond. 
Let's take them one by one.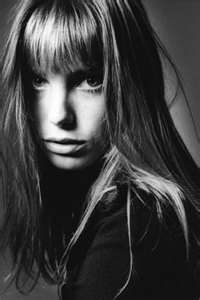 Jane Birkin
When he was a young man in London in 1965, among the mods and the beautiful people up and down Carnaby Street, Barry was every bit the rock star the Beatles, Stones, Kinks and Who were.  If not more so.
Because in 1965,  he was not only John Barry, award-winning film composer, pop star and renowned jazz artist.  He was John Barry, husband of Jane Birkin.
By the middle of the 1960's, London had become the most exotic and culturally exciting city in the world, and Jane Birkin was, without question, the single most exotic and exciting woman in the entire city. 
A whimsical, coquettish, hauntingly beautiful and slightly naughty singer and actress, she was the desire of just about every young man in England — and, frankly, a lot of not-so-young ones.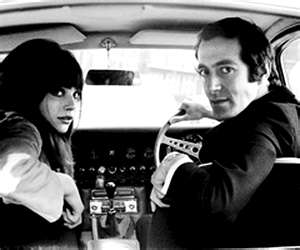 But while the world might have been Birkin's oyster, only one man truly swept her off her feet. 
John Barry.
At the time, Barry's inner circle of friends included the creme de la creme of the London glitterati; and not just singers and musicians, but writers, painters, poets, directors and actors — including two of his favorite pub mates, Michael Caine and Terrence Stamp.
For that reason, Barry and Birkin became (if ever-so-briefly) the crowned prince and princess of the London gossip columns, topped only by the king and queen of the tabloids, Richard Burton and Liz Taylor. 
But what would eventually elevate Birkin to legendary status in many a young Brit's mind (and libido) was an erotic and highly suggestive hit single she would release in 1969 with French recording star and future lover, Serge Gainsbourg. 
Je T'aime Moi Non Plus was a song that Gainsbourg wrote and recorded with Brigitte Bardot a few years earlier.  But a subsequent version he recorded with Birkin, which included her slowly and breathlessly faking an orgasm underneath his whispered voice (an orgasm which, according to legend, may or may not have actually been faked) made the song an international sensation, while at the same time getting it banned  in dozens of countries, including the U.S.
 He was not only John Barry, Oscar winning film scorer and renowned jazz artist.  He was John Barry, husband of Jane Birkin.

In fact, John Barry's first wife so moved so many men from so many different walks of life, and did so in so many ways and on so many different levels, that when Jean-Louis Dumont, the chairman and artistic director of Hermes, met her on a plane to Paris one afternoon, he was absolutely captivated.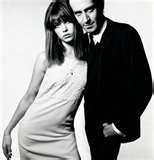 So much so, in fact, that he immediately went home, designed, and put into production what would become one of the most iconic and enduring fashion accessories in history — a ubiquitous little carry-all named after the woman who inspired it.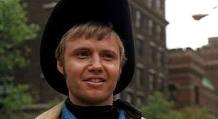 Joe Buck
In 1969, in addition to helping John Schlesinger select the music for what would become that year's Oscar winner for Best Picture, Midnight Cowboy, John Barry also wrote the film's theme song — a simple yet haunting melody which also became the de facto theme song for the movie's central character, Joe Buck. 
Buck, played by Jon Voight, is a none-too-bright, small-town Texan who one day takes the Greyhound to New York in hopes of parlaying his perceived powers as a lover into a career as a gigolo, servicing the rich, lonely housewives of Manhattan's Upper East Side.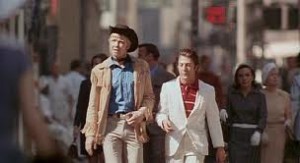 Unfortunately for Buck, things don't go as planned and he's soon living hand-to-mouth with the help a greasy, club-footed street hustler named Rico "Ratso" Rizzo (Dustin Hoffman), who not only befriends the big, doe-eyed drugstore cowboy, but teaches him how to survive on the street.
Barry's Midnight Cowboy Theme, which uses as its lead instrument a deeply echoed chromatic harmonica (played onscreen by legendary Toots Thielemans and on the soundtrack album by Canadian virtuoso Tommy Reilly), is both stunning and note-perfect.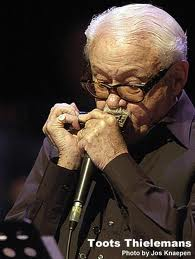 The lonely and mournful harmonica, riding atop the song's otherwise classical arrangement, evokes not only Buck's small-town roots and rural upbringing, but his unease over being a stranger in a strange land; an out-of-town, out-of-place innocent trying his damnedest to fit in amid the carnivores and the hustle and bustle of big city life. 
But what makes the song so truly unforgettable, and compels us to invest so deeply in Joe Buck's fate, is its haunting melody; a simple descending cascade of notes that, when played by a harmonica, wrap themselves around your heart and refuse to let go, producing the kind of wistful melancholy one normally associates with the low moan of a distant freight train. 
As the encyclopedic British web site, M Files, declares, Barry's Midnight Cowboy Theme captures a mood that is "melancholy without completely losing hope and dignity," and calls the melody "the singular sound of unfulfilled hopes." 
Many movie instrumentals, such as the themes from Exodus, The Godfather, Chariots of Fire, or even Born Free, can move us without fully engaging our emotions. 
Others are far less forgiving, however, and force us into places we'd rarely choose to travel on our own. 
Some of the best of those, like the theme to The Exorcist or Jaws, have the ability to lead us down a long, dimly lit corridor of our minds, before slamming the door shut and leaving us alone in the dark with something that scares the hell out of us.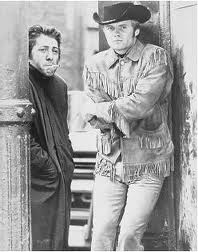 But the best of the best movie themes don't so much compel us to journey into the deep recesses of our id, as much as they beckon us to re-visit some long-forgotten corner of our memory; a place in which resides some dim reflection of life when it was still innocent, still full of hope and still so ripe with possibility. 
And when a great movie instrumental like John Barry's Midnight Cowboy takes us to such a place, it reminds us that, for all we may think we fear things like man-eating sharks, or even the devil himself, in the end there is nothing quite so haunting as the sound of a man alone; his hopes, his dreams, and most importantly, his choices, all slowly dying about him.
James Bond
By 1964, American movie producer Albert "Cubby" Broccoli had started to sense he was in possession of a powerhouse franchise, at least on paper.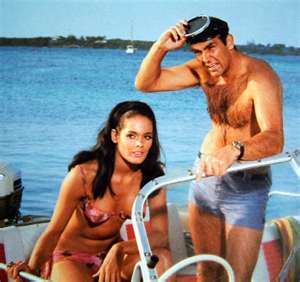 Broccoli had acquired film rights to a number of Ian Fleming books some years earlier, including Chitty Chitty Bang Bang and the entire James Bond series.  And while the first Bond film he produced, Dr. No, was a well-crafted and critically acclaimed spy thriller, it was the somewhat unexpected success of his second Bond film, From Russia With Love, that suddenly made Broccoli believe he had something special on his hands. 
So what he did with the third film in 1964 — which turned out to be, arguably, the third most brilliant decision he made with the franchise (behind optioning its rights in the first place, then casting Sean Connery in the lead) — was to put John Barry in charge of the music.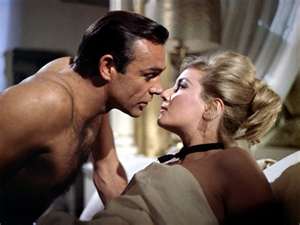 Broccoli first became aware of Barry two years earlier, when upon hearing the James Bond Theme written for Dr. No by music director, Monty Norman, he realized he liked the song.  He just didn't like Norman's arrangement of it. 
So he brought in a virtual unknown who had been recommended to him, a young jazz and swing aficionado named John Barry, to not just re-arrange the song, but completely deconstruct it. 
Using as his models, Henry Mancini's noirish nocturne, the Peter Gunn Theme, and Nelson Riddle's brawny theme from The Untouchables, Barry elevated Norman's composition to higher plane, while at the same time adding the signature musical element of the entire franchise: a surf-style, Duane Eddy-like guitar, loaded with twang and reverb, that would come to embody 007's one-of-a-kind sense of macho cool in 22 films and counting.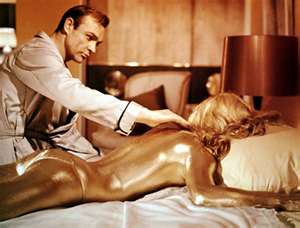 But what Broccoli wanted for the third film in the series, Goldfinger, was something more than just a score.  He wanted Barry to write a theme song that would set the tone for the movie while playing under the opening credits. 
But he didn't want just any theme song. Broccoli wanted something big, something spectacular. He wanted something so evocative that it oozed sensuality and so exciting that it would kick the door wide open on the expectations of what the viewers were about to see. 
Which is exactly what John Barry did. He wrote Goldfinger, one of the most stirring and in-your-face movie theme songs in Hollywood history.
But the song we know today might not have ever achieved the classic status it did if not for three of Barry's colleagues from the London art crowd. 
During the time in which he was working on Goldfinger's arrangement, he played the song one night on the piano for his flatmate, Michael Caine.  Caine told his friend liked his song, but thought it sounded an awful lot like Moon River. 
While working on Goldfinger, Barry played the song on the piano for his flatmate, Michael Caine.  Caine told his friend liked his song, but thought it sounded an awful lot like Moon River. 

Then when Barry sat down with his lyricists, Anthony Newley and Leslie Bricusse, they heard the first three notes on the demo and reportedly started singing in harmony, "Goldfinger…wider than a mile."
Realizing they were right,  Barry sat down to completely re-write the song's arrangement.  And when he did so, he added something that fundamentally changed it; he inserted a loud and muscular brassy fill into the intro and after the first three notes of the second two verses.
That cluster of muted trumpets and trombones — which, much like Bond himself, somehow managed to be both subtle and larger-than-life at the same time — lent the somewhat simple, straightforward melody an air of excitement, while filling the arrangement with both gravitas and a palpable sense of intrigue.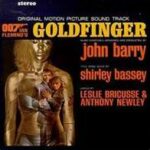 When Barry finally went into the studio to record the song — under the musical supervision of producer George Martin, and featuring an army of sidemen, among them a young guitarist named Jimmy Page — what resulted was a stunning two and a half minute's worth of music that, even when heard through a tinny transistor radio on some low-wattage AM station, grabbed you by the ears and would simply not let go.  
The single, released under the name of Shirley Bassey, the young Welsh singer Barry hired to do the vocals — and a woman whose voice he would later claim had a "metallic edge" to it — shot up the charts in the U.S., eventually selling over one million copies, and going to #1 in both the U.K. and Japan.
It also hit the Top Ten in just about every country on the continent.  And the soundtrack that spawned the hit single somehow managed to do the impossible: knock the Beatles' Hard Day's Night off the top of the album charts.
But most importantly — at least from a pop culture perspective — Goldfinger ignited a world-wide craze for all things spies, particularly in the U.S. 
Within months, James Bond was everywhere, followed by a slew of books, songs, magazines and especially television shows, all trying to capitalize on the country's sudden fascination with the cloak-and-dagger world of secret agents:  Mission: Impossible, The Man from U.N.C.L.E., The Girl from U.N.C.L.E., I Spy, The Wild Wild West, Get Smart, The Avengers and Secret Agent Man, to name just a few, as well as a number of formulaic Bond-like movie franchises like the Our Man Flint and Matt Helm series.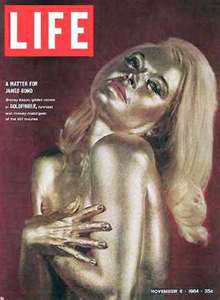 But Barry didn't stop there. 
He would go on to compose the themes for the next two Bond films as well, each one a shimmering pop song in its own right. 
And it was those three songs in succession, along with the three smash hit movies they opened — one right after another; bang, bang, bang — that helped transform James Bond from action hero into a pop culture icon and helped him become almost overnight the gold standard for sophistication, cool and grace under fire.
For the theme to Thunderball, Barry traded on the success of Goldfinger, and wrote an arrangement that was not only bold and brassy, but once again relied on a singer with a freakishly powerful set of pipes.  In fact, it is commonly held that after Tom Jones reached up for, got and then held the incredible high note that ends Thunderball, he subsequently fainted for lack of oxygen.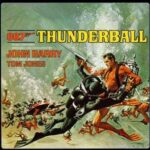 Then for You Only Live Twice — the last of the five film in succession that would star Connery — Barry wrote what may have actually been the best pop song of his career. 
The movie's title song, while not the big hit the previous two themes were, has withstood the rigors of time in a way, quite frankly, its two predecessors haven't.
The key to You Only Live Twice is its intro; a lush, cascading musical passage that is both evocative and incredibly melodic.  In fact, two years later, virtually the exact same melody would serve as the foundation for Barry's theme from Midnight Cowboy, albeit at a radically slower tempo.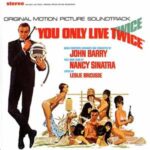 What's more, it has since been sampled so often, and by so many other artists, that once the copyright laws catch up to the technology, Barry's estate might eventually earn as much from residuals from the musical prologue of You Only Live Twice than its composer earned for the entire song.
John Barry's role in creating the most iconic and durable movie franchise in history is without question.  Yet somehow, and for some strange reason, he's never received his proper due in shaping the James Bond the world knows today. 
So many pop culture theorists and social anthropologists like to claim that a perfect storm of circumstance led to the Bond phenomenon — citing the fact that Dr. No was released at the height of the nuclear arms build-up and the Cold War, and just months after the Cuban missile crisis; a time when the country was not only obsessed with the Soviets, but desperate for a hero to rise up and out-smart, out-maneuver, out-shoot, out-wit, out-quip, out-fuck and yes, out-cool them.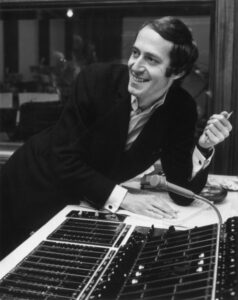 Someone like James Bond.
Maybe, but my sense is the real root of the world's love affair with James Bond was something simpler and far more fundamental.
David Arnold, the composer who eventually took the baton from Barry and scored a handful of Bond films himself, said the entire franchise was built on one thing: the brilliance of a pair of unique, one-of-a-kind talents.  Everything else, according to Arnold, was just window dressing.
This I believe in my heart, he once told the Guardian, "The success of the Bond series was 50% Sean Connery and 50% John Barry."