Very few people are ever going to hold that Gladys Horton was one of the seminal figures in pop music history, so let me try to make that case on her behalf, OK?
Horton, who died peacefully in her sleep last week after suffering a series of strokes a few years back, was a founding member of the Marvelettes and the lead singer on the group's very first hit, 1961's Please, Mr. Postman. 
The song was not only significant, but historic, because it was the very first of 57 hits that would ultimately reach the top of the pop charts for Berry Gordy and his family of Motown labels. 
But perhaps just as important, it was Motown's first truly great single. 
Please, Mr. Postman (which was actually released on Motown's sister label, Tamla) marked the 100th single released by the company, which had begun churning out 45's two years prior.  And of those first 99 singles, perhaps only Money (That's What I Want) by Barrett Strong and the Miracle's Shop Around qualified as anything more than a tick or two above ordinary. 
At the time Please, Mr. Postman was released, Motown was probably closer to becoming a cultural footnote than it was the most storied label in the history of recorded music.

In fact, most of those early Motown releases were forgettable to the point of being downright awful.  What's more, they were mostly recorded by such musical non-entities as the Gospel Stars, Marv Johnson, Nick and the Jaguars, the Swinging Tigers, Mabel John, the Satintones, Chico Leverett, Herman Griffin, Gino Parks and Mickey Woods. 
For that reason, by the time Please, Mr. Postman got released in September of 1961, Motown was probably a lot closer to becoming a cultural footnote than the most storied label in the history of pop music.
In fact, by the fall of 1961 only two of Motown's future superstar acts had released anything at all on the label: the Miracles (who had cracked the Top 40 just once) and the Supremes (who were still featuring Florence Ballard as lead singer, and whose first two singles had both tanked).
But the Marvelettes changed all that with one song.  Or to be more specific, Gladys Horton changed it.
Because her stunning lead vocal work on Please, Mr. Postman (an old blues number whose authorship remains in question to this day) changed Berry Gordy's fortunes overnight.  The record harnessed Horton's amazing voice and rode it straight to the top of the pop and R&B charts, and in doing so positioned both Motown and its founder as rising stars in the now-booming pop music industry. 
Horton's vocals on the record were rich in depth and texture, and her phrasing was playful, yet confident.  What's more, her use of a Jamaican-flavored patois in the line,"De-lih-vuh de lett-uh, de soon-uh de bett-uh", was not only wonderfully imaginative and surprising, it was utterly enchanting. 

The net effect was a record that to this day stands up against anything Motown has ever released, including such timeless and hallowed hits as Marvin Gaye's Heard It Through the Grapevine, the Four Tops' Reach Out, I'll Be There, and the Temptations' My Girl.
But that's never been what has most amazed me about Please, Mr. Postman. 
What always knocked my socks off, and continues to do so today,  is the fact that in August of 1961, when Gladys Horton walked into the tiny Hitsville, USA studio at 2648 W. Grand Boulevard to record the song, she was all of 16 years old. 
That's right. Sixteen.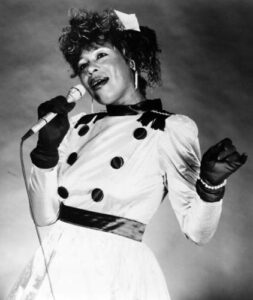 Listen to the song.  It's absolutely amazing to think the lead singer is barely old enough to drive. Not only is Horton's voice mature, even worldly, but its coarse, gravelly texture would make you think she's a woman who's spent too many years at the end of the bar, chain-smoking Luckies and baying at the moon — not cheering at high school football games, or screaming with her friends whenever some boy they liked called.
Music historians have long marveled at the fact that Alex Chilton of the Box Tops recorded The Letter when he was sixteen.  But I feel the exact same way whenever I hear Horton sing Please, Mr. Postman.  She literally tears the song to shreds.  And looking back, I think it's fair to say that if Chilton was the crowned prince of teenage R&B prodigies, Gladys Horton was the princess. 
If Alex Chilton was the crowned prince of teenage R&B prodigies, Gladys Horton was the princess. 

Because just as in the case of The Letter, where Chilton's smoky and slightly weathered vocals lent gravitas and deeper meaning to what was an otherwise OK pop tune, in the case of Please, Mr. Postman, what carried the record to the top of the charts and into musical history, wasn't the song's melody and lyrics, or even its arrangement.  It was Horton's remarkable performance and her raspy, and highly evocative voice. 
(And if you don't think that's so, close your eyes for a moment and imagine the exact same song with the exact same arrangement, only not with Horton singing lead, but someone like Diana Ross.)
But Gladys Horton's voice, and the role it played it changing Motown's fortunes was only part of what made her story so compelling. 
Long before Berry Gordy began taking the basic principle of the assembly line that Detroit used to manufacture cars and applying it to the making of hit records (and for that matter, pop stars), there were the Marvelettes.
Long before Gordy set up a process by which he would take raw talent in through the back door of his Motown hit factory, shape it, polish it, refine it and package it for mass consumption, before sending it out the front door, there were the Marvelettes.
In time, the Motown impresario would pay highly skilled professionals to come in and teach his stable of young black singers how to dance, dress, walk, talk, chat and drink tea like the Queen of England — but that was long before Gladys Horton, Georgia Dobbins, Wanda Young and Georgeanna Tillman, four teenage girls from nearby Inkster High, finished in fourth place finish in their school's talent show and subsequently won Gordy over in an audition.
And within weeks of their signing, everything changed for Motown.  It was almost as though after two long years of musical misfires and records that failed to capture the public's ear, the success of Postman completely blindsided the label's founder. Before he knew what hit him, Gordy not only had a hit record on his hands, he had a musical act he needed to put out on the road to promote it. 
The Marvelettes had never been on anything but a high school stage in their lives, but in the fall of 1961 there they were on the road, virtually all by themselves, singing their hit song night after night on the old Chitlin' Circuit. No choreography, no formal makeup, no scripted interplay, no sequins dresses or stylish wigs. 
Just four little black girls from the streets of hard-working, blue-collar town just a few miles west of Detroit, forced to make up their own moves, apply their own makeup, choreograph their own curtain calls and even buy their own dresses — all while somehow trying to find time to do their homework.
What's more, there was little about the group's lead singer that was at all glamorous.  Gladys Horton was not some petite little pixie, nor was she a regal, statuesque beauty.  What she was, was a somewhat plain-looking tenth grader, with a largely non-descript figure, poor posture, a slightly flat nose and a big gap between her front teeth.  What's more, she had little in the way of stage presence and virtually no star power. 
All Horton took with her on stage every night as the lead singer of the Marvelettes was a genuine warmth, a true innocence and a certain quality that might best be described as realness — that, of course, and the incredibly rich and textured voice that somehow welled up from a place deep within her.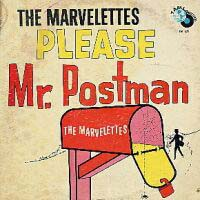 And while Gordy later contended that the reason the Marvelettes first album did not feature a photo of the girls, but rather a cheesy drawing of a mailbox, was because he was trying to sneak the fact that they were black past the mostly white record-buying public — particularly in the South — I'm not sure I buy that.  Or at least I don't buy it as the sole reason. 
Because part of me believes that if Horton and her fellow Marvelettes had looked more like Halle Berry, Whitney Houston or even Diana Ross, the Please Mr. Postman album cover might have ended up looking much differently than it ultimately did.
But Gordy was no fool.  He knew that music was only a part of the product he was selling.  The rest was image, and that anyone who didn't clean up well was not going to have much of a future with Motown. 
And that's a big part of the reason why over the years less glamorous singers like Mary Wells, Florence Ballard and Horton got slowly nudged to the wings, while the more polished, charismatic and telegenic young stars like Ross, Gaye, Martha Reeves and Smokey Robinson found themselves front and center.
That's also why, after three minor hits with Too Many Fish in the Sea, Playboy and Beechwood 4-5789, Gladys was relegated to the role of backup singer, while Wanda Young took over lead vocals on such subsequent Marvelette releases as Don't Mess With Bill, The Hunter Gets Captured by the Game and My Baby Must Be a Magician.
In 1967, Horton left the Marvelettes altogether and moved to Southern California, where she would live out her life beset by a series of emotional and physical problems.  In fact, when the girls reunited to record an album of all-new material in 1989, Gladys participated in the recording sessions, but was unwilling or unable to go on tour to support the record.  Her spot as lead singer was, once again, assumed by Wanda Young.
Gladys Horton and the Marvelettes are not in the Rock and Roll Hall of Fame, and there's a good chance they never will be.  And make no mistake; there were certainly far more talented and accomplished girl groups in the history of the pop charts. 
But, if only for two minutes and 31 seconds in the summer of 1961, they matter.  And it's because in those two minutes and 31 seconds they produced magic — a magic that remains their legacy. 
Because whether most people know it or not, anyone who's ever cranked up the volume on a classic old Motown song owes a great deal of debt to the Marvelettes, and in particular their lead singer; a little 16-year old girl whose remarkable voice left an indelible mark on the American pop scene; a little girl named Gladys Horton, who in the process of recording a single hit record nearly fifty years ago, helped change the course of music history.