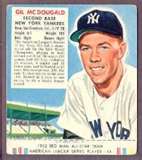 A few thoughts about former Yankee second baseman Gil McDougald, who passed away this week after a bout with prostate cancer:
As wonderful a player as he turned out to be, he never should have won Rookie of the Year over Chicago's Minnie Minoso in 1951.  Taken in light of the cavernous ballpark Minoso called home that year and the anemic hitters surrounding him, the White Sox #3 hitter was an absolute wonder.
Consider the respective stat lines of the two rookie stars:
Minoso:  .326 BA, .422 OBP, 24 2B, 14 3B, 10 HR, 76 RBI, 112 R, 31 SB
McDougald: .306 BA, .396 OBP, 23 2B, 4 3B, 14 HR, 63 RBI, 72 R, 14 SB
What's more, McDougald put up those numbers in a lineup that included the likes of Joe DiMaggio, Mickey Mantle, Yogi Berra and Phil Rizzuto.
Minoso, on the other hand, found himself smack dab in a lineup alongside such forgettable names as
Phil Masi
,
Bob Dillinger
,
Al Zarilla
,
Jim Busby
and
Eddie
Robinson
. 
Maybe that's why even though he finished second to McDougald in the Rookie of the Year race, Minoso was voted by the same set of baseball writers as the fourth most valuable player in the league, while McDougald finished 9th.
*          *          *          *          *          *          *          *          *          *          *
They say it's never the crime; it's the cover up. 
And with McDougald, it wasn't so much that he hit potential Hall of Famer Herb Score in the face with a line drive in 1956, effectively ending his career.  It was how he handled himself in the aftermath that ultimately defined him.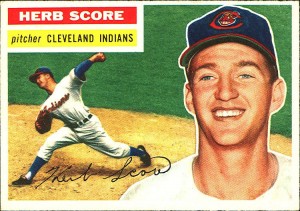 McDougald told writers the very evening he hit Score that if the Cleveland All Star were to be blinded as a result, the Yankee second baseman would retire on the spot.  At the time he was 27 years old.
He reportedly often got sick to his stomach long after Score's beaning at the mere image of Indians' pitcher lying motionless on the mound, and for years regularly reached out to Score via phone calls and letters.
*           *           *           *           *         *           *           *           *           *
Ironically, just nine months before hitting a ball that almost killed Score, McDougald himself was the victim of a line drive to the head.  During batting practice in August of 1955, teammate Bob Cerv ripped a liner that caught McDougald flush in the ear, knocking him to the ground.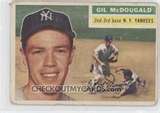 Though he shook off the blow and only missed two games, he began to suffer significant hearing loss and by the 1980's had gone completely deaf.  The deafness, which he shared with no one, caused McDougald to retreat from baseball entirely and to withdraw into a small circle of family and close friends. 
It wasn't until he admitted in a 1994 interview with Ira Berkow of the New York Times he was totally deaf that any of his old baseball friends actually learned of McDougald's condition. 
And as a result of that interview, however, the former All Star learned about cochlear implants from some Times readers, which then led him to get an operation which restored his hearing after more than a decade of total deafness.
*           *           *           *           *         *           *           *           *           *
A few other items I discovered in researching Gil McDougald's storied career:
McDougald was the first rookie in MLB history to hit a grand slam in a World Series game.
Despite the fact he was normally the Yankees starting second basemen, on the day of Don Larsen's perfect game McDougald started at short and in the top of the second inning fielded a hard hit ball that caromed off third baseman Andy Carey and threw out Jackie Robinson by a step at first.
In 1957, McDougald, Whitey Ford, Red Barber, Berra and Rizzuto were featured in an episode of the Phil Silvers Show — an episode during which a young Dick Van Dyke made his screen debut (see the video below).
His last appearance in a MLB game was game seven of the 1960 World Series.  Pinch running in the top of the 9th, he scored the game's tying run on Berra's ground out.  Two batters later, Bill Mazeroski ended both the game and the series with his now-historic walk-off home run over Berra's head.
Sensing the Yankees were going to leave him unprotected prior to the 1960 American League expansion draft, rather than risk playing for either the Los Angeles Angels or Washington Senators, Gil McDougald retired at the age of 32.