I heard today that Gerry Rafferty has died.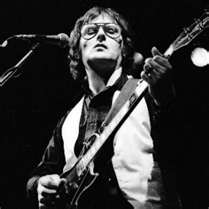 For those who don't know, Rafferty was something of a 70's sensation, specifically for two songs:  "Stuck in the Middle with You," which achieved a level of infamy and cult standing almost two decades after its release as the song playing during the horrific and violently surreal torture scene in Quentin Tarantino's Reservoir Dogs, and the stunning saxophone-driven hit, "Baker Street," which not only sold nearly 6 million copies worldwide, but became a virtual programming staple during the earliest days of MTV.
For my money, however, the greatest song Gerry Rafferty ever did was one that Joe Egan, his partner in Stealers Wheel, wrote in 1974. 
It was called simply "Star," and was a cool song for any number of reasons, not the least of which was the fact that it was one of the only chart songs I've ever heard to feature a kazoo.
But I particularly liked "Star" because it foretold the life a lot of guys like Rafferty — musical comets across our nighttime sky — would ultimately lead;  one in which all that is heaped upon them gets snatched away just as quickly as it was bestowed.
So they made you a star, now your head's in a cloud,
Now you're walking down the street with your feet off the ground.
They read in the press all about your success,
They believe every word they've been told.
After all you've been through tell me what will you do,
When you find yourself out in the cold?
When you appear on the stage there's a standing ovation,
You really live out your performance, you're the biggest sensation.
You breeze through the door and when you take the floor
You expect to have it all to yourself.
After all you've been through tell me what will you do
When you find yourself back on the shelf?
Ahh, tell me. 
Ahh, tell me.
Rafferty died this morning of liver failure, apparently brought on by years of drinking and — just maybe — chasing something he once had but was never, ever going to find again.
Rest in peace, Gerry Rafferty.  Thanks for all the great music, and here's to getting off that shelf for one last moment in the spotlight.