A few weeks ago, just before Christmas, Hall of Famer and Cleveland Indian legend Bob Feller passed away.  The Baseball media, deservedly so, busied itself paying homage to Feller, not just for his performance on the mound, but for his being the first major league player to volunteer for active duty following Pearl Harbor.
But in their zeal to pay tribute to Feller, and his baseball career that was, a couple days later they all-but overlooked the passing of another man and the fascinating story of a baseball career that otherwise might have been.
Let me give you a thumbnail of that story.
In the spring of 1949, Red Sox manager Joe McCarthy named a mountain of a rookie from the tiny Connecticut town of Moosup as his starting 1B.  Big Walter Dropo was 6'5," 220 lb. and possessed a powerful uppercut swing, which, when he connected, often resulted in long, arcing majestic home runs.  As a result, McCarthy and the Sox brass held high hopes for their 26-year old graduate of the University of Connecticut. 
Unfortunately, contact was never a given when the "Moose from Moosup" came to bat.  That fact, coupled with his tendency to try to pull every ball he hit led many scouts to believe that even under the best of circumstances he would never be much more than a .270 hitter.
Everyone loved his athleticism, though.  At UConn, Dropo had not only been a three sport star, he was drafted by the Chicago Bears of the NFL and the Providence Steamrollers of the old Basketball Association of America.  But Big Walt loved baseball, and in particular the Red Sox, so when a Boston scout offered him a contract, once he had cleared it with his dad, he jumped at the chance to sign.
Dropo started the Sox first 11 games that '49 season, but hit only .146 with no HR and just one RBI.  Even though Boston had won six of their first nine that spring, following back-to-back tough losses to their mortal enemies, the New York Yankees, McCarthy decided he'd seen enough of his rookie 1B, and before the calendar even turned May sent Dropo back to AAA Sacramento.
There, in the hitter-friendly PCL, big Walt spent the balance of the year hitting a solid but unspectacular .287 with 17 HR and 85 RBI.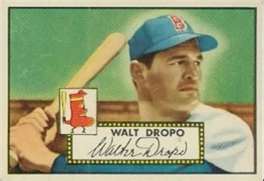 That's why the following spring, a now 27-year old Dropo was never really given a shot by McCarthy to become his first basemen, and why when the Sox broke camp in 1950, the Moose once again found himself back in the minor leagues.
But as luck would have it, that season turned out to be a virtual photo negative of the one prior.  Because while Dropo played his first 11 games in 1949 for Boston, then got sent down and stayed in the minors the rest of the season, in 1950 he opened the season playing 11 games at AAA, then got called up in early May (following an injury to Billy Goodman), and spent the balance of the year with the big club.
And what a year it was.
On May 2, Dropo started against the Indians and went 2-2 with a triple and two RBI against future All Star and 20-game winner, Mike Garcia.  The following day he went 2-2 again, this time with three RBI.  He also hit his first big league HR, which helped clinch the game.
And so it continued on and on, all summer long. Dropo not only played better than he ever had in his professional life, he flat-out pounded the ball for six straight months, peppering the left field walls and bleachers of virtually every American League park — especially Fenway — with a steady barrage of line drives and mammoth arcing blasts.  In the process, he turned in one of the surprising and productive rookie years in major league history.
Dropo's final 1950 totals were amazing, especially since, due to his late call up and a horrific beaning he suffered in August, he only played in 136 games: .322 BA, 34 HR and a league-leading 144 RBI. 
For his efforts, the Moose started at 1B for the A.L. in the All Star game, finished 6th in the MVP voting, and easily outdistanced Yankee southpaw Whitey Ford for Rookie of the Year.
The Red Sox thought they had found their 1B for the next ten years.  But alas, such was not the case.  As quickly as the magic came, it was gone.  Just a few days before the 1951 season opened, Dropo hurt his wrist. Though he tried to play through the pain, it became evident that he was not the same player he'd been the year before. So a scant three games into the '51 season the new Red Sox manager, Steve O'Neill, sat Dropo down for — you guessed it — 11 games. 
The Red Sox thought they had found their 1B for the next ten years.  But, alas, as quickly as the magic came, it was gone.

In his first start back, Dropo went 2-4 and drove in four runs, and over the next week or so would hit .400 with a HR and seven RBI.  But the effects of the injury lingered and he never really seemed to get into a groove. As a result, by the end of June the Red Sox sent their struggling slugger back to AAA.
In other words, just months after finishing 6th in the MVP race and being named Rookie of the Year, Walt Dropo was back in the minors.
And so it went for Dropo throughout his relatively brief roller coaster ride of a big league career; moments of offensive brilliance followed by extended stretches of pedestrian play.  It might have been the lasting effects of the wrist injury, as some have speculated, that kept Dropo from ever capturing again the magic that found him in 1950.  Or maybe it was some element of fear that crept into his head after getting beaned so badly.
But the harsh reality was, he was probably never great to begin with.  Even Dropo himself admits his storybook summer of 1950 was not really a true indication of who he was as a player.  It was just one of those magical years — like Glenn Beckert in '71, Luis Gonzales in '99 or Jose Bautista last year — when all the tumblers fell into place and an otherwise pretty good player became a great one, if only for the amount of time it took his little planet to circle the sun.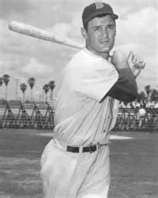 As Dropo told Sports Illustrated 43 years later, "I look at that year, and what I had going for me was I got a lot of good pitches. Our lineup was so strong that pitchers had to challenge the rookie. I got the pitches. I hit them. That was the story."
Or as he said candidly later in that same interview, "I had a .270 career average.  That's what I was; a .270 hitter…"
Maybe, but make no mistake; Walt Dropo had a fascinating, if largely overlooked (and star-crossed) career. 
What's more, he remained until the day he died one of the most, decent, humble and down-to-earth guys the game has ever known.  (After all, consider the fact his baseball-reference.com page is sponsored not by some corporate entity or some crusty old Red Sox fan, but by his grandkids, along with the message, "Grampie Walter!!") 
But that's just one  thing you might not have known about the Moose from Moosup.  Here are some others:
Even with UConn's extended dominance in both men's and women's basketball of late, and its recent resurgence in football, Dropo is still regarded the greatest athlete in school history — in large part because of his excellence in three major sports.
In his remarkable 1950 season, in which he drove in 144 runs, he actually tied for the league lead in RBI.  And who was he tied with?  His teammate and fellow Red Sox infielder, Vern Stephens, who started at both SS and 3B for Boston that year.  What's more, Dropo and Stephens' total of 144 RBI was 20 higher than the third-place finisher, the Yankees' Yogi Berra.  Oddly enough, the following year, when O'Neill benched Dropo for 11 games just four days into the season, he also benched Stephens, and sat him for the exact same period of time.
The Sox soured on Dropo so quickly that they traded him in June of 1952 to the Tigers for a package that included a well-past-his-prime George Kell.  A month after the deal, the Moose broke out of a 2-15 funk by going 5-5 against the Yankees.  The next day, in game one of a doubleheader against the Senators, he went 4-4, then followed that up by getting three hits in his first three AB of the nightcap, giving him 12 straight hits in 12 consecutive plate appearances. The mark remains an MLB record, as does Dropo's record of 13 hits over three consecutive games.
Once while playing 1B for Birmingham in the Southern League, he made three errors in a game — on consecutive days.
1950 was the only season Dropo was ever an All Star.
In the spring of 1953, the Tigers played an exhibition in Hartford, CT to honor the community's favorite son.  Hartford's mayor decreed the day be called "Walt Dropo Day," while the kid from nearby Moosup was given a brand new car by a local dealership.  Dropo then went out and went hitless is six AB, striking out three times.
Even though Stephens finished 1950 with an astounding 144 RBI and 125 runs scored, he finished a distant 24th in the MVP voting, while Dropo finished 6th.  Meanwhile, Billy Goodman, who had lost his starting 1B job that spring to Dropo when he was injured and ended up as the Sox's utility man that season, playing four different positions — none more than 45 times — finished 2nd.
And finally, Dropo died December 17, 2010, just a week before Christmas Eve and just two days after Feller.  The first major league HR he ever hit occurred exactly 60 summers prior.  That HR would prove to be the first of 34 he would hit in 1950, and the first of 152 he would hit in his career.  It would also serve as both a harbinger of great things to come that season and a sad reminder of what might have been beyond that.  Because on May 3, 1950, Big Walt Dropo didn't just take any rag-armed bush-leaguer deep.  He hit his first-ever HR over the Green Monster off a former Iowa farm boy and future Hall of Famer who pitched for Cleveland.  Kid named Bob Feller.