This is not a post about noted baseball historian and stat-geek extraordinaire Bill James, as much as it is a quick tribute to Stan Musial.
For some reason, I've been thinking a lot about Musial lately. 
Maybe it's just my growing impatience with so many of the pampered, coddled, limo-riding, entourage-wielding and mind-numbingly overpaid ballplayers we now have running around passing themselves off as sports heroes and role models, but there remains something, I don't know, remarkably normal, remarkably decent about Stan Musial. 
In fact, for all his greatness as a baseball player, what continues to define him (and astound others like me) is his greatness as a person; Musial's incredible measure as a man.  In fact, apparently that's exactly what many tough but knowledgeable New Yorkers started calling him years ago whenever he used to come to bat.  
According to reports, Giant fans in the old Polo Grounds were the first to say with a combination of dread and respect whenever the still-young Stan rose from the on-deck circle and ambled toward the plate, "Here comes the Man."  From their candid acknowledgement grew the name the rest of the world started using in reference to him: Stan the Man.
If you don't know much about Stan Musial, just Google his name.  And not only look at his numbers, look past them.   And I'm not talking about his Presidential Medal of Freedom or the fact he once appeared on Hee Haw playing the harmonica.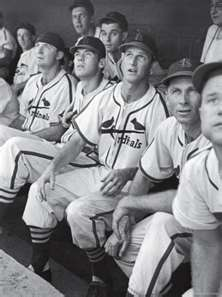 Read the kind of things people continue to say and write about him.  People ranging from kids, peers, baseball fans, and his fellow World War II veterans, to bright lights from all walks of life.  Luminaries running the gamut from baseball stars like Bob Costas, Hank Aaron, Warren Spahn and Joe Black to non-baseball folks like Al Hirt, John Kennedy, Angie Dickinson, James Michener and Pope John Paul II. 
Those who met him didn't just like him.  They loved him.  And those that are still alive still do.  What's more, they love him as a man. 
As does the fomer Lillian Labash, who married her humble, self-effacing high-school sweetheart (a fellow Pole) in May of 1940 — on May 25 to be exact — and has remained married to him for every one of the 71 years since.
(And be sure not to miss what the St. Louis Post Dispatch ran in celebration of Stan the Man's 90th birthday, a year ago this week, and be sure to read what Sports Illustrated author and long-time Missouri-based blogger Joe Posnanski wrote about Musial at roughly the same time.)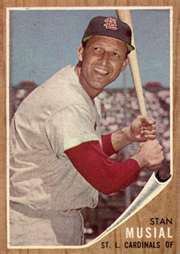 So with that, let me offer one of my all-time favorite quotes about Musial, whose achievements somehow continue to be taken for granted by even hard-core baseball fans and continue to fall though the cracks of time.  It comes from the always readable and ever-quotable Bill James. 
Trying to put Stan Musial's greatness into some kind of perspective (while at the same time, perhaps, trying to put the finest point possible on his baseball legacy), James in his Historical Baseball Abstract once said coyly about Ken Griffey, Jr., a ballplayer a generation of Americans justifiably feel is the greatest they've ever seen play the game and a guy most refer to as a first-ballot Hall of Famer.  Said James: "Ken Griffey, Jr. is the second best left-hand hitting center fielder ever born on November 21st in Donora, Pennsylvania."
That's right.  November 21st.  Happy 91st Birthday, Mr. Musial. 
And here's to what ballplayers — in fact, all of us the world over — can still learn from a guy known throughout his adult life as simply, "The Man."