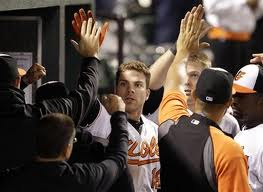 A day or so ago I wrote about a somewhat remarkable baseball performance that occurred this past week in a Baltimore Orioles game; one that went all but unreported in the mainstream baseball media.  Today, I'll give you the skinny on another.
Most baseball fans by now know that Oriole 1B Chris Davis beat the Red Sox in Fenway Park a week ago Sunday, and that when he took the mound opposite Boston OF Darnell McDonald (both of whom were also serving as their team's DH ), it marked the first time in nearly a century that two position players had pitched against each other in a Major League game.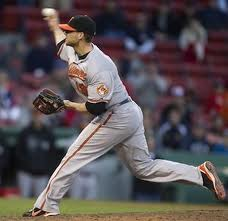 But what few, if any writers seemed to grasp about the situation – and none that I read bothered to report on – was the fact that at the point Davis was called upon to pitch, it was not a mop up situation, as is normally the case when a position player is handed the ball.  The game was tied. 
But more importanly, his Orioles had already batted and been retired in the top of the 16th. That meant that all the Red Sox had to do was score a single run off Davis in the bottom of the 16th and the game would be over. 
Oriole's manager and baseball realist Buck Showalter was, in essence, conceding the game to the Sox in an attempt to save his pitching staff.  He clearly was thinking long-term in sending a non-pitcher to the mound, knowing that even a single run would mean defeat.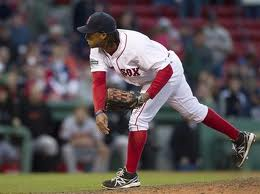 Davis is no fool.  He knew that.  And he knew too that his manager, for all he obviously still wanted to win, had resigned himself to turning the page on that one game and gearing up for the next 120. 
Regardless – or perhaps maybe because of it – Davis, a strike out-prone former Texas Ranger power-hitting prospect with holes in his swing a mile wide, and a guy who constantly seems to be holding onto a job by the slenderest of threads, somehow struck out the first batter he faced in the bottom of the 16th.  He then got a pop up.  But then a two-out error by his third basemen put the winning run on first. 
Davis then did what most expected him to.  He gave up a blistering line drive up the left centerfield gap which rolled to the wall and caromed off to the Green Monster; a smash which by all rights should have scored the winning run. 
But cutoff man J.J. Hardy picked up his teammate and made a terrific catch, spin and throw to nail the runner at the plate by a nose and send the game into a 17th inning, a turn of events which just moments ago seemed unlikely to the point of absurd.
As Davis walked off the mound, he did so having averaged around 91 mph on his fastball.
Not unexpectedly, the O's scored three off McDonald in the top of the 17th. Now it was up to Davis (and only him, since Showalter's pen was officially bone dry) to tame the Sox one more time.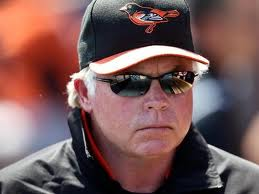 During his second inning of work, however, Davis seemed to tire. Perhaps he'd spent all his bullets in the 16th. Or perhaps he was no longer jacked up on adrenaline.  Who knows?  Maybe it was a little of both.  Regardless, Davis' fastball, which had been remarkably lively just an inning ago, started to noticeably slow and he began topping out at just 83 mph. 
In just a matter of a few pitches Davis had given up a leadoff single, and then walked a batter. With no one out, that brought the tying run to the plate in the person of feared slugger Adrian Gonzalez.  Just a year prior Gonzalez, a magnificent hitter and MVP contender, had hit.337 with 27 HR and 117 RBI for Boston.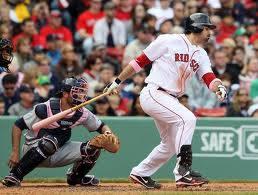 But Davis struck Gonzalez out on a change-up that sunk down and away from the batter as though it fell off a table and had the Red Sox slugger flailing.  He then got his opposing number, Boston's "pitcher," McDonald, to hit the ball sharply to Hardy, who turned the hard-hit grounder into a textbook, game-ending 6-4-3 double play.
Seriously, Mariano Rivera couldn't have performed any better in a 2-on/no-out situation – particularly in Fenway Park.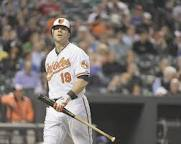 It was amazing, but then again only slightly more amazing than what Davis had done at the plate before coming on to pitch.  Up to that point, the young slugger had gone 0-7 with six Ks, all of them swinging and all of them in a row. 
In fact, it was only when Davis came to the plate a 7th time that finally put a ball into play – which he probably shouldn't have, given that he grounded into a DP. 
And just to add a little icing to the cake, Davis also grounded out when he came to bat in the top of the 17th, leaving him with a Mendoza-like 8-0-0-0 batting line for the day, including 6 Ks.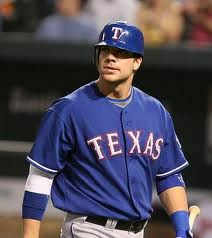 Let's be honest, the first-place Baltimore Orioles might yet fall out of contention, as many predict they will. And they might yet sink to the depths that have become something a comfort zone for them in the A.L East standings. 
But if the surprising Orioles somehow defy the odds and turn out to be the real deal this year; if they don't fade and stay in the pennant race; and if at some point during the last week of September their post-season hopes come down to one game – one measly little game – Baltimore fans would do well to recall Sunday, May 6 and a most-improbable 6-hour, 17-inning baseball opera that their team snatched from the jaws of defeat and somehow notched in the win column.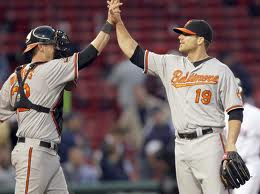 Because on that day, in one of the most storied parks in baseball history, a hitless, scuffling former phenom named Chris Davis took the ball from his manager – a old-school, baseball hardass who seemed all-but-willing to chalk up the game as a loss – shook off the worst batting day of his life, turned back the clock to Little League, and strode to the mound with a slightly different idea in mind.