The third in a series of five lists counting down the 50 greatest movies set in the City of the Angels.
29.  Die Hard (1988)
Yeah, it constantly defies the laws of both physics and probability.  Yeah, it's got a ridiculous body count.  And yeah, it eventually spawned a series of downright silly and formulaic sequels.  But in and of itself, Die Hard is the gold standard of action films for one reason: a terrific performance by Bruce Willis, who is forced to spend large chunks of screen time doing little more than talking to himself (or into a walkie talkie). It takes some real acting chops to pull something like that off. Don't believe me?  Instead of Willis, imagine for a moment that the producers had hired some lumbering lug nut like Sylvester Stallone, Arnold Schwarzenegger, Chuck Norris or Steven Seagal to play John McClane.  Exactly.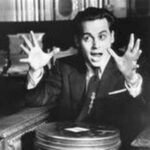 28.  Ed Wood (1994)
If someone ever questions Johnny Depp's bona fides as a giant among contemporary film actors, tell him to check out Ed Wood.  Watch Depp's energy.  Watch his blind sense of not just faith and hope, but devotion.  Watch the incredible combination of affection and wonder with which he beholds Martin Landau's aging and mostly threadbare Bela Lugosi.  It's as though Wood as imagined by Depp is a small child who wakes up one day and learns he gets to work side-by-side with Santa Claus.  Ed Wood is not just a valentine to movie making and the joys of being a slave to one's muse (however tone deaf she may be). It is proof positive that Edward Scissorhands was not by any means some sort of career outlier, and that when Tim Burton stops trying so hard to be a dour, black-hearted auteur from another galaxy, he can be a story-teller of amazing warmth, compassion and wit.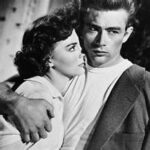 27.  Rebel Without a Cause (1955)
Nicholas Ray is not everyone's cup of tea.  He doesn't pace his films as though there's a metronome just off-camera, and they often rely less on action, plot and circumstance than they do on the turmoil in a single man's soul.  And on top of all that, he generally offers up more questions than answers.  But Rebel is a serendipitous marriage of director (Ray), actor (James Dean), and era (the 50's, with their creeping conformity).  And it remains an allegorical yet emotionally raw tale about a young man from suburban L.A., torn between society's expectations of him and the beckoning voice of his own heart.  It's not a perfect film, but it is a seminal one.  Because without it, it's hard to imagine a decade or so later such rebel/seeker/loner movies as Cool Hand Luke, The Graduate, Five Easy Pieces and Midnight Cowboy ever getting made.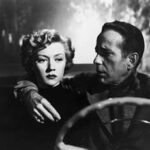 26.  In a Lonely Place (1950)
Like Bette Davis, whose career was ultimately defined by her willingness to regularly take chances and play less-than-admirable leading ladies, Humphrey Bogart was an actor who for all his noble, tough guy roles, constantly challenged himself by playing men possessing character flaws that were miles wide and fathoms deep.  In a Lonely Place, yet another Nicholas Ray movie, is the story of a pathologically jealous Hollywood screenwriter who can outrun a murder charge, but not the darkness of his own soul. A truly genre-defying film, In a Lonely Place is noir-ish without being noir, it's a love story desperately in search of a happy ending, and most of all, it's a psychological thriller that doesn't rely on a violent climax to resolve its stifling, and occasionally suffocating dramatic tension.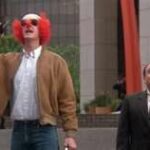 25.  Ruthless People (1986)
A tremendously underappreciated and largely forgotten Reagan-era chestnut, Ruthless People is one of those rare black comedies that somehow manages to achieve both black and comedy.  In fact, it remains one of the most caustically funny films of the past 50 years, thanks in part to a wonderfully oily performance by Danny DeVito, a Will Farrell-like turn by Judge Reinhold as an earnest felon a few bricks shy of a full load, and a savagely funny Bette Midler as a nouveau riche shrew of a kidnap victim who slowly finds herself getting marked down.  Unlike Midler's Down and Out in Beverly Hills and DeVito's War of the Roses, both of which fancied themselves as black comedies, but which were more cynical than comedic, this one truly is a comedy.  The cynicism just comes along for the ride — and the laughs.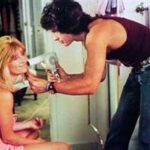 24.  Shampoo (1975)
On one level, it's a wonderfully acerbic satire on life, love and the pursuit of happiness in a palace of excess, otherwise known as Beverly Hills.  On another, it's an historically compelling snapshot of two opposing forces locked in a culture war on the eve of the '68 presidential election, the 24-hour period during which the movie takes place.  But in the end, the greatest thing about Shampoo is that director Hal Ashby (The Last Detail), screenwriter Robert Towne (Chinatown) and the vastly underrated Warren Beatty tell a terrific story about a proud but aging rooster who reaches midlife apparently unaware that all bills eventually come due, and that at some point the music is going to stop, regardless of whether or not he's found a chair.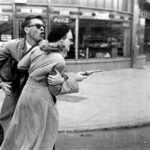 23.  Gun Crazy (1950)
Perhaps all you need to know about this unbelievably raw and sexually charged noir classic is the one thing director Joseph H. Lewis told his two actors, John Dall and Peggy Cummins, on the first day of shooting:  "I told John, 'Your cock's never been so hard,' and I told Peggy, 'You're a female dog in heat, and you want him. But don't let him have it in a hurry. Keep him waiting.'"  With a script by Dalton Trumbo, some wonderful post-war L.A. locations, and an extended single-shot holdup sequence that rivals that in A Touch of Evil, this is truly the B-movie to end all B-movies.  What's more, it achieved its cult standing the old fashioned way: one breathless pant, one lustful look, and one deadly, smoking-hot piece of lead at a time.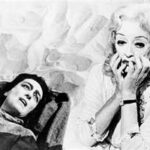 22.  Whatever Happened to Baby Jane? (1962)
The backstory may be a juicy as the movie itself.  Its two stars, Bette Davis and Joan Crawford, both of them much closer to being museum pieces than leading ladies, absolutely detested one another and went to great lengths to upstage and, whenever possible, humiliate each other.  And that's apparent in virtually every scene they share.  But even without the juicy backstory, the film is what every campy gothic horror movie ever aspired to be; shot in hyperdramatic black and white, directed as broadly as possible by Robert Aldrich, and made even more deliciously campy by a terrific Oscar-worthy performance by the always entertaining (and larger-than-life) Victor Buono.  In fact, Aldrich so aspired to camp Valhalla that he even brought in the godfather of cheesy TV themes, Frank (The Brady Bunch) DeVol, to compose the score.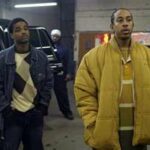 21.  Crash (2004)
It's nearly impossible to talk about the L.A. of the past half century without at some point getting around to the subject of race.  Years ago, the hope was that the burning of Watts would start the city on a path to healing.  It didn't. Then came the Rodney King riots.  Same hope.  Same result.  And very recently, the City Council voted unanimously to change the name of its notorious South Central police district to simply "South Los Angeles."  Maybe that will help, was the thinking.  Yeah right.  Nothing short of a deeper understanding of the differences (and similarities) between people of all races will allow Angelinos to rise above their hateful, intemperate past. To that end, the L.A. City Council could do worse than by making Paul Haggis' complex and controversial 2004 Best Picture winner required viewing for every last man, woman and child in their erstwhile City of the Angels.