Raise your hands those of you sick and tired of spoiled, selfish athletes.
Stand up everyone who's had it up to here with boorish behavior from egotistical, multimillion dollar prima donnas whose inflated sense of their own self-worth is eclipsed only by their insufferable sense of entitlement.
Well, you can sit back down now because this story will make you forget, if only for a moment, everything you've ever thought about such world-class jag-offs as Roger Clemens, Latrell Sprewell, Barry Bonds and Ryan Leaf. 
I'm talking about Gil Meche.
"Gil who?" you may ask?
Meche.  Gil Meche.  A Louisiana native and stand-up guy who until Tuesday used to pitch for the Kansas City Royals. 
And I say "used to" because this week, out of the blue, Meche announced he was retiring from baseball after ten up and down years. But the fact that the 32-year old Gil Meche retired is not the story at all.  In fact, not by a long shot.   
It's how Meche chose to retire that's the story.  Or perhaps, more accurately, when he chose to retire.
Gil Meche, whose badly injured shoulder forced him to labor through a horrible season in 2010, and which now requires major surgery, walked away from the game with one year and $12.4 million still remaining on his contract with the Royals  — money he now forfeits by retiring.
In other words, like so many athletes have done in the past, and will no doubt continue to do, he could have simply undergone an operation, spent the year on the D.L. and pocketed the easiest $12.4 mil any man has ever made.
But he didn't.  Because to Gil Meche, to have done so just wouldn't have been right.
His General Manager, Dayton Moore, was dumbstruck, telling ESPN's Buster Olney he'd never seen anything like it in all his years in baseball.  Meanwhile, most of his friends just thought he was nuts.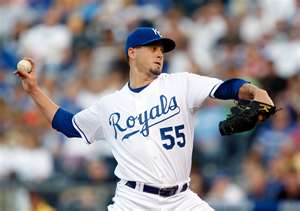 But apparently Gil Meche is not only a man of great principle, he is one of the greatest teammates in the history of baseball; a guy willing to do, quite literally, whatever it takes to help his club win — including putting his money where his mouth is.
You see, by forfeiting that $12.4 million, he gives the Royals room in the budget to go out and try to improve themselves from now through the end of the upcoming season, when his contract would have come off the books.
As Meche told Olney, "I want that team to win, and hopefully this helps them."
That's the professional athlete equivalent of not only leaving a tip for the hotel chambermaid, but making the bed for her before checking out.
Many were incredulous, arguing that an injury-prone pitcher who'd won a grand total of 55 games in his career was not worth either $55 million or a five-year contract

As a matter of background, you should know that Gil Meche and Dayton Moore will be forever linked in Royal lore.  Because it was Meche who Moore signed in his very first year in Kansas City to a highly controversial $55 million, five-year deal.  Many in the industry were incredulous, arguing that an injury-prone pitcher who'd won a grand total of 55 games in his career was not worth either $55 million or a five-year contract.
But Moore knew he had to make a statement both to the Royals' fans and to the baseball community at large. He wanted to show that a new era had dawned in Kansas City and that he and the Royals ownership were now fully committed to doing whatever it took to win. 
For his part, Meche clearly never forgot the faith that Moore showed in him.  What's more, he never ran from the controversy, and even chose to wear #55 as a measure of just how willing he was to step up and face head-on both the lofty fan expectations and the media scrutiny
And while clearly not a #1 talent, because he was the Royals opening day starter for the first three years of his deal, he found himself constantly squaring off against the likes of Roy Halladay, C.C. Sabathia and Felix Hernandez.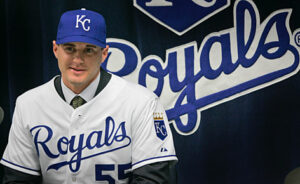 Yet Meche welcomed that challenge like a warrior, competing with everything he had start after start, and rarely leaving a game with anything left in his tank. 
During one fateful night in June of 2009, Meche was hurling a shutout against Arizona.  His pitch total was unusually high that evening, so Trey Hillman, his manager, asked him if he wanted to turn the game over to the bullpen.  Meche declined.  He knew he was being paid to be the Royals ace, and that every once in a while a staff ace has to give the bullpen a night off and close out games by himself.
Meche did indeed get his team a win that night, and earned for himself a shutout, but in the process he threw more pitches than he ever had in his professional life and was never the same again. 
Later is was discovered Meche had a torn muscle in his shoulder, which led to back problems, and before you knew it his days as an starting pitcher were over.  He tried to pitch some out of the bullpen last year, as well as to strengthen his aching shoulder though rest and exercise, but the handwriting was on the wall.  Gil Meche was cooked, and so was his career.
So this week, rather than doing what you, I and nearly 300 million other people in this country would do — namely, take the money and run — he stood up and did the noble thing. 
Stood up and did the folks back home in Lafayette proud. 
He did the right thing.  But not just any right thing.  Gil Meche did one of the remarkably selfless, team-first, right things in the history of sport.

Stood up and wrote the lead to his own obituary.
Gil Meche, unlike so many athletes today, didn't do the selfish thing. Or the easy thing. Or even the understandable thing.
He did the right thing. 
But not just any right thing.  Gil Meche did one of the remarkably selfless, team-first, right things in the history of sport.
As he said in a statement this week, "I can't thank the Kansas City Royals and their fans enough for my four seasons there and if I have any regret, it's that we weren't able to accomplish on the field what the goal was when I signed there."
Maybe, Mr. Meche, but let me tell you this: many of those same people you're apologizing to — including so many parents of so many young and impressionable kids — are applauding your what you did on Tuesday, while hoping against hope that a small part of the integrity, dignity and class you showed in Kansas City, both coming and going, might somehow rub off on them.
And know this as well:  I'm right there with them, applauding for all I'm worth.