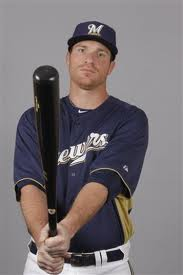 Mat Gamel of the Milwaukee Brewers might be the walking, talking (if you can call it that) embodiment of the incredibly candid opinion I heard a former big league star once share on the conversational powers, if not the overall intellect, of the average baseball player. 
As a guy who as a young man had the tools to be scouted by both the NFL and the NBA before settling on a career in baseball, and who spent time with professionals in all three sports, he once said that off all the things he did in sports, taking long bus rides with a bunch of minor league baseball players – many of whom were drafted right out of high school, or off the farm, or wherever, and never once set foot in a college classroom – might have been the hardest. 
I would imagine the same might be said of hockey players, many of whom spend their formative years not hanging around college dorms, talking to pretty college girls, or attending college classes, but on buses riding to and from tiny dots on the map with names like Moose Jaw, Medicine Hat and Swift Current.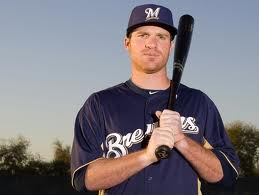 I watched an interview with Gamel a few days back during a spring training telecast that made the above point about baseball players perfectly; in fact, made it in a way I found almost creepy.  While being lobbed one softball after another by the Brewers' TV team, Gamel proved to be a train wreck of an interview. 
The in-game Q&A was not merely difficult to watch, it was truly unsettling.  Gamel offered a series of mumbled, even garbled one and two-word answers to the announcers' most benign and genial questions, and rarely, if ever, looked into the camera.
And it went on and on seemingly forever, as clearly someone higher up the food chain asked the two announcers to interview the guy, regardless of whether or not he actually had anything to say.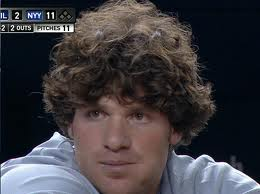 Look, I can imagine a guy being media shy.  I can understand a total lack of ease in front of the camera.  But Gamel was more than just that. 
His resistance seemed to stem from something that went beyond simple lack-of-comfort.  His clipped, mumbled, monotone responses seemed as much attitude-driven as anything else, as though he deemed the interview a waste of his time and considered the guys talking to him beneath status as a player. 
What's more he seemed to be doing the interview, not because he saw it as an opportunity to win over a few fans and let people get to know him a little better, but because some well-dressed front office person said he had to do it.  And that's exactly how he acted.
At the very least he didn't afford the two guys interviewing him the decency of the most basic rules of human interaction.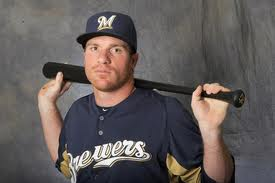 And it's not like this thing isn't going to be happening more and more as the season draws near and Gamel finds himself in the crosshairs of the fans and the media – and not just locally, but nationally.  The guy is the hitter Brewer fans everyhwere hope will replace fan favorite and power-hitting slugger Prince Fielder in the lineup after the hefty HR champ and perennial All Star took his big bat and his even bigger girth and signed a massively big nine-figure deal elsewhere. 
That's why I wonder what really triggered the story today on MLB.com, or at least how long the Brewers' PR team has been pitching it to the writer.  Milwaukee's front office has had to realize for some time now that Gamel's image is in desperate need of a facelift and that he is going to require every last drop of public good will this season, especially if he struggles out of the gate.   
But the simple fact is, Gamel is horrible on camera.  And he's horrible, either because he lacks the training to be anything but, or because he is in possession of one of the worst attitudes I've seen in all my years following baseball.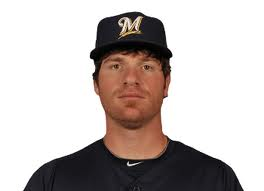 I'm inclined to think it's a little of both, with an emphasis, sadly, on the latter. 
After all, Gamel is a veteran.  This is the guy's seventh spring training, so it's not exactly like his first rodeo or the first time some yahoo stuck a camera in his face and asked him a few questions so mindless I could train my dog to answer them.
That's probably why today's story, smack dab in this season of newness, rebirth and hope, ran under the wistful banner, "Brewers see a different Gamel this spring," and included a subhead that sounded as much like wishful thinking as anything else: "Teammates like first baseman's attitude as he replaces Fielder."
That's most likely why the story had reigning NL MVP Ryan Braun glowing about the "new Mat Gamel," a guy who apparently prior to this year used to go around unshaven and wearing jeans, tee shirts and untied shoes, with eternally messy, unkempt hair.  The story quoted Braun as saying, "He cleaned it up, man," and adding, "He shaved. He's dressing nice. He just looks a little more professional. He stepped his fashion game up a little bit. He looks like he cares."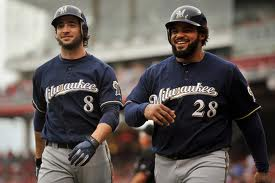 But that's also why the author chose to go into detail about the time, apparently sick and tired of both Gamel's lackluster attitude and his even more lackluster production, Brewer veterans Mike Cameron and Jason Kendall found a portable locker and placed it outside the clubhouse, along with every last one of the guy's things. 
The author claims Gamel got the message back then, and reports that he truly gets it now.  But I still have my doubts.  I really do. 
I saw Gamel.  I heard him talk.  I saw him spit out a few curt answers and treat two fellow human beings like something he had stepped in; and not just any two fellow human beings, but two old pros and the very two guys who could prove to be his biggest assets as he tries to follow a legend while winning the hearts and minds of Brewer Nation — the club's hometown announcers.
I may be wrong, but this could just prove to be a very long summer in Milwaukee, as well as the beginning of the end of what might just be a very brief run as a Brewer regular for Mat Gamel.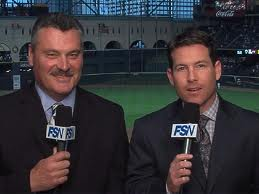 Especially if what I heard right after the above-mentioned interview from Brewer color man Bill Schroeder turns out to be what it sounded like at the time; a guy getting ready to jump ship. 
Following the uncomfortable and painfully labored exchange with Gamel, Schroeder, himself a former big league player, seemed so taken aback by his interview subject's unresponsiveness and utter lack of grace that he tossed it to commercial with what I'll call an uneasy blend of bitterness, irony and exasperation, audibly exhaling in the process, "Wow, talk about a man of few words."