Among the many fine actors whose passing in 2018 we mark with the passing of the year: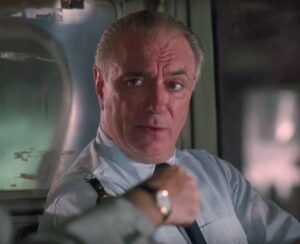 Philip Bosco
In the early days of Hollywood, if not radio, one might argue the most bankable asset of any actor was his voice. At some point, however, especially during the method-driven 50's, signature voices began to take a back seat to an earthy, ultra-realistic and somewhat mumbled style of acting. Actors' voices, in the process, became far more ordinary. Even so, Bosco, despite his terrific acting chops, remained a link to those earlier, glory days when distinctive, evocative voices stood front and center and became a calling card for many an actor. In his dozens of film roles – often small but essential cogs in the larger machinery of the narrative – it was his soothing, velvety baritone that became the thing that would sear itself into our minds. And to hear Philip Bosco, even today, read a letter or recite a quote in any one of Ken Burns' living, breathing documentaries, from his timeless Civil War to his granular recitations on such meaty slabs of Americana as baseball, jazz, Prohibition, Frank Lloyd Wright, Mark Twain, the American West, boxer Jack Johnson, and the U.S. National Parks, to name just a few, is to hear not just a master at the art of speaking the written word, but to hear a singular voice that, through Burns' films, will continue to give depth, texture and nobility to the kind of historical figures on whose shoulders this country will sit perched for generations to come.

Chuck McCann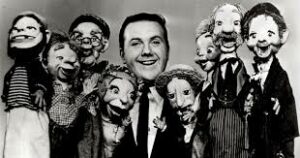 For years he'd made a name for himself clowning and chewing scenery in a slew of local TV shows for kids in an around New York. In 1962, he even left a national footprint, however minute, by voicing, for the first time, Sonny the Cuckoo Bird's trademark line, "I'm cuckoo for Cocoa Puffs!" But Chuck McCann, who'd soon become a much sought-after character actor, etched for himself a place in Madison Ave history as part of one of the most beloved TV ads of its time; the award-winning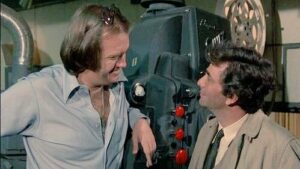 1969 spot for Right Guard in which a sleepy husband opens his medicine cabinet only to discover his neighbor smiling back at him. The spot as conceived by BBDO was perfectly acceptable, but in rehearsals it generated no reaction from the crew, much less laughs. That's when the talent took over. Director Joe Bologna suggested a little Greek-style dance for McCann. Fellow actor, Bill Fiori, improvised turning around and calling to his wife, Margaret, near the end (though her name was ultimately changed to Mona). But the greatest wrinkle, however slight, came from McCann, who ad-libbed the very first words he spoke – word that weren't scripted, and words that when shortened (like the ad itself) soon became part of 60's and 70's pop culture, if not our national vocabulary. And for Americans of a certain age, all you have to do to transport them back to a gentler time, and to bring a smile to their face, is to ask if they recall the immortal Right Guard ad – you know, the "Hi, guy" one.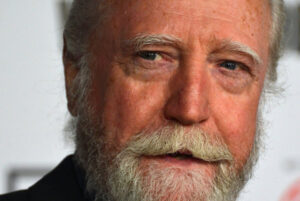 Scott Wilson
In the play, Hurlyburly, David Rabe's acerbic take on Hollywood and Hollywood types, there's an underemployed actor named Mickey who's told by one of the play's other characters – a summarily cynical movie producer – that he's not an actor. He's a prop, like a tree. And the only reason anyone hires him is because he's so real he makes the rest of the bullsh*t around him seem real. That was Scott Wilson, a small-town Georgia boy whose uncanny ability to not act turned out to be his defining trait as an actor. In almost every role he ever undertook, starting with his falsely accused killer in the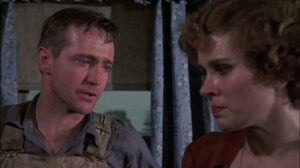 lyrical Academy Award-winner, In the Heat of the Night, his real-life country-boy style and authentic, gentle drawl drew in viewers like moths to a flame, while shining a halo of truth on virtually everything about him. That's why, when director Richard Brooks set out to bring Truman Capote's In Cold Blood to the big screen, and do so in ultra-realistic, documentary-style fashion, he chose Wilson and Robert Blake, two virtual unknowns, as his real-life killers, Dick Hickock and Perry Smith. And that's also why, fueled by Wilson's vivid but muted-whisper of a performance as one of the shotgun-wielding sociopaths, Roger Ebert marveled at him and his co-star by writing, they "are so good they pass beyond performances and almost into life."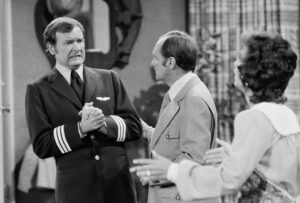 Bill Daily
One of the great second bananas of all time and a guy who could, unannounced, enter a sitcom scene and immediately steal it. An acting coach once told his students that the key to comedy is believing the situation, however crazy, and wholeheartedly playing it as though it were real. As an actor, he said, the more you believe the situation, and the more you convince the audience you believe it, the funnier it will be. That was the key to Bill Daily's ferociously earnest but altogether not-too-bright characterizations. That, of course, and his deadpan delivery, muttered asides,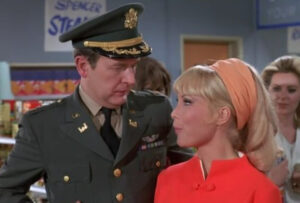 and immaculate sense of timing. You can search online all you want for lists of the greatest sitcom characters in the annals of television, and you likely won't find a Daily character among them. What's more, you won't find a single actor on any such list singled out more than once. But, truth be told, given his comedic one-two punch of Major Roger Healey on I Dream of Jeannie and the incomparable Howard Borden on the Bob Newhart Show, it's not a stretch to argue that Bill Daily – the deadpan genius, eternal guy-next-door, and serial scene stealer – didn't just create one of the funniest characters in the history of television. He created two of them.
Tab Hunter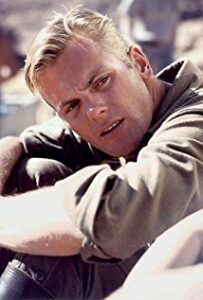 Those who know Tom Hanks will tell you the most defining thing about the man is not his success or talent as an actor. It's that he's such a decent guy, despite it all. That was Tab Hunter, a humble and almost pathologically genial 50's heartthrob who, it seemed, never met a person he didn't like or make an early onscreen appearance without, at some point, removing his shirt. The difference was, Hunter – unlike Hanks – was a deeply closeted gay man whose long-standing affair with fellow movie star, Tony Perkins, would remain for years one of Hollywood's darkest and best-kept secrets. The parallels between Hunter and fellow 50's hunk, Rock Hudson, were striking, if not ironic. While Hudson lived his life in abject denial about his preference for men, right up to the bitter end and his shocking death from AIDS, Hunter, didn't just come out of the closet, he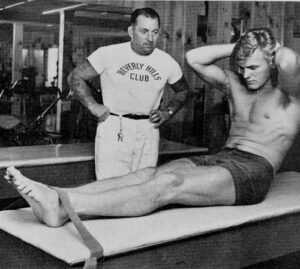 kicked down the door that once held him trapped inside it. In 2005, the blue-eyed, former heartthrob penned a deeply personal memoir, in which he came clean about his closeted life, and then followed that up with an unflinchingly honest and moving full-length documentary. That's why, while history will likely not be kind to the bigger star of the two – the guy who always denied his sexuality and continued to play straight and romantic leads well into his 50's – it will remember with great fondness the other; the humble guy whose 15 minutes of fame turned out to be just the beginning. Because the latter, right at an age when most faded stars are taking victory laps and basking in the glow of former glory, dared to bare his soul, tell the truth, and in the process – and if only in a small way – help us all take a small step forward.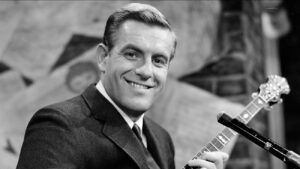 Jerry Van Dyke
His big brother was the star; the guy with the top-rated TV series; the physical comic with the good looks and white-hot movie career; the one of Hazel Van Dyke's two sons who, it seemed, could do no wrong. The younger brother was the one forced to do random guest spots on random sitcoms, who worked night after night in city after city as a banjo-picking, joke-telling clown on small stages in half-filled clubs, the guy waiting for the break that never seemed to come. Heck, even the one break he did get – an unlikely sitcom about a guy whose mother gets reincarnated as a 1928 Porter – wasn't just critically savaged. It was called by many the single worst television show ever produced. None of it seemed fair, of course, at least not to those who saw the two for what they really were. The older, truth be told, wasn't nearly as golden as his success indicated. His films, other than Mary Poppins, bordered on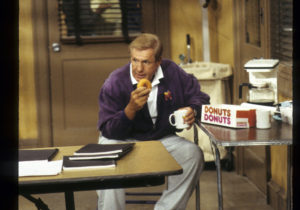 unwatchable. And even in that Oscar-winning Disney smash, his Cockney accent was so bad it was laughably so. What's more, that top-ranked TV show of his, as brilliant and timeless as it may have been, possibly wouldn't have made it past the first year without relying so heavily on the enormous talents of greats like Morey Amsterdam, Rose Marie and (especially) Mary Tyler Moore. That's why, when the older brother's career stalled in the 90's, and the younger brother was given a second banana role that, for the first time ever, seemed perfect for him and allowed him to deadpan his way into the hearts and minds of millions of American – viewers and critics alike – the gods of comedy finally seemed reconciled. Because, once he received those four consecutive Emmy nominations for the series, Coach, the centerpiece of which was his hilarious and occasionally poignant portrayal of the constantly befuddled and chronically insecure assistant, Luther, the world finally got to see Jerry Van Dyke for what many long suspected he was; the funnier and more soulful of Hazel's two baby boys.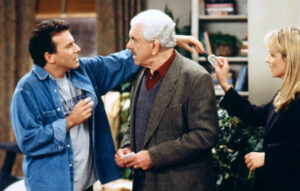 Louis Zorich
The acting world in this country is divided into two camps; L.A. actors and New York actors. The former are not unlike like cage wrestlers in a death match; the latter, at times, a congenial fraternity. The former is full of dreamers and hangers-on with stars in their eyes who regularly drive (or are driven) many miles to cattle-call auditions, who live in a town with no center, no soul, and no sense of place or community, and whose idea of success is – maybe – a role in a hit sitcom or, as a fallback, a national commercial. The latter is a relative handful who walk (or take the subway) a few blocks to auditions (or performances), who see themselves, not as celebrities, but as artists – working stiffs who move among fellow New Yorkers and feel most at home onstage. But the fundamental difference between the two is the fact that vast majority of TV dramas and comedies in this country are shot in L.A., meaning it's incumbent upon many New York actors to once a year close up shop and head West for what is known as "pilot season." Which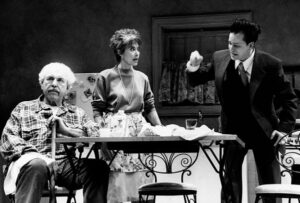 brings us to the twin towers of New York TV dramas; Herbert B. Leonard's Naked City and Dick Wolf's Law & Order; two highly successful cop shows shot exclusively on location in the streets and studios of New York. The first ran for four seasons (138 episodes), from the late 50's to the early 60's; the second for a remarkable twenty (456 episodes), from the early 90's through the first full decade of the following century. They also, as procedurals, required a largely all-new supporting cast each week. As a result, they were honey-holes for any New York actor fishing for work; so much so the pair likely saved more than a few of them from having to quit the business. Yet, because the two ran over three decades apart, only a handful of New York actors were of the right age to have appeared in both. A hard-working stage actor, Zorich was one such guy, a deep-voiced character-type who played a young Greek immigrant in the first show and an aging, ill-fated judge in the second. He wasn't the biggest name of the 25 or so who ended up appearing in both Naked City and Law & Order; that would be Eli Wallach. But along with such New York-based SAG and Equity stalwarts as Leonardo Cimino, Keir Dullea, Jan Miner, Dana Elcar, Nehemiah Persoff, Theo Bikel, Shirley Knight, Joanna Merlin, Tresa Hughes, Val Avery and Sandy Baron, to name but a few, Zorich's passing in 2018 reduced by one the small and ever-dwindling community of talented and still-working actors fortunate enough to have spanned the two most fertile periods in the glorious, if not historic era of New York television production.

Among the other notable actors we lost this year: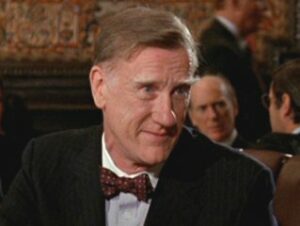 Donald Moffat, who could have taught an entire master's course on playing smarmy, amoral and power-rich white-collar criminals, and who later gave a poignant performance as C.J. Cregg's once-brilliant but now Alzheimer's-riddled father in a one-off and thoroughly atypical episode of the West Wing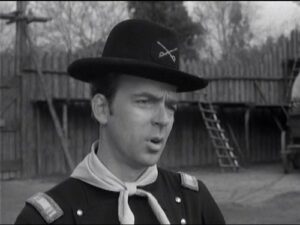 Ken Berry, the twinkle-toed song-and-dance man who, despite a string of high profile roles in hit comedies like the Andy Griffith Show, Mayberry R.F.D. and Mama's Family, for millions, is, was, and would forever remain the clueless Captain Parmenter – he of the nimble and well-choreographed pratfalls – in the absurdist and short-lived 1960's U.S. Cavalry farce, F Troop
Two often overlooked Godfather saga actors; Peter Donat, a key member of the U.S. Senate Committee trying to pin down the wonderfully evasive Frankie "Five Angels" Pentalgeli, and the venerable Morgana King, the sultry 1950's jazz singer and song stylist revered for her four-octave contralto and unique, if not otherworldly style of phrasing, who Francis Ford Coppola personally visited and begged to play the Don's sturdy and loyal wife, Carmela Corleone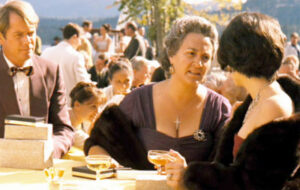 Clint Walker, 6'6" barrel-chested, deep-voiced and slow-talking giant who made his mark as the title character the long-running western, Cheyenne, and who once fell off a ski lift in Big Bear, California and yet somehow managed to survive despite having been pierced through the heart by one of his ski poles
Margot Kidder, Canadian-born, raspy-voiced and often troubled actress whose rumored brushes with mental illness would likely pack entire volumes of human psychology, but who in 1978 breathed charm and unexpected life into the role of Lois Lane, becoming both the emotional core of Superman and evoking a moving, if not palpable passion in Christopher Reeves' otherwise two-dimensional rendering of the legendary Man of Steel.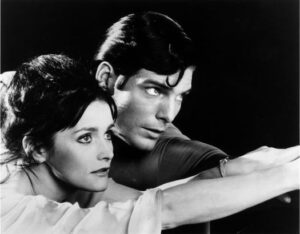 Jerry Maren, 4'3" member of the Lollipop Guild in the Wizard of Oz, who after the trio's song-and-dance to welcome to Dorothy to the Land of Oz, reaches out and offers her a lollipop, before backing up and giving himself the classic, fingers-entwined, side-to-side, and self-congratulatory victory clasp-and-pump
Reg Cathey, bright-eyed, understated character actor who, among many meaty (but often minor) roles, was one in which he became a key player in, arguably, the finest African American ensemble piece ever brought to the small screen, HBO's the Wire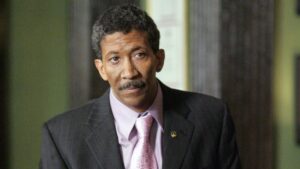 Dean Webb, banjo player for the legendary bluegrass band, the Dillards, who appeared on multiple episodes of the Andy Griffith Show as a member of the harmony singing, jug-playing and nimble-figured hillbilly clan, the Darlings
Donnelly Rhodes, Canadian-born actor whose moment of screen immortality came in the buddy movie-of-all-buddy movies, 1969's Butch Cassidy and the Sundance Kid; as the card player in the opening sequence who accuses Sundance of cheating and is then given the rather easy choice of drawing on the Kid or inviting him to stick around and play one more hand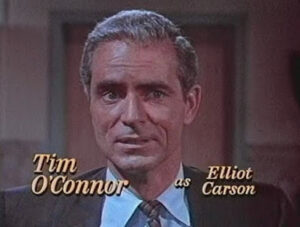 Frank Avruch, who played Bozo the Clown from 1959 to 1970 and who was the first to portray the beloved clown on the nationally syndicated version of the show
Three hard-working, seemingly ubiquitous character actors without whom 1960's and 70's hour-long TV dramas, likely (or so it seemed), would not have been possible; Joseph Campanella, Tim O'Connor and Bradford Dillman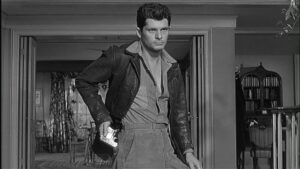 Dewey Martin, Bogie's ill-fated younger brother and escaped con in the William Wyler 1950's evil-comes-to-the-suburbs masterpiece, The Desperate Hours
James Karen, the real estate developer in Poltergeist who, it's eventually revealed, has sold the family at the heart of the tale a home built on a still-inhabited graveyard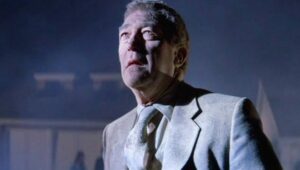 John Gavin, Ronald Reagan's Ambassador to Mexico who, in his former life, played the doomed Janet Leigh's brother-in-law in Alfred Hitchcock's classic, Psycho
Marty Allen, bug-eyed, fuzzy haired half of the largely tepid 60's comedy duo, Allen and Rossi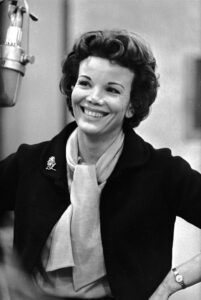 Nanette Fabray, character actress who late in her career became a fixture on such middling 70s and 80s fare as Hollywood Squares and the Match Game, but who prior to that studied tap under the legendary Bill "Bojangles" Robinson and won three Emmys opposite the great Sid Caesar on Your Show of Shows and Caesar's Hour
Susan Anspach, slightly mysterious 70's ingénue who, before starring in genial box office hits like Play It Again, Sam and Blume in Love, went toe-to-toe and more than held her own against Jack Nicholson (who, she'd later contend, fathered her son) in what, in lesser hands, could have been a minor role in the revered Five Easy Pieces, a 60's-era anti-hero road tale about a young man's restlessness, longing and fruitless search for meaning

Harry Anderson, the sleight-of-hand magician-turned-actor, who later starred in the hit 90's TV series, Night Court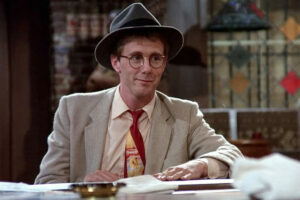 Charlotte Rae, former singer and perennial sidekick whose big break came at the age of 52 when network head Fred Silverman hired her to play the housekeeper on his new sitcom, Different Strokes; a character that proved to be so popular that she was given her own spinoff series, Facts of Life
Vern Troyer, the pesky, well-endowed and note-writing clone of Dr. Evil, Mini-Me, in the popular Austin Powers series of lovingly conceived 60's-era spy spoofs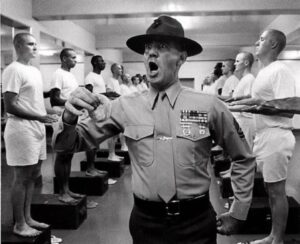 R. Lee Ermey, former marine and self-taught actor whose grasp on the intense, laser-focused and maniacal drill sergeant in the first half of Stanley Kubrick's Full Metal Jacket was so complete (and so riveting) during auditions that, according to legend, Kubrick – an otherwise control freak – not only awarded Ermey the role, but gave him free rein to write his own dialog and ad lib wherever he saw fit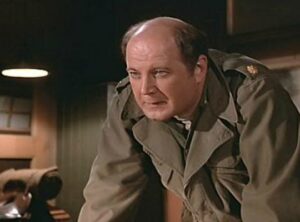 When Larry Linville, the actor portraying the cartoonish Frank Burns, left M*A*S*H, the producers wanted as a replacement an intellectual equal, if not worthy foil, to Hawkeye Pierce; enter David Ogden Stiers, whose Charles Emerson Winchester III, a fastidious, articulate, talented, and blue-blooded Bostonian, not only made Hawkeye up his game, but allowed the entire show to find a new gear
Connie Sawyer, at the time of her death at 105, the oldest working actor in Hollywood, with a career spanning 85 years and including such comedic gems as When Harry Met Sally…, Pineapple Express, Out of Sight, and Dumb and Dumber, whose final appearance – in Showtime's gritty drama, Ray Donovan – came at the age of 101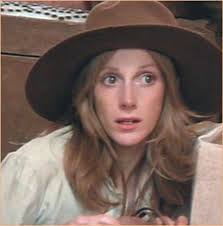 Sandra Locke, doe-eyed blonde who earned an Oscar bid for her debut in the Heart is a Lonely Hunter, who starred opposite live-in companion, Clint Eastwood, in a few films, including the Outlaw Josey Wales and Every Which Way But Loose, and whose eventual palimony suit against the actor/director turned out to be as ugly and contentious as any in the long and sordid history of Hollywood breakups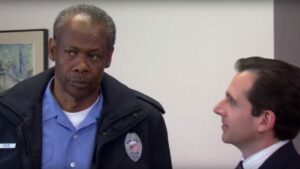 Hugh Dane, laconic and slightly bemused Dunder-Mifflin security guard in the long-running hit comedy series, the Office
Carole Shelley
It's one thing to steal a scene from Jack Lemmon or Walter Matthau, much less do it at the same time. But that's exactly what Shelley, an elegant and classically trained redhead, and the equally wonderful Monica Evans did in the film version of the Odd Couple, as the irrepressible and deliciously bubbly Pigeon sisters – and Shelley and Evans would, indeed, would steal scenes as Cecily and Gwendolyn, not just on film, but on Broadway and TV as well

Sports deaths of 2018
Business deaths of 2018
Music deaths of 2018
Miscellaneous deaths of 2018