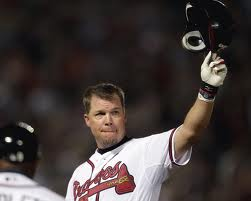 Before Chipper Jones rides off into the sunset at some point over the next few days, and in anticipation of the very last regular season game of his brilliant career – which, weather permitting, should be occurring in Pittsburgh even as I write this – I thought I'd share an image which I've carried with me over the years.  It's the image of the first time I ever saw him, live and in person. 
And here's a hint.  He was not in uniform.
The year was 1991. I was living in Upstate New York and doing some freelance baseball writing, in addition to my regular PR gig. On the final weekend of the baseball season, the team I had grown up living and (mostly) dying with, the perennial doormat Atlanta Braves – then managed by the ever-optimistic Bobby Cox and under the stewardship of buttoned-down, first-year GM John Schuerholz – somehow found themselves getting ready to square off with the last-place Houston Astros for a chance to win the division, earn a playoff spot, and put the finishing touches on a most unlikely and (to many) downright shocking worst-to-first regular season turnaround.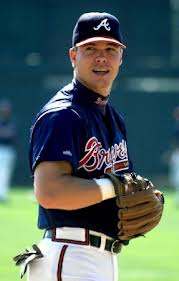 Out of the blue, I decided to fly to Atlanta that weekend, stay with some friends (one of whom worked for the Braves), take in a game or two, and just maybe witness a little history. 
By now, most of you know what transpired. The once-hapless Braves won the first two games, including the potential clincher on Saturday afternoon, and then stood around as a team and watched in eager anticipation (along with the rest of their fans in a still-packed Atlanta Fulton County Stadium) on the giant TV screen in center field as the San Francisco Giants held on to beat their bitter rivals, the Los Angeles Dodgers, and in the process helped crown one of the unlikeliest of champions in baseball history.
I'll recall so many things about that Saturday afternoon that any one of them alone could merit lifetime-memory status for any baseball lover, let alone a Braves fan.
I remember, for example, hanging around the batting cage during BP, pen in hand, and making a note of just how bright the future looked in Houston, especially given the promise of the Astros' two rookie sluggers in '91, Luis Gonzales and Jeff Bagwell, both of whom were hitting rockets all over the ballpark that day.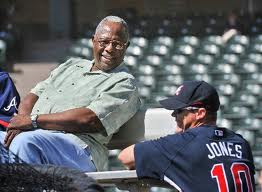 I remember talking briefly to Cox before the game and having him not only remember that I was from Syracuse, but asking how one particular restaurant owner he knew up there was doing.
I remember scoring the game in the press box while seated next to the legendary Chicago Tribune sportswriter, Jerome Holtzman, asking him whatever possessed him to conceive the save rule, and then having the man patiently explain to me in great detail the rationale behind his one-man crusade for its adoption.
I remember going up to Braves catcher Greg Olsen in the victorious clubhouse after the game, a guy who until I had approached him had been standing all alone in front of his locker, asking him a question about something I had noticed he had done just before the final out, and having his answer magically appear in the Atlanta Journal-Constitution the next morning; lead story, lead graph, page one, above the fold.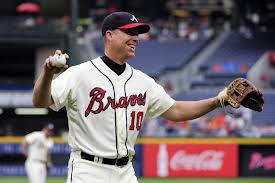 I remember going up and congratulating winning pitcher John Smoltz, and surreptitiously asking the 24-year old future Hall of Famer to do something no sportswriter should ever do, not even a freelancer without an assignment – something Smoltz gladly did even as the champagne ran down his cheeks; sign my scorecard of the game, which I had meticulously kept while seated in the press box next to Holtzman.
But more than anything I remember as I was leaving after the game, I found myself on Capitol Ave just outside the stadium walking next to a young couple who were strolling hand in hand at a pace far slower than the jubilant fans who rushed past them, unaware.  I'll be damned if I can remember what she looked like, but I'll never forget him – probably because I'd seen his face before. 
He was tall, lean and incredibly angular, with bright eyes, a square jaw and dark bangs that fell straight down over his youthful brow.  Plus, amid all that Saturday afternoon, open-collar casualness, he was wearing a sports coat.  I knew right away the young man was Chipper Jones.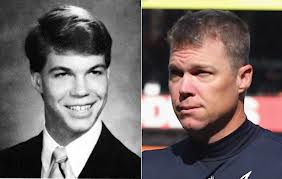 The only reason I recognized him was because I'd seen his photo a few times in Baseball America. He'd been selected – somewhat controversially, I might add – with the first overall pick in the June 1990 amateur draft by then-GM Cox and his right-hand man, Paul Snyder, and had just concluded his first full season in the Braves' system.  
He was all of 19.
The numbers were impressive, to be sure.  Playing for the Braves' Class A farm team in Macon that summer, the kid finished the season with a .326 average in 473 at bats, to go along with 24 doubles, 11 triples, 15 home runs, 40 steals, 69 walks, and 79 strikeouts.
I knew those numbers, of course, or at least had a vague sense of them.  But, hell, I was a baseball geek. That was my job.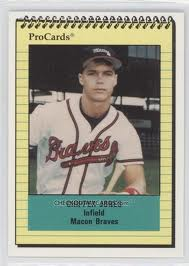 However, it was another number that Jones had put up that season that intrigued me and made he want to stop him, pull out my pen, and ask for a comment or two.  Those 56 errors at shortstop.
Fortunately, the impulse to ask Jones about his fielding passed as soon as it had come, and I chose instead to say nothing.  I merely let the two young lovers mosey on to wherever it was they were headed and watched as they eventually got swallowed up by the joyful and oblivious crowd about them.
Who knows today if such a can't-miss phenom and baseball wunderkind, such as Jones was that fall afternoon in 1991, could ever pass anonymously through a gaggle of so many partisan seamheads?  Who knows, given the exponential growth and stunning ubiquity of YouTube, smart phones, social media, MLB Network, instant celebrityhood and the non-stop news cycle, if such a phenomenon could ever occur in this youth-crazed, info-driven world of ours?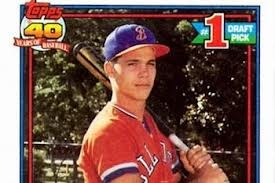 Think about it.  These days could you even fathom overall #1 draft picks like Stephen Strasburg and Bryce Harper, both of them anointed as superstars long before they even set foot on a big league diamond, being able to slip unnoticed through thousands of delirious Nats fans right in front of their home ballpark, and to do so without a single person either recognizing or acknowledging them?
Yet that's exactly what Chipper Jones did 21 year ago this Friday.
None of those people in Atlanta that day knew, of course, that the Braves clinching victory that Saturday would lead to 13 more just like it, all in a row.  No one knew that their once-sad sack of a franchise would soon become synonymous among baseball insiders everywhere with sustained excellence and winning not only with consistency, but with dignity and class.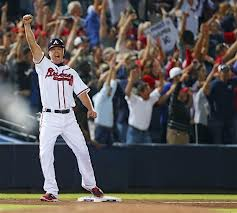 And, certainly, no one celebrating on Capitol Ave that warm and sunny afternoon had any idea that the tall skinny kid with the thick bangs and the knowing little half-smile, walking hand in hand, and moving among them without notice, would just four years later play his first full season as a Brave, lead their hometown team to its first-ever World Series title, and in the process begin a journey that would someday place him among the greatest switch hitters and most respected players they or anyone else would ever see.