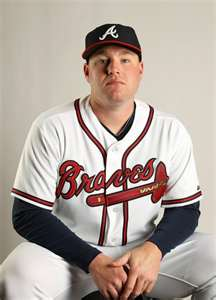 Just a few days ago, the Atlanta Braves outrighted Stephen Marek off their 40-man roster, a career minor-league pitcher coming off career-threatening Tommy John surgery.  In and of itself, an absolutely non-newsworthy and entirely unremarkable roster move. 
But closer examination reveals that by removing Marek from their 40-man roster the Braves have now, at long last, finally closed the book on what turned out to be the franchise's worst-ever deal and, just maybe, the single worst multi-player trade in the history of Major League Baseball.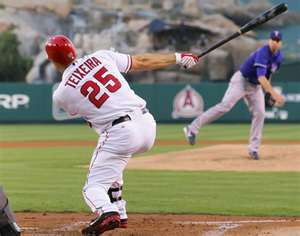 Look, the Braves' 2007 trade for pending free agent  Mark Teixeira was bad enough on face value.  And yet its badness only reached truly epic proportions after the team's management, including an entirely different GM, started throwing good money at bad, hoping to somehow stop the bleeding caused by what was, from the very get-go, a horribly ill-conceived deal.
Let's start with the basics. 
On July 31, 2007, right around the trade deadline, Braves general manager John Schuerholz traded five talented young players for Teixeira and Ron Mahay, a 36-year old journeyman southpaw reliever on a year-to-year contract.  At the time the surprising Braves were in 3rd place, just 4.5 games behind the powerful, talent-laden and first-place Phillies.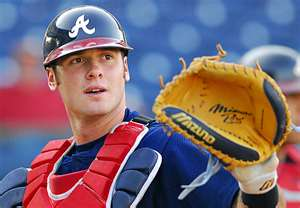 For Teixeira, a budding young slugger with the Texas Rangers, at least according to the game's bible of minor-league talent, Baseball America, the Braves sent to the Lone Star State their three best young players, and three of the Top 100 prospects in all of baseball, Jerrod Saltalamacchia, Elvis Andrus and Matt Harrison, a young right-hander with a 100 mph fastball, Neftali Feliz (who the magazine decreed had "the most electric arm in their system"), and young lefty Beau Jones, a supplemental first-round pick in 2005 and a guy Baseball America said was the club's 10th best prospect just a year prior.
That's four (and maybe five) players with All Star potential dealt by the Braves.  What's more, the transaction made baseball history of a sort by becoming the only time since the launch of Baseball America that three players on any of the publication's Top 100 prospect lists have ever been dealt by one team in the very same deal.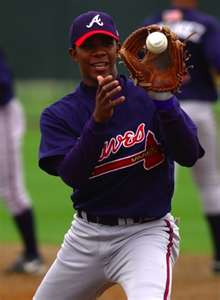 Another matter of background. 
Three months after making the deal for Teixeira, and after watching his team get eliminated in 13 of the possible 16 post-seasons during which he led the Braves, Schuerholz stepped down as the club's general manager.
In other words, at the time he made the deal, Schuerholz, who in retrospect must have at least been thinking about quitting, appeared bound and determined to win at all cost, and apparently started moving players with little consideration of the club's long-term benefit.
More background.
In 2007, Atlanta's everyday lineup included such at- or below-average regulars as Matt Diaz, Edgar Renteria, Kelly Johnson, Willie Harris, Scott Thorman and a falling-off-the-table and horribly out-of-shape Andruw Jones, who ended up hitting a strikeout-plagued .222 that year.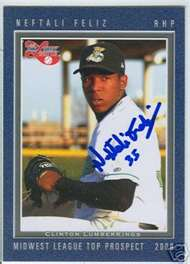 What's more, three very non Brave-like starters, Buddy Carlyle, Kyle Davies and Chuck James, served as three-fifths of the team's rotation that season, while their closer for much of the year was Bob Wickman, who by 2007 had devolved into a horribly out-of-shape, 38-year old pitch-to-contact reliever relying more on guts and guile than actual stuff.
In other words, by July of 2007 the Atlanta Braves were a horribly flawed, pitching-poor, and strike out-prone team playing way above their heads (and, for that matter, their talent level) .
Yet more background.
Teixeira had only one and a half seasons left on his contract at the time of the deal.  What's more, even though Teixeira had played his college ball in Atlanta for Georgia Tech, he was a Scott Boras client.  And history had shown that when it came to Boras clients, they never, ever gave a hometown discount — or, for that matter, even an adopted hometown discount.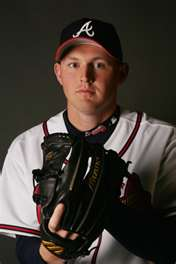 In fact, because of the Boras factor, his clients always demanded absolute top dollar.  For that reason, all prevailing wisdom around baseball held that Teixeira was going to play out his contract and declare free agency following the 2008 season.
That's why the last time Schuerholz traded for a Boras client near the end of his contract, J.D. Drew, Drew spent just six months with the Braves before declaring free agency, and in the process cost Schuerholz the single most powerful and dominating arm the Braves had drafted in decades, perennial Cy Young candidate Adam Wainwright.
And finally, one last bit of additional background.
Around baseball, free-agent-to-be deals have been around for decades.  And over the years superstar players like Mark McGwire, Mark Langston, Curt Schilling, Randy Johnson, Josh Beckett and others have been dealt in advance of their walk years.  And recently Cy Young winners Zach Greinke and Johan Santana were dealt just a year or so before their contracts ran out.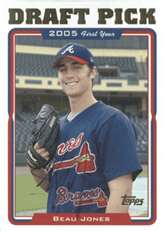 Of the above stars, only Greinke and Santana commanded more than three players in return, and that's because, at least in Greinke's case, he was packaged along with the Royals starting shortstop.  But no player on the list, even the best of them, netted three blue-chip prospects.
In other words, despite the fact the going rate in the industry for a premiere player playing out his contract was three prospects, one or two of whom might have been real blue-chippers, in July, 2007 Schuerholz gave up five players, three of whom were among the best prospects in baseball, four of whom were honest-to-goodness blue-chippers, and all five of whom were coveted, Major League-worthy potential impact players. 
Bad Gets Worse
Among the decisions that Schuerholz made with respect to the Teixeira trade was to include Andrus in the deal instead of fellow shortstop prospect Yunel Escobar, who was about as talented as any Braves shortstop prospect in history.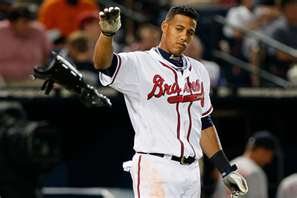 Despite Escobar's emotional immaturity and his erratic glove work, Schuerholz determined that he had more upside than Andrus, despite the extent to which Andrus' teammates and coaches continued to rave about the 19-year old's range, leadership skills, maturity and almost savant-like understanding of the game — even his willingness to teach himself English all by himself.
That situation became virtually untenable in 2010 when Escobar, still young, still talented, and still under team control, but now widely considered a pariah and a self-absorbed ballplayer, was shuffled off to the Blue Jays for pennies on the dollar because he had so alienated Bobby Cox and his Brave teammates with his odd behavior and his listless, me-first style of play.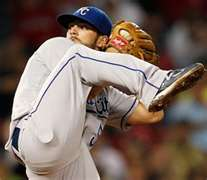 What's more, given the fact that the Braves desperately needed a reliever for their pennant run during the final weeks of that very same season, they ended up then flipping, arguably, the single most intriguing player they received from Toronto for Escobar, a Billy Wagner-type fireballing reliever named Tim Collins.  What they got back were two talented but aging and erratic players, Kyle Farnsworth and Rick Ankiel, both of whom were non-tendered after just two months in Atlanta.
And Worse Gets Worse Still
Knowing around the 2008 trade deadline what apparently the rest of the baseball world had known since at least the 2007 deadline — that Teixeira was going to play out his contract and declare free agency — new Braves' general manager Frank Wren was faced with a choice: do I keep Teixeira for the run of his contract, offer him arbitration, watch him decline it, and then take the two first-round draft picks as compensation for losing him, or do I trade him now and get whatever I can for my potential free agent?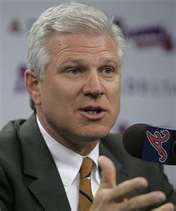 Rather than trusting Roy Clark, Paul Snyder and the rest of the Braves player development team with securing two impact talents with those two first-round picks — the very same guys who helped turn Atlanta into, without a doubt, the most consistent, talent-producing organization in the Major Leagues for nearly two decades — Wren opted for the latter. 
He traded an in-his-prime Teixeira and the two-first round picks he invariably would have netted the Braves to the Anaheim Angels for an over-hyped, failed prospect who was now simply a gap hitting first baseman named Casey Kotchman and Marek, a former 40th round draft pick.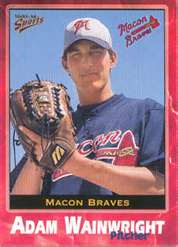 After roughly a year with the Braves, during which he did virtually the exact same thing he did in Orange County (hit .267 with 8 HR and 61 RBI), Kotchman was dealt to the Red Sox for another first baseman, former Brave Adam LaRoche, who had been wallowing on Boston's bench.  LaRoche, like Farnsworth and Ankiel before him, was subsequently non-tendered at the end of the season.
In other words, in 2009, just two years after the Teixeira trade, the Texas Rangers — who were about to play in back-to-back World Series in 2010 and 2011 — still had all five players they received from the Atlanta Braves, three of whom would play key roles in those back-to-back Series appearances. 
The Braves, meanwhile, had only Marek, who was now working as a middle reliever in AA.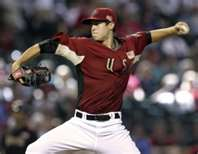 Worse Comes to Worst
As if the Braves' trade for one season of Teixeira weren't bad enough already, remember Kotchman?  In 2011 he suddenly became Tampa Bay's starting first baseman, batted .310, led his team to the brink of the World Series, and was nominated for Comeback Player of the Year by MLB TV.
What's more, remember those two first-round picks the Braves sent to the Angels along with those two months of Teixeira?  With the compensation draft pick they got from the Yankees for losing Teixeira to them in free agency, the Angels drafted an incredibly talented, hard-throwing young lefty named Tyler Skaggs.   Skaggs subsequently became the key component of a trade with the Arizona Diamondbacks that netted the Angels All Star workhorse Dan Haren.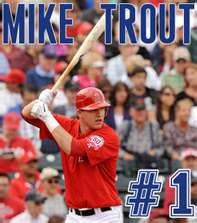 And for losing Teixeira?  The Angels received a 2009 first-round draft pick that would have otherwise belonged to the Braves.  With the Braves first-round pick they chose a powerful young outfielder with incredible wheels from suburban New Jersey, an 18-year old kid named Mike Trout. 
In his first full year, Trout hit .362 with 10 HR and 56 SB.  Subsequently called "the next Mickey Mantle" by a number of scouts who saw him, Keith Law of ESPN recently listed Trout as the #1 prospect in all of baseball, as did MLB Network's Jonathan Mayo.  Baseball America listed him as #2.
Yes, Brock-for-Broglio was bad.  And yes, Reds fans must still cringe at the thought of Robinson-for-Pappas.  And goodness knows, there have been others, including Shuerholz's own David Cone-for-Ed Hearn stinkeroo.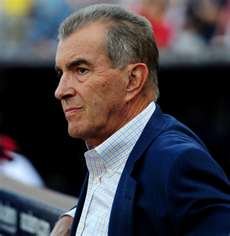 But I'm sorry. Honesty compels me to report that for my money no deal in baseball history has anything — and I mean anything — on the big steaming pile of you-know-what John Schuerholz left on the Braves' doorstep before taking his cell phone, his lack of appreciation for young flame-throwers, and his 13 years worth of door prizes, and turning over the GM reins to his successor.