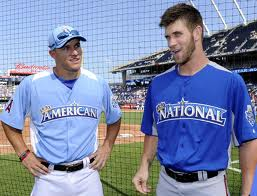 Please forgive my being so scatter-shot and going all Larry King on you here, but over the last two days I just started writing down some stream-of-consciousness thoughts on what has been an amazing baseball season, and thought I'd share a few of them with you here.
My sense is, years from now we will look back and find ourselves amazed that Mike Trout and Bryce Harper, the two most jaw-dropping talents of their generation, were called up at 20 and 19 years old, respectively, and inserted into their lineups to stay on the very same day:  April 28, 2012.
Bobby Valentine's hiring was a mistake from the get-go.  Most everyone in baseball realizes that now.  But I personally bailed on the guy back on May 26th.  On that day, with his team crippled by injuries to five different OF, 1B Adrian Gonzalez approached his skipper before the game and volunteered to play RF so that David Ortiz could slide over to 1B, keeping the Red Sox lineup relatively potent.  Gonzalez, a three-time Gold Glove winner at 1B who had never played OF as a pro, was apparently willing to risk any potential personal embarassment for the sake of the team.  However, during the game when Gonzalez doubled with two outs in the 6th inning of what was then a 0-0 contest, his manager abruptly removed him for a pinch runner.  That left the soft-spoken, unselfish slugger shocked and quietly fuming, and he would only say to the press after the game that, while he didn't agree with the decision, they would have to talk to Valentine for any further insight.  Say what you will about Bobby Cox as a tactician and about his ability to manage the X's and O's of any one game, the guy's greatness was tied almost exclusively to his uncanny ability to manage something that the brilliant but ultimately tone deaf Valentine has never seemed to understand, nor apparently ever will: the heart and soul of a man.
Speaking of the Red Sox, a special Bronx cheer goes out to the eternally clueless Josh Beckett, who on May 3rd missed a start with a bad back, and who then was found to have played a round of golf just two days before, during which he pulled a muscle.  He then indignantly declared under some relentless questioning by the Boston press that off-days are his own to spend however he chooses, and that no one has any right to make demands on how he spends any day when his team is not scheduled to play.
And not to pile on the Sox, but how about the fact at the August 22nd funeral of beloved Red Sox icon Johnny Pesky – who played in Fenway Park the bulk of his career, who with his wife moved back to and adopted Boston as his hometown after his playing days, who served as an unofficial coach of the Red Sox and regularly dressed in uniform and offered tips and encouragement to players before games, and who at 92 years old was wheeled out to CF to raise a flag commemorating the 100 year anniversary of Fenway – only four current Boston players bothered to show; Ortiz, Clay Buchholz, Jarrod Saltalamacchia and Vincente Padilla?
Forget all the others, the single most amazing number from the 2012 season may just have been 101.  That's how many times the AL West champion Oakland A's started a rookie pitcher this year – a figure that obliterated the 1952 Dodgers' record of 69 games started by rookies in a year that resulted in the team going to the post season. 
And while I'm at it, did you know the A's stood alone in first place in their division a total of one day all year – the final day of the season?
I never thought I'd say this but as a baseball fan I was ashamed to say I lived in Chicago this past season.  On the North Side, where recent hires Theo Epstein and Jed Hoyer have been busy trying to undo over a century's worth of horrible player personnel decision-making by attempting to turn as many Major League assets as possible into a state-of-the-art player development pipeline, the suddenly insufferable Cub fans stopped coming out as early as May and have been screaming ever since that the team had better improve next year or else.  Meanwhile, on the South Side, despite the fact that every last one of the 50 baseball experts that ESPN polled at the beginning of the season picked Detroit to win the AL Central, and despite the fact that with only a week to go in the season the White Sox were still holding off the Tigers for first place, for some reason — just as they had all year — the fans on the South Side acted like they could care less.  For example, when I went out on Monday, September 17 for what turned out to be a critical win against the second-place Tigers, the Sox drew just 29,000 fans – and truth be told, the crowd looked even smaller than that. As a result, for the first time since '04 the White Sox did something this year that only Seattle, Tampa Bay, Oakland, Cleveland and Houston managed to do: draw fewer than 2 million fans.
While you have to admire how Mike Rizzo and Davey Johnson of the Nationals stuck to their guns and shut down Steven Strasburg in the kid's best interests after around 160 innings, just as they said they would, you really have to tip your cap to the Braves, who also had a young pitcher coming back from Tommy John surgery, Kris Medlen, but who nursed him along slowly, using him out of the bullpen for a while, before sending him down to the minors to stretch his arm out.  As a result, while the Nats now head into the playoffs the top seed; they do so without their most intimidating pitcher and with a lot less mojo than they had all season long.  Meanwhile, the Braves enter the tournament with a guy who finished at 10-1 with a 1.57 ERA and a 0.91 WHIP, a guy in whose last 23 starts they are 23-0, and a guy who may just be the single hottest pitcher in all of baseball.
Early in the season, Buck Showalter of the Orioles proved that he was willing to lose a battle to win the war.  On May 6 in Fenway Park and finding himself completely out of fresh arms, in the bottom of the 16th inning Showalter sent Chris Davis, his DH, out to the mound to pitch, knowing that even a single run would cost the O's the game.  Davis, however, apparently didn't get Showalter's memo.  He retired the Red Sox in order in the bottom of the 16th, and then shut them down again in the bottom of the 17th (after Baltimore had scored two in the top of the 17th against Darnell McDonald, a second position player who was in the game because Boston too had run out of pitchers).  As a result, Davis – who, by the way, went 0-8 for the day with 6 K's – allowed his teammates to snatch victory from the jaws of defeat by almost single-handedly winning a game his manager had virtually written off.  That's why, even though no sports writer bothered to mention it, as the AL East race got whittled down to one single game last week, the season's final-day drama ( in two AL East cities and between four divisional foes) was really made possible because five months prior, Chris Davis – right in the middle of the most gawd-awful hitting day of his life – managed to do something no DH had ever done in history.  He won a game using only his arm and his heart.
The more I watched Zack Greinke pitch this year, the more I became convinced he will be back in Kansas City next season; which – if you were to add his name to the likes of young, blossoming talents like Alcides Escobar, Jake Odorizzi, Lorenzo Cain and Jeremy Jeffress on the Royals' depth chart (those being the four guys the former Cy Young winner was originally dealt for) – would make Kansas City's 2010 trade with the Brewers one of the most lopsided in recent baseball history, or at least since the Rangers fleeced the Braves at the trading deadline a few years back, getting four All Stars for a six month lease on Mark Teixeira.
Talk about a sucker bet.  On July 25th of this year you could have walked into almost any tavern in America and bet a beer that no one in the place could name the guy leading the NL in RBI.  When you won that beer, you could have then bet a second beer that no one could still name you the NL RBI leader.  And you could have kept making the same bet over and over and over again, and could have continued to find yourself winning beer after beer after beer.  Of course, at some point deep in the night someone would have eventually guessed the answer was none other than the immortal Jason Kubel of the Arizona Diamondbacks. But, of course, by then you would have been full of so much beer it really wouldn't have mattered.
Call me crazy, but I can see the Orioles and Blue Jays completely reversing roles next year.  The O's, for all their remarkable achievements and man-size growth this past season, nevertheless at times seemed to be flying directly in the face of probability, logic and just about every other law the universe had to offer.  The Jays, meanwhile – an organization utterly dripping with young talent – were crippled by injuries in 2012, especially to their starting staff.  But I can truly see them in '13 – especially if they get game-changing talents like Brandon Morrow, Kyle Drabek, Drew Hutchison, Sergio Santos, Ricky Romero and Jose Bautista back and firing on all cylinders – scaring the hell out of the big dogs and making a legitimate run for the AL East crown.
I remember watching both the 1964 and 1965 World Series with interest, but the first season I ever followed baseball religiously from Spring Training right through to the final out of the Series was 1966. That year Frank Robinson of Baltimore won the Triple Crown in the AL.  The following year Carl Yastrzemski repeated the feat for Boston.  Needless to say, I found myself a little spoiled by the whole Triple Crown thing, and didn't think it a big deal.  Well, that was 45 summers ago and until this week it hadn't happened since.  Until this Wednesday, in other words, winning the Triple Crown had proven to be not just a big deal, but something far more than that.  In my lifetime, leading your league in BA, HR and RBI in a single season has proven to be as almost as rare as turning an unassissted triple play or hitting two grand slams in the same inning.  That's why baseball fans everywhere should take a moment, if we haven't done so already, to reflect not merely on what Miguel Cabrera just accomplished, but where accomplished it.  (Not in an HO-scale ballpark, but in the almost cavernous Tiger Stadium.)  And we should also consider the fact that the guy won the Triple Crown in what is now a DH league playing primarily at 3B — the only man to lead his league in all three categories in the same year since the advent of the designated hitter. Amazing.  Truly amazing. And yet honestly, somehow, even now I can't decide who had the more remarkable season; him or Mike Trout.
We can now say with absolute certainty that the 2005 White Sox did not win the World Series because of Ozzie Guillen.  They won it despite him.  What Guillen did this past season to hamstring the Miami Marlins will set that franchise back years, if not longer, especially given the fact just a few months ago the Marlins had a brand new stadium, a brand new name, brand new uniforms, a new-found commitment to the Latino community in and around Dade County, and, of course, nearly a quarter of a billion dollars' worth of brand new free agents.  So what did the most destructive, egocentric manager this side of Bobby Valentine do with all that potential and all that upside even before the 2012 season got underway?  He made a silly remark about respecting Fidel Castro which completely alienated the very core of the Marlins' new target market; perhaps forever (a statement that, when you look at it now, should have gotten him fired immediately).  He also proceeded to quickly drive down the value of the team's most talented player and its single most precious trade chit, Hanley Ramirez, to the point that the front office was forced to accept pennies on the dollar for the once and (perhaps) future superstar. And last but by no means least, he continued to lose game after game all season long while making one self-serving and/or stupid comment after another, to the point that it soon became clear he was no longer operating under any set of rules passed down to him by his long-time mentor Bobby Cox, or by some well-established code of managerial conduct, by his very own "ready, fire, aim" school of player and media relations.
How in the name of Anthony Young did former Cy Young winner Cliff Lee strike out over 200 batters this year, yet fail to win any more than six games – and this for a team that during Spring Training many predicted would represent the NL in the 2012 World Series?
I truly love what Joe Madden and Andrew Friedman continue to do in that baseball purgatory they call St. Petersburg on the Gulf Coast of Florida, and hope I sincerely hope before it all comes crashing down that they have a chance to win it all at least once.  As for how they do it, chew on this.  On June 20, Chris Archer, who Tampa Bay received in a 2011 trade package from the Cubs for Matt Garza, was called up and started a game in place of the injured Jeremy Hellickson.  It marked the first time a pitcher not drafted and developed by the Rays had started for them since September 30, two years prior – a string of 246 regular and post season contests.  In this day and age, that is nothing short of amazing.
That said, ESPN's Buster Olney wondered in print just last month if likely Cy Young Award winner David Price wasn't going to be traded sooner rather than later, given the fact he's about to get way too rich for Tampa Bay's blood, and would net them, by far, the richest haul of below-market value talent and affordable, high-end prospects of any likely trade candidate on their club.
Talk about a legacy of lightning.  This year the always pitching-rich Atlanta Braves entered the record books yet again with three more stunning feats of mound prowess.  First, flame throwing reliever Craig Kimbrel not only set a record by striking out the most batters per nine innings (16.9) in the history of the game, but he also became the first pitcher to ever throw more than 50 innings in a season and strike out over half the batters he faced.  Then on September 30, the Braves won the 23rd consecutive start for young Kris Medlen, which broke the all-time mark of 22, a number which had stood for generations and hand been shared by two legendary Hall of Famers, Carl Hubbell and Whitey Ford.  Then finally, on the final day of the season, the Braves beat the Pirates 4-0, and in the process became the very first team in baseball history to ever have 8 pitchers combine to throw a nine-inning shutout – virtually one man per inning. Only uber-prospect Julio Teheran was allowed to throw a second inning against the Bucs.
On August 3 the Upton brothers, Justin and Bossman Junior, both launched their 100th career HR.  That's the good news.  The bad news is that the two remain, arguably, the two most confounding talents in all of baseball, capable of captivating brilliance one day, an eerie sort of nonchalance the next.  My sense is both are good guys, fine teammates, and want to win just as badly as the next guy.  But I also see them as players who, no matter where they go in their careers, will ultimately leave those around them somehow wanting more.  I heard one scout talking recently about something to the effect that one of the most demanding things in all of baseball is to be able to concentrate and be mentally tough seven days a week, for six months straight (longer if you're in the post-season). And I just can't help but think that, whatever happens and regardless of the circumstance, neither Upton will ever be able to summon up that kind of concentration and mental toughness on a daily basis for a full season.  They are, in other words, exactly what they are, and – especially now that B.J. sits on the verge of becoming a free agent – I pity the GM that makes either the offensive (or for that matter a defensive) centerpiece of his team next year or the years beyond. 
As I write this the Wild Card play-in games are just hours away.  And, while the new setup is not a perfect situation, I have to admit I love the fact that, finally, after nearly 20 years the Wild Card teams are being severely penalized for not having won the division, while those with the best record in each league will have in their back pockets something that will really spend in the division series.  With the play-in games being all-hands-on-deck, do-or-die affairs, the two winning clubs will have fired a lot of their bullets to try to get to the next level, and the teams that play them should benefit accordingly (even if, at least for this very first year, with MLB painted into a corner schedule-wise, the divisional series will open in the Wild Card winners' ballparks).  Look, this setup doesn't address the fact that the Wild Card has all but killed off what had always been the greatest month in sports – the slow-building intensity of a winner-take-all September pennant race.  But even I have to admit; thanks to the Wild Card that ship has long since sailed.  However, from where I sit it does the next best thing. It helps re-establish some sense of importance of the regular season, while rewarding those teams in each league that, over the course of a 162-game marathon, have proven themselves to be the best of the best and therefore worthy of a significant competitive advantage as the days shorten, the nights grow colder and the leaves start to change.