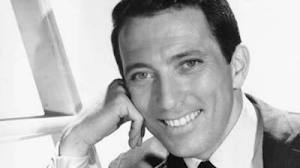 To most, Andy Williams will always be the guy who somehow managed to pilfer Moon River right out from under the noses of Henry Mancini, Johnny Mercer and Audrey Hepburn and make it his own.
To others, he will be the voice behind the Andy Williams Christmas Album, one of the iconic slices of Sixties pop culture and an album whose very first song, It's the Most Wonderful Time of the Year, developed a retro cache over the years that, to be honest, no Sinatra song of the season has ever come close to equaling.
To aging boomers, he will be the guy whose often schmaltzy Christmas TV specials introduced them to the Osmonds, a group of well-scrubbed, gee whiz-wholesome Mormon kids, and a guy whose smile could not only match any of the Osmonds in sheer wattage, but could go toe-to-toe with any mug in the world, and match it pearly white for pearly white.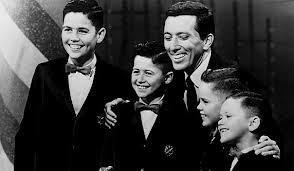 To a handful of people, he will be the Iowa kid who as a young man moved to Hollywood, acted in movies, became good friends with Bobby Kennedy and sang the Battle Hymn of the Republic at his funeral, but who as an old man, holed up in Branson, Missouri, retreated to his Republican roots, and told a British journalist he believed Barack Obama was a Marxist who secretly wanted the country to fail.
And, of course, to ski-bums of a certain age, he will always be that lame-ass lounge crooner who stood by his doe-eyed, coquettish and murdering ex-wife, Claudine Longet, even as she was accused (and eventually acquitted) of gunning down their hero, Spider Sabich, an Olympic star, a dashing, drop-dead handsome pro skier, and an elite member of the Aspen glitterati, in a lover's quarrel gone horribly wrong.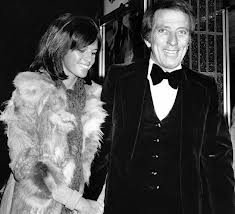 But to me, Andy Williams, who passed away this week at 84, will always be the guy who recorded the single greatest song by one of the greatest songwriting teams in the history of rock and roll.
Because make no mistake; Doc Pomus and Mort Shuman take a back seat to no one when it comes to great songs, particularly gritty, sexually charged and rollicking R&B.  Hell, the hits they wrote for Elvis Presley alone are testament to their place in the pantheon of American tunesmiths.  Consider that among the 18 Pomus/Shuman songs the king eventually recorded are (Marie's the Name) His Latest Flame, Mess of Blues, Little Sister and the remarkable Viva Las Vegas. 
And that's not to mention This Magic Moment and Save the Last Dance for Me by the Drifters, Sweets for My Sweet by the Searchers, Suspicion by Terry Stafford and A Teenager in Love by Dion and the Belmonts.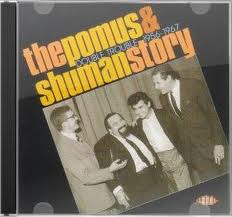 But for my money, the best Doc Pomus and Mort Shuman song of all time was recorded and released by Andy Williams in 1963, and went to #2 one both the U.S. and British charts.  History has not necessarily been kind to the song – indeed, you don't hear it played at all, even on oldie stations – but Can't Get Used to Losing You is, was, and will always remain not only one of the great songs in the history of pop music, but one of the finest examples of how the right arrangement can utterly elevate a tune.
Listen to the recording as Williams starts to sing, or for that matter even before he does.  In anticipation of his singer's silky smooth and dulcet voice, producer and arranger Robert Mersey has called for a bold and slightly edgy staccato violin part full of spunk and attitude which he then repeats in each of the song's three verses.  And it's those clipped violins playing in unison with a rhythm guitar or two — while playing off a subtle, but oh-so-sexy bass line — that form a brash and deliciously catchy melodic hook which, much like the driving lead guitar of an old Credence, Stones or Beatle song, propels Can't Get Used to Losing You forward and helps transform it into something more than just another garden-variety pop hit.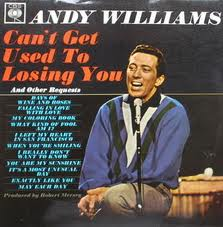 I won't go overboard here, but suffice it to say that while he will clearly never be remembered as a giant of the rock and roll era, as a squeaky clean farm boy from the middle of Iowa with bright blue eyes and boyish good looks, Andy Williams somehow managed to leave behind one of its real gems, along with one of its most criminally underrated songs. 
Because, frankly, to this day my sense is there are more than a few head-bangers in the Rock and Roll Hall of Fame who only wish they had pulled off at least once in their careers a recording even half as brilliant as Andy Williams' fabulous take on Doc Pomus and Mort Shuman's long-overlooked classic, Can't Get Used to Losing You.