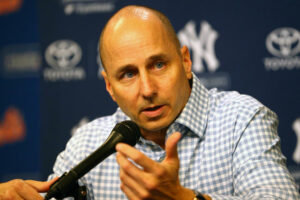 At MLB's annual Winter Meetings this year, which recently concluded in the nation's capital, it was the Boston Red Sox and Chicago White Sox that made all the headlines. But as far as I was concerned, it was baseball's perennial 800-lb. gorilla, the New York Yankees, that made the most news — even if it wasn't reported as such.
First, in the interest of full disclosure, understand I grew up hating the New York Yankees so badly that, at least when it came to unfortunate events that might befall the team, I used to wish for just about anything this side of a mid-air collision.
I mean, I didn't just hate the Yankees. I loathed them. I abhorred them. I despised them. Hell, I used to go to bed dreaming that pinstripe-sporting maggots like Billy Martin, Reggie Jackson, Graig Nettles and even George Steinbrenner might somehow manage to choke on their own tongues.
That's why, even though over the years I've slowly learned to get past my (admittedly) childish abhorrence of all things Yankee, it still pains me to say this. In fact, it pains me deeply. But right under the baseball media's collective nose, and over the course of one full calendar year — in fact one year to the day — New York general manager Brian Cashman pulled off the single shrewdest, most franchise-altering, and most under-the-radar series of transactions I've ever witnessed in my baseball-loving life.
The man was able to make something out of nothing like no general manager I've never seen.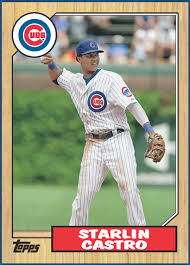 What's more, it wasn't so much a series of transactions that Cashman pulled off, but a single one that somehow managed to trigger related ones, all of which shared the same transactional DNA, and all of which somehow kept circling back on themselves, over and over again until, lo and behold, a sow's ear had suddenly, and as if by magic, been transformed into a silk purse.
I'll spare you any long narrative. Instead, let me just give you the step-by-step metamorphosis of how four non-descript minor leaguers few had ever heard of, along with a relatively modest salary commitment (at least by MLB standards), got transformed into two (and maybe three) stone pillars upon which it's very likely the next Yankee run of greatness will be built.
Here goes.
December 8, 2015
Cashman trades his steady but unsexy swingman pitcher Adam Warren and Brendan Ryan, a journeyman defensive specialist, to the Chicago Cubs for Starlin Castro, a 25 year-old All Star who's led the NL in at-bats three times and hits once, but a player who's fallen out of favor with his team's brass due to his gnawing tendency to lose focus and make key mental and physical errors at the worst possible times.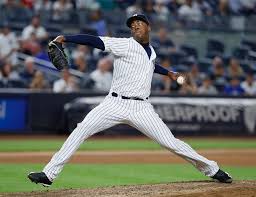 December 29, 2015
His value severely depressed by a recent domestic assault charge and the likely trial and suspension it will trigger, Cashman trades to the Cincinnati Reds Eric Jagielo, Rookie Davis, Caleb Cotham and Tony Renda – four B-level minor leaguers about which even the most rabid Yankee fans know little or nothing, and four players most scouts agree are long-shots to ever become even fringe contributors, for Aroldis Chapman, the Reds' flame-throwing All Star closer who is about to enter the final year of his contract.
July 25, 2016
At the trade deadline, Cashman once again pulls off a deal with the Cubs. This time he flips Chapman (who now has just two months remaining on his contract) to Chicago, a team that already has the deepest, most talented roster is the game, but one that is now desperate to break its 109 year winless streak by positioning itself as strongly as possible for a deep and fruitful post-season run, for four players. They are Adam Warren (who's traded back to New York), Billy McKinney, Rashad Crawford and a 19 year old shortstop named Gleyber Torres, a player so skilled and a hitter so uniquely gifted that within months scouts start contending he may just be the finest prospect in the entire game.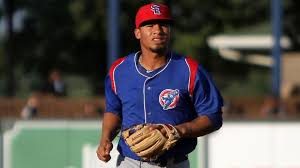 December 8, 2016
With no free agent compensation attached to him, Cashman re-signs Aroldis Chapman, only his second free agent signing the past two years (Matt Holliday, just days prior and on a relatively cheap one-year deal, was the first). The 5-year contract, signed one year to the day after Cashman let the first domino fall with the Warren-for-Castro trade, is worth a total of $87 million.
Because of Brian Cashman's four-step slight-of-hand, the following transpired:
1. The Yankees were able to acquire Starlin Castro, a 25 year-old, three-time All Star, from the Cubs for virtually nothing. Nothing. No active players. No cash. No future considerations or used dish rags. Nothing.
2. They were able to turn four marginal minor leaguers and a fringe journeyman, along with $87 million in salary commitments spread over 5 seasons, into five players, the oldest of which is 28, the youngest of which is 19, two of which are already multiple All Stars, and a third of which has All Star potential, and possibly a good deal more.
To distill it down to an even further, this is what Brian Cashman gave up:
Eric Jagielo
Rookie Davis
Caleb Cotham
Tony Renda
Brendan Ryan
$87 million
And this is what he got:
Aroldis Chapman
Starlin Castro
Gleyber Torres
Billy McKinney
Rashad Crawford
Ladies and gentlemen, I give you the single most astounding example of asset-leveraging I have ever seen orchestrated by a general manager (Brock-for-Broglio and Frank Robinson-for-Pappas included). In fact, for my money, the coup Brian Cashman just pulled off was a veritable master class in the fading art of buying low and selling high.
And shame on the national baseball media for hardly even mentioning it. Cashman's stealthy and slowly evolving magic trick was incredible. And it was not just a news story, it was a huge news story. Seriously. Thanks to a brilliant and interconnected series of domino-like deals, and a GM who was willing to bide his time, wait for soft pockets in the market to develop, and keep himself out of the limelight, the organization with the deepest pockets in the game just got richer, younger and almost infinitely more talented.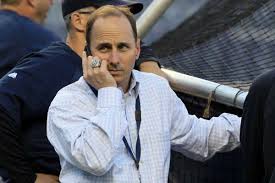 And it was news because, like it or not, the MLB balance of power quietly but most assuredly shifted these Winter Meetings, especially now that two more onerous and bloated contracts have come off the books for the ever-patient and remarkably disciplined Cashman.
And it was news because, even as the team whose model Cashman had been copying these past few years — Boston — took a wrecking ball these Winter Meetings to that self-same model and systematically gutted its one-time, state-of-the-art player development pipeline, the Yankees added even more cost-contained and ferociously talented jewels to theirs.
That's why I say the balance of power has so radically shifted in MLB, even though no one in the national baseball media seems to notice, and even though that fact won't manifest itself for a few years. It's one thing, after all, to have the most money in baseball. It's something else entirely to have the most money, the most restraint, and the best farm system.
Forget the Dodgers. This is what Moneyball with money looks like.
My friends, as much as it kills this long-time pinstripe-hater to admit it, the slumbering and ravenous giant in the South Bronx is now officially doing a whole lot more than simply stirring.
It is doing, in fact, what it's always done best and doing the very thing that brought this old-school fan to hate it in the first place. It's wiping its eyes, looking around, licking its chops, and readying itself to once again – perhaps, as soon as year and a half from now – start devouring just about anything and everything that dares get in its way.