Here's a juicy rumor that, even if it's not true, has so much inherent logic you'd have to at least consider its validity: given the financial mess that the New York Mets are in, and the apparent house of cards the entire organization has become in light of the Wilpon family's staggering losses in the Madoff Ponzi scheme (as well as a massive lawsuit now pending against them), Sandy Alderson was moved out of the Commissioner's office and made GM of the Mets so he could act as a watchdog over the organization's financial dealings.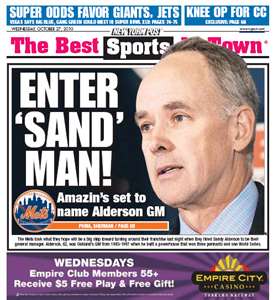 Alderson, a Harvard-trained lawyer who successfully ran cash-strapped but highly competitive franchises in Oakland and San Diego before becoming Bud Selig's point person in charge of investigating the alleged corruption in the process by which young Dominican players got scouted and signed, seems the perfect guy for the job. 
And given how desperately Selig and Major League Baseball need the Mets to remain not only solvent, but relevant — and how they can ill-afford yet another black eye like the post-bailout controversy over the naming rights to Citi Field, the Metropolitans' now-somewhat tainted new $850 million ballpark — it sure makes you think, doesn't it?