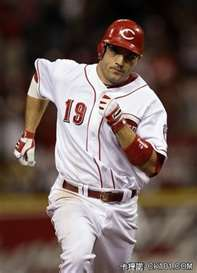 It's not often that swapping an MVP player just over a year removed from winning his award makes good baseball sense, but every once in a blue moon it does.  In fact, the time may indeed be ripe for the Cincinnati Reds to trade their best player, Joey Votto, to get not only max value for him, but in the end, a better shot at a World Series championship.
Votto, 28, who is in the second year of a three-year $38 million contract, not only stands to make a huge payday following the 2013 season when he becomes a free agent, he's blocking the path to the big leagues of the best young hitter in the Reds' system, a largely immobile slugger named Yonder Alonso, whose defensive shortcomings will limit him to first base in the NL.
What's more, if the small-market Reds determine they'll be unable to sign Votto to a manageable long-term deal, trading him now would give his new team two full seasons of Votto, years during which his production promises to be at its very peak. 
Such a move would give the Reds the absolute highest value possible for their star, while, obviously, clearing a path for Alonzo.
But who has that kind of talent to trade, and which team would be willing to give Cincinnati the kind of value they'd need to swap a reigning MVP, a mere year removed from taking home his hardware?
How about baseball's newest emerging power, the Toronto Blue Jays?
Currently the Jays, under GM Alex Anthopoulos, have become one of the deepest, best-run organizations in baseball, not to mention one of the finest bargain hunters on the planet (as evidenced by Anthopouos' recent dimes-for-dollars deals that netted him a couple of underachieving (and ridiculously undervalued) potential superstars, Yunel Escobar and Colby Rasmus). 
What the Jays need now is not only some experience at the big league level, but a player who will serve as a full-fledged local hero; a young star who can get the locals as excited as they were in the early 90's when Toronto was winning back-to-back World Series championships and playing in front of the league's biggest houses.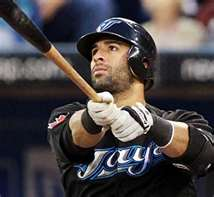 So who do the Jays give the Reds for Votto? 
How about Jose Bautista?
Before you laugh, consider:  Bautista, still only 31, has hit more home runs than any player in Major League Baseball since September, 2009.  That's right.  More than any hitter in either league for the past 2+ season.  What's more, over the past two seasons he has averaged 114 RBI.
He is also locked up through 2015, with a team option for 2016 valued at roughly $14 million.  In other words, virtually the exact same salary per year as the Reds are committed to paying Votto.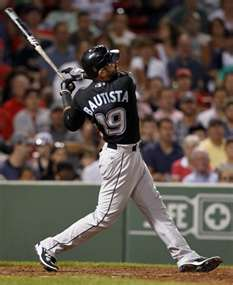 Plus, Bautista is as defensively flexible as any slugger in the big leagues, capable of playing not only a good first and third base, but left and right field on highly proficient level.
So not only would the Reds be adding two big bats where they now have one, they'd be doing it for roughly the same money, while gaining a large measure of both roster flexibilty and long-term financial stability.
And from Toronto's perspective, while they'd be giving up two years worth of financial stability, do you know what they'd be gaining?  I mean beside the fact that they'd be adding one of the five best hitters in all of baseball for at least two years?  I'll give you a hint. 
Do you know where Votto was born? 
Canada.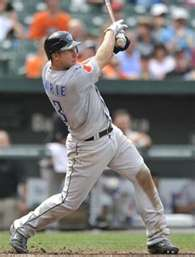 That's right.  Joey Votto is, by the nature of his birth, custom-made for icon status in Toronto, where he and budding Canadian star Brett Lawrie would promise to give the Blue Jays at least two season's worth of the single most exciting and talked about pair of Canadian sluggers the game has ever known — playing opposite one another on the Jays' infield.
And while such a deal makes so much sense that no matter now many times I revisit it I find only minor inequities in its makeup, I'm equally certain it will never happen. 
Baseball is simply no longer a landscape littered with riverboat gamblers passing themselves off as GM's, if for no other reason than the dollars are just too big these days to take those kind of chances.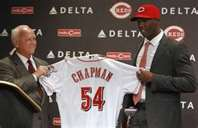 What's more, fans in Cincinnati are some of the most old-school in the game and embrace their hometown Reds — particularly those that have been drafted and  home-grown — like few others in the country.  As much as such a trade might benefit their beloved Reds in the long run, unless he won the very first year, should GM Walt Jocketty ever trade Votto he'd be more likely to be run out of town on a rail than get a parade thrown in his honor.
And on top of it all, sad to say, but star-quality, player-for-player deals these days seem to be something of an endangered species. 
Today you're much more likely to see a three-for-one deadline deal involving prospects and an expiring contract than a good old-fashioned value-for-value mega-deal pulled off around amid the winter chill.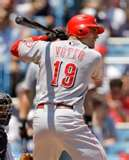 So there you have it.  A deal that should happen.  A deal that would clearly help both teams.  And, alas, a deal that has a snowball's chance in hell of ever happening. 
Oh well, I guess I can always throw another log on the hot stove, sit back, and just dream of spring.