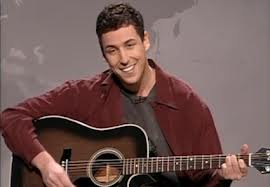 Adam Sandler may have once rued the dearth of great Hanukkah songs, but the same can't be said of great Christmas songs — especially Christmas songs penned by Jewish songwriters.  Here's a list of twelve of the best, not to mention favorites of mine.
I'll Be Home for Christmas
A song with something of an uncertain genealogy.  But this much is clear; lyricist Buck Ram, a young Jewish boy from Chicago who would go one to become one of the most important songwriters in the early days of rock and roll, wrote the lyrics as a homesick freshman at the University of Illinois in what was originally intended to be a poem to his mother.
Rudolph the Red Nosed Reindeer
A song written by Johnny Marks, a Jewish, Chicago-based radio producer, after his brother-in-law, Robert L. May, had been hired by Montgomery Ward's to create a fictional character for an annual story book the store wanted to give away to shoppers.  Marks would spend the rest of his life not thinking of himself as a songwriter, but as this list will clearly attest, history — especially this time of year — would remember him otherwise.
Silver Bells
Writing for a movie about a Damon Runyon con man and part-time horse handicapper whose street name was the "Lemon Drop Kid," and starring Bob Hope, the Jewish songwriting team of Jay Livingston and Ray Evans composed this minor holiday classic in 1950.  Ironically, the two originally were calling their song Tinkle Bells, until Livingston's wife one night wisely suggested they come up with a word that didn't have such an obvious (and slightly naughty) double meaning.
White Christmas
Quite possibly the granddaddy of all secular Christmas songs, and a song named by NPR as one of the "100 most important musical works of the 20th Century."  Originally penned by legendary Jewish composer Irving Berlin for a minor film, Holiday Inn, the song's popularity soon dwarfed the film's, due in no small measure because Holiday Inn was released in 1942, just as tens of thousands of American men and women found themselves away from home for the holidays because of the war – many of them for the first time.  The song not only won the Academy Award for Best Song in 1942, it became the basis for an entirely new (and now more widely known) movie, a musical which also starred Bing Crosby, some 12 years later.
Rockin' Around the Christmas Tree
Another Johnny Marks tune, this is the only song on the list with roots squarely in country.  Rockin' was recorded in Nashville by the "little girl with the big voice", the diminutive belter and ball of fire, Brenda Lee, a singer whose pop success came only after she had crossed over from the country charts.  Lee's original version has developed a standing over the years that is no doubt due in part to the fact that it's a great song, but in part because it features some of the greatest country sidemen of the day letting their hair down in a way that, quite frankly, they weren't allowed to do on many country hits.
It's the Most Wonderful Time of the Year
A song whose success seemed to occur in slow motion.  Written by the songwriting team of Edward Pola and George Wyle – the latter of whom was Jewish – in 1963 for the first of what would become a series of Andy Williams Christmas Specials, the song was never released as a single by Columbia.  It did however, become the first cut of side A of the Andy Williams Christmas Album, released the same year as that first special.  Its placement on the album and the big, bold, brassy way it kicked it off, combined with the fact that Williams subsequently chose to sing it on each and every Christmas special of his, slowly turned the song into what it has since become; a garish but retro-hip holiday standard and one of the most popular songs of the season.
Baby it's Cold Outside
Not a Christmas song, per se, but this Frank Loesser beauty is nevertheless a song of the season, and one that was elevated to deliciously lascivious levels by legendary crooner, tippler and playboy Dean Martin in 1959.  Loesser, a New York-born Jew who moved to Hollywood to write for the movies, composed the song for his wife, Lynn Garland, and him to sing at a 1944 Christmas party, which they did that year and a few years to come to always appreciative and always delighted guests. Garland would later say she knew her marriage was over when she learned her husband had finally sold Baby it's Cold Outside to MGM where it would be sung by, of all people, Esther Williams and Ricardo Montalban.
The Christmas Song (Chestnuts Roasting on an Open Fire)
By now, many know that The Christmas Song — which Nat "King" Cole almost single handedly turned into a holiday staple — was written by Mel Torme and Bob Wells, two Jewish kids, in Beverly Hills on a hot day in July. What many don't know was that Let it Snow, Let it Snow, Let it Snow, was also written by two Jewish songwriters (Sammy Cahn and Jules Styne), was also written on a hot July day, and was also written in Beverly Hills.  What's more, it was apparently even hotter the day Cahn and Styne wrote their snuggle-by-the-fire hit than when Torme and Wells wrote theirs; the hottest single July day, in fact, on record for L.A. at the time.
Winter Wonderland
Writer Nate Bloom, who also authors a weekly column on Jewish celebrities, puts together an annual summary of the top 25 Christmas songs of the year as compiled by ASCAP, and details which of them may or may not have been written by Jews.  In his research over the years, Bloom has concluded that Felix Bernard, who helped compose the ever-popular Winter Wonderland, was most likely a German of Jewish descent.  I bring this up, not so much to tip my cap to Bernard, as to tip my cap to Bloom, who has turned shining a light on Christmas song-composing Jews into something of a Christmas tradition in my house.
Do You Hear What I Hear?
Written by the husband and wife songwriting team of Noel Regney and Gloria Shayne – she was born and raised Jewish – Do You Hear What I Hear? is one of the most heartfelt and moving contemporary Christmas songs ever written.  Composed at the height of the Cuban Missile Crisis in 1962, when fears of widespread death and destruction were at an all-time high in the U.S., the song is a universal prayer for peace, using the miracle of Christ's birth as a backdrop.  Shayne would later say when she and her husband were performing, and as she sung lines like "Pray for peace, people everywhere," she would get so choked with emotion that she found herself unable to continue.
Have a Holly, Jolly Christmas
The third of three Johnny Marks tunes on the list.  This one is a bit of a puzzler, because while it was never a huge hit, and will probably never be viewed as a great song, it continues to grow in stature and continues to gain equity with each passing year.  A big reason might just be Burl Ives, who was one of the most criminally underrated actors of his day and one of the most enormously talented folk singers of all time.  Consider, Have a Holly, Jolly Christmas in the hands of almost any other singer might have been borderline unlistenable. But in the hand of Ives, and given the combination of reverence, warmth and sincerity he managers to instill into it, what emerges is a holiday nugget that serves as comfort food for the ears.
Christmas (Baby Please Come Home)
If you want to list the greatest Christmas songs of modern times, that list, quite simply, begins and ends with this song.  Because from where I'm standing, I'm not sure there's anything in second place.  In the hands of the inimitable Darlene Love, and as produced by legendary taskmaster and studio martinet, Phil Spector, the original mono version of Christmas (Baby Please Come Home) is in and of itself an almost religious experience.  Listen to the cascading chimes, the shimmering violins and the thundering drums that trumpet the song's opening chords.  You'd almost swear the baby Jesus himself had risen from his mother's arms and left the manger to oversee production.  As one critic so aptly put it, when she sings Christmas (Baby Please Come Home) Love "can summon snow in July."  And, oh yes, just in case you were wondering; this Christmas song for the ages was written in a tiny cubicle in 1963 by Jeff Barry and Ellie Greenwich, two Tin Pan Alley tunesmiths who also happened to be a nice married Jewish couple from Brooklyn.